Watch the Webinar On Demand
Improving Automotive Inspection with Light & Color Measurement
Seminar: Light & Color Measurement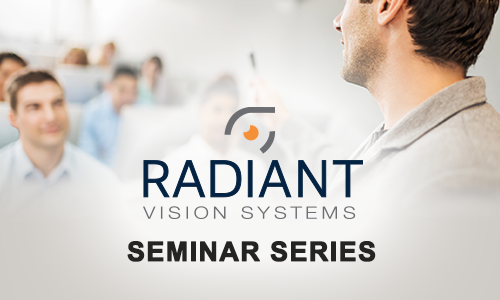 Join our experts for a live educational seminar, April 13 in Dearborn, MI, USA.
New Conoscope Lens
The conoscope lens mounts to ProMetric® cameras for viewing angle performance evaluation of displays.
News From Radiant Vision Systems
Radiant Vision Systems announces that it will exhibit and present solutions for automotive display testing at the 2nd annual Automotive Visual and Display Technologies event taking place on April 10-12, 2017, at the Sheraton Hotel Ann Arbor, Michigan, USA.
Radiant hosts a live webinar titled "Evaluating Viewing Angle Performance Using Radiant's Conoscope Lens" on Thursday, March 23, from 9:00-10:00 A.M. PDT, followed by a live audience Q&A session with webinar presenter Bo Magluyan.
Radiant Vision Systems announces that it will present at the electronic displays Conference (edC) 2017 at NürnbergMesse in Nuremburg, Germany. Radiant Product Manager Bo Magluyan presents "Automated Visual Inspection (AVI) Adapts to Recent Display Trends" during Session 3 of the conference on Display Measurement, taking place Wednesday, March 15 from 4:00-4:20 PM.