Display Week Short Course - S2: Fundamentals of Display Metrology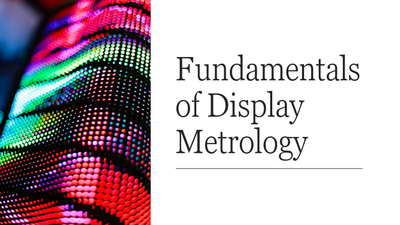 As part of the fully virtual Display Week Program, Radiant Vice President of Product Development, Jens Jensen, will co-present a Short Course with members from Instrument Systems and Konica Minolta. The course "Fundamentals of Display Metrology" will cover the principles and applications of display metrology, and introduce measurement equipment and techniques from leaders in the field.
Topics include the science of light and color, units of measurement, measurement standards, metrology systems from spot meters to imaging equipment, test methods to address display performance parameters from mura to pixel uniformity to flicker, and the latest metrology solutions for testing emerging displays from microLED to AR/VR devices.
S2: Fundamentals of Display Metrology
Available to view online beginning Tuesday, May 18, 2021
Presented by Jens Jensen (Radiant Vision Systems), Dr. Reto Häring (Instrument Systems), and Yutaka Maeda (Konica Minolta)