TrueMURA™ Display Mura Analysis License for TrueTest™ Software
License to enable additional tests for evaluation of display mura according to human visual perception.
Human visual recognition of uniformity variations and other defects in displays is dependent on many factors including brightness, color, shape, size, and severity of deviations within the area of the display. Developed to allow automated visual inspection systems to accurately identify JND—artifacts just noticeable by a human observer—TrueMURA™ evaluates display mura (areas of non-uniformity) in a way that simulates a human observer's perception of defect severity. These algorithms can ignore mura that is imperceptible to human observers and identify various types of mura that can be passed and failed based on evaluation criteria.

Part of the Radiant Vision Systems TrueTest™ Software family, the TrueMURA license supplements the many benefits of TrueTest Software to efficiently perform image-based measurements for luminance, chromaticity, and adds specific tests to evaluate over 15 types of display mura.
 
Image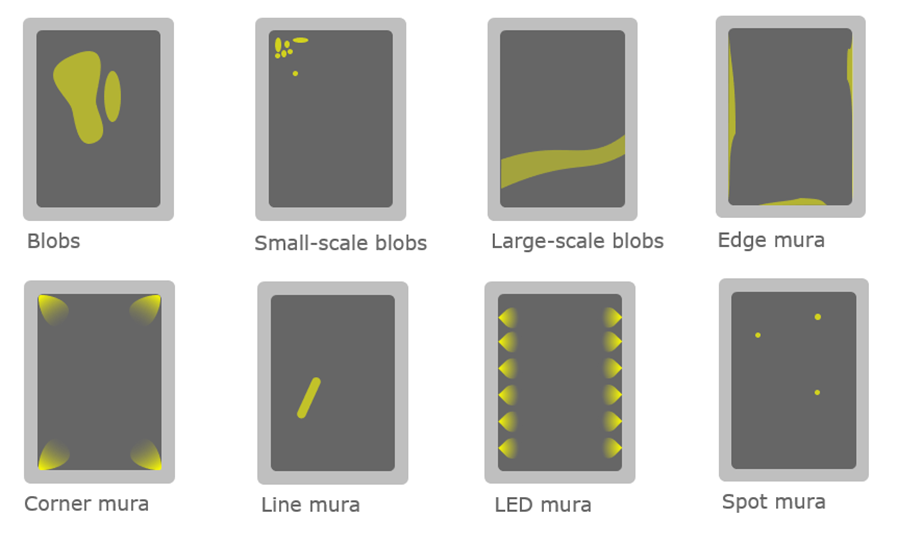 Request a quote
Request a demo
Get more information
Comprehensive Display Test Suite
The TrueMURA Software license provides several mura tests in addition to what is offered in standard TrueTest Software. TrueMURA allows users to define a complete set of measurement parameters and set pass/fail criteria for different types, locations, and severities of mura in an image. The software license includes specific tests for identification and measurement of mura types including:
Black Mura
Blob Analysis
Butterfly Mura
Corner Light
Diagonal Line Mura
Edge Mura

LED Mura
Line Mura
Spot Mura
TrueMURATest
Available in standard TrueTest™ Software:
Color Edge Mura
Color Mura
Diagonal Pattern Mura
Polarizer Deformation
Spot Pattern Mura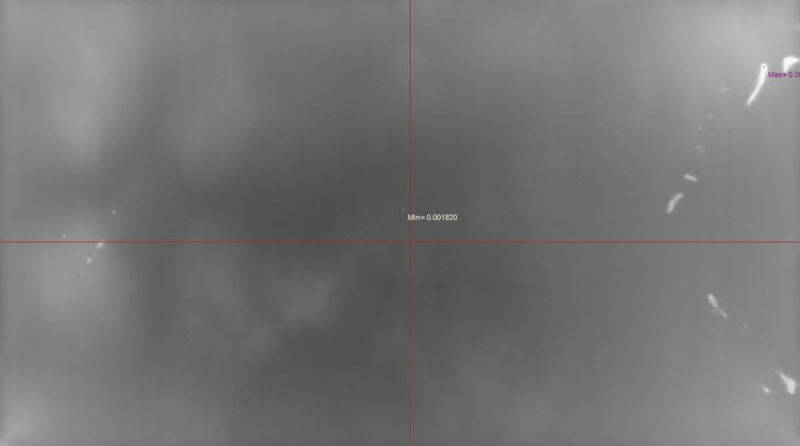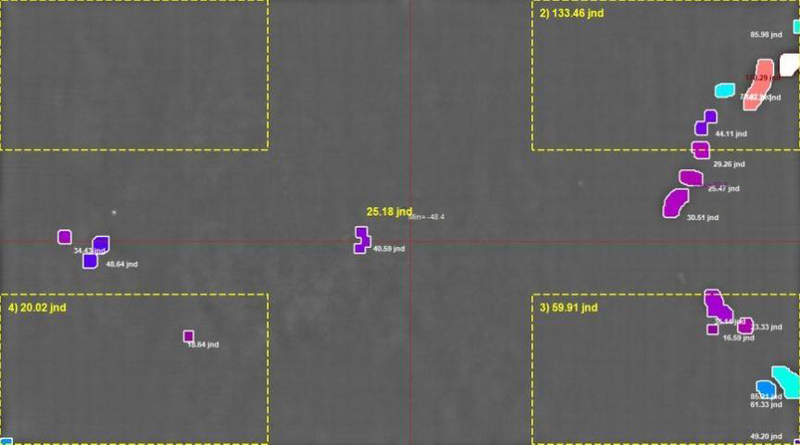 Captured image of display with mura (top), shown with TrueMURA analysis applied (Black Mura analysis example) (bottom).
Part of the TrueTest platform, any tests from the TrueMURA test library can be added to a sequence (which are stored, so multiple sequences can be created and recalled as needed), and test parameters and pass/fail settings can be input for each test. The entire sequence can be run end-to-end automatically. Individual test results are displayed and can be recorded in a report.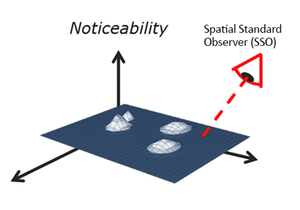 Just Noticeable Differences
Radiant's TrueMURA Software is the first commercial system to provide advanced image analysis algorithms for computing JND ("Just Noticeable Differences") in displays. These tests augment the defect analysis functions already available in Radiant's TrueTest Automated Visual Inspection Software, including a complete test suite to evaluate luminance, chromaticity, and common display defects (non-uniformity, dead pixels, lines, and more). The JND detection algorithm incorporated in TrueMURA is based on U. S. patent 7,783,130, "Spatial Standard Observer" (SSO) technology, licensed by Radiant Vision Systems from the National Aeronautics and Space Administration (NASA).

JND analysis image (left) and outputs (right). TrueMURA analysis provides output of maximum, total, and single JND values.
Complete Measurement Solution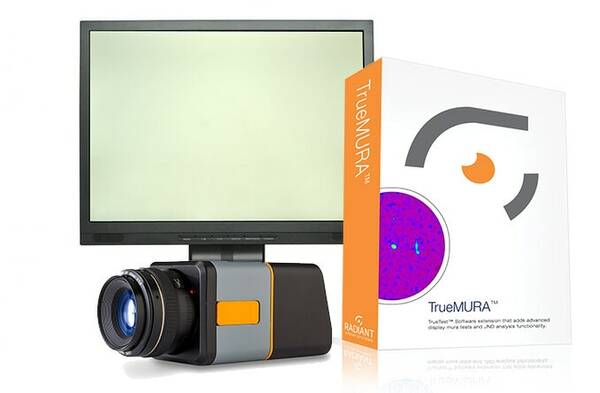 TrueMURA can be used with a ProMetric Imaging Colorimeter or Photometer, providing multiple options to achieve the field of view, pixel resolution, dynamic range, and cost requirements for your application.
Supported by Radiant's global support staff and distributor network, TrueMURA is field-proven and has been used to test displays in the latest high-value devices worldwide.
 
TrueMURA License Key Features and Highlights:
Applies photometric and colorimetric measurement to values captured by imaging systems that simulate human visual perception of light and color
Includes tests to detect over 15 types of display mura and pass/fail on visual appearance
Single display test platform from R&D to production reduces cost and variability in display image quality assessment
Objective, numerical evaluation of display mura using algorithms for computing JND ("Just Noticeable Differences") based on U.S. Patent 7,783,130 licensed by Radiant from NASA
Data analysis functions including bitmaps, isoplots, and cross-sections
Supported Products:
System Requirements:
Software Options:
Windows® 10, 64 bit
16-32 GB RAM
Additional system requirements vary by camera.
Specifications subject to change without notice.
Typical Applications
TrueMURA enables evaluation of displays beyond standard TrueTest software tests to evaluate mura defects according to human visual perception.
Display mura characterization for evaluation and design
Detection of display mura with pass/fail thresholding for automated visual inspection
Production quality control of display devices
How can we help?
Please complete the following fields and we'll follow up with you promptly.