Big LED Displays...I Mean, Really, Really Big (and Transparent Too)!
Mon, November 15, 2021
In the display industry, you hear a lot about new and emerging technologies: mini- and microLEDs, flexible and foldable screens, 4K and 8K, quantum dots, and more. But when it comes to building the largest display screens in the world, it's the decades-old LED (Light Emitting Diode) screen technology that takes the lead with a 45% revenue share of the digital signage market.1 LCD (liquid crystal display), OLED (Organic LED), and front-projection displays make up the rest.
The world's latest giant LED display was recently announced: an installation at Climate Pledge Arena in Seattle, home of the new National Hockey League team the Kraken. Here at Radiant we're excited about this expansion franchise as the team plays their inaugural season in their state-of-the-art facility, which is shared with our four-time WNBA champions, the Seattle Storm. The building's name emphasizes its status as the first net-zero certified arena in the world.
It is also the first sporting venue where attendees will experience 28,175 square feet of digital signage containing more than 145 million pixels. The installation is being built by South Dakota firm Daktronics and includes dual hanging display configurations featuring 2,720 square feet each. The two hanging displays are the first of their kind, in triangular configurations with end display screens 25' tall by 46' wide, and sideline-facing displays 23' x 43'. "No sporting venue in the world will have more LED displays, including 173 displays outside the main seating bowl of the arena."2 The arena will have displays both inside (100 LED displays) and outside (51 LED screens to welcome patrons, promote events, and direct traffic).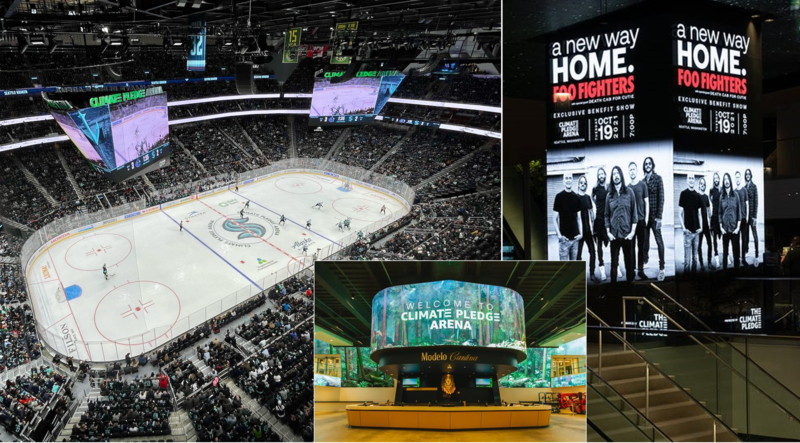 The two hanging displays inside Seattle's Climate Pledge Arena (left), more in the venue's atrium entrance hall (inset), and even more outside (right), shown promoting a concert by rock band Foo Fighters, which was founded in Seattle. (Images: game arena photo by Kirk Schlosser/Geekwire, lobby image source, outdoor display photo by Mike Savoia) 
Taking these new arena displays as our inspiration, in this blog post we check in on the state of the large-scale LED display market.
LED Display Advantages
With newer technologies such as OLED on the scene, why have LED displays remained the leader in large-format screens? One big reason is their reliability. Large screens are often placed in outdoor environments, where they can be subject to heat, cold, sunlight, and harsh weather conditions. Unlike OLED, which can be more easily damaged or suffer from "burn in", LEDs are the workhorse of the digital signage industry, providing bright, colorful images day in and day out.
"Increasing demand for LED displays in outdoor advertisements is one of the major factors driving the market growth. Enhanced features such as energy efficiency, environment friendly, low operational cost, and durability have encouraged marketers and advertisers to use LED displays for outdoor promotional campaigns and advertisement. Furthermore, rising number of live concerts, sport competitions, and corporate exhibitions have further fueled market momentum."3 
Another LED display advantage is image brightness and contrast. Technically, (particularly in the television industry) what's called an "LED" screen is often an LCD (liquid crystal display) screen, since both have a backlight layer placed behind an LCD layer that displays images. For traditional LCD displays, the backlight is cold cathode fluorescent lamps (CCFL). For LED displays, the backlight is an array of LEDs, which can be placed in a variety of configurations.
For example, edge-lit displays have LEDs placed on the sides, top and bottom, or around the entire edge of the screen. Both CCFL-backlit and edge-lit displays can present images with good overall visual quality, color, and brightness, but fall short on contrast and deep blacks. The uniform backlighting doesn't allow the display to adjust for different areas of the image that may be brighter or darker. 
To fine-tune image contrast requires a technique called local dimming, made possible only by placing LEDs across the entire backlight panel to create what's called a full-array LED display. With a full array configuration, the backlight LEDs are grouped into multiple regions, each of which can be controlled independently or turned off completely to enhance image contrast and ensure deep blacks.
Direct-View Displays
Unlike televisions or other small-format displays viewed from a relatively close distance, many large-format LED screens often can do without an LCD layer. Seen from a distance (such as in a sport stadium) the LEDs are sufficiently small to act as the individual pixels of the display without compromising apparent image resolution. These screens are called direct-view displays because the LED emitters that make up the display pixels produce their own light and thus are viewed directly. Direct-view LED displays are much brighter (ranging from 4000-10,000 nits) than LCDs (from 300-700 nits for indoor displays, or outdoor LCD screens reaching just 2,500 nits).4 The brightness helps increase visibility for LED screens in outdoor locations that may be viewed in sunlight conditions, or when competing with the glare of stadium flood lights. 
OLED and microLED displays are also direct-view. They both provide superior contrast to traditional LCD displays (with either a CCFL or LED backlight). By offering pixel-by-pixel image control, all direct-view displays can offer superior contrast and brightness with lower energy requirements than LCD. However, while they are already providing exciting visual experiences for high-end television customers, OLED displays are not rugged enough for many large-format installations, and are more expensive than LED screens. They have not yet challenged the LED display's dominance in the large-format display market.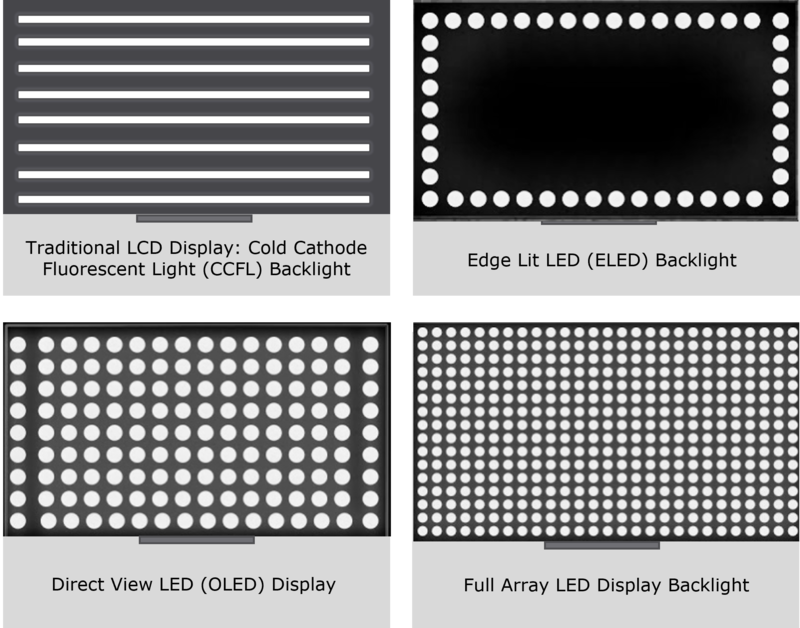 Comparing traditional LCD CCFL backlighting with LED backlight configurations and direct-view OLED/LED display.
Today's jumbo-size screens are not made of one continuous panel but are built from modules—multiple smaller display panels tiled together. Tiles are typically one-to-two feet across, rectangular or square. Modular LED panels have enabled the creation of these extended screen sizes because, unlike LCD displays, they do not require a bezel, thus can be tiled together with minimal seams to show a single image from edge to edge. LED displays also use less energy than LCD displays with CCFL backlights, which becomes an important difference when energy consumption is amplified (haha get it?) across the many tiled panels that make up a large-format display. 
Video Walls, Digital Billboards, and Jumbotrons
Venue owners, advertisers, and event coordinators know that video walls and giant screens make a big visual impact, thus their growing popularity. First coming into use in the 1980s as the "jumbotron" displays in sports stadiums, large-format displays now account for the biggest segment of the digital signage market at more than 27% of revenues in 2020.5
LED screens predominate among jumbo-sized displays. For example:
The largest display screen in the world is the Sky Screen in Souzhou China's bustling Harmony Times Square. It forms a sinuous curve above the heads of shoppers and tourists, measuring 500 x 32 meters (1,640 x 105 ft) and is 16,000 m2 (172,220 ft2).
The second largest display on Earth is also an LED sky screen, at the Fremont Street Experience in Las Vegas. Suspended 90 feet above the heads of strolling pedestrians, it boasts 16.4 million pixels across its 1,375 x 90 foot-wide screen.
The Viva Vista light show on the giant sky screen at Fremont Street Experience in Las Vegas.
Another notable LED display is at the Mal Taman Anggrek shopping center in West Jakarta, Indonesia, which wraps around its cluster of high-rise towers. It measures 475 x 25 meters (1,559 x 82 ft).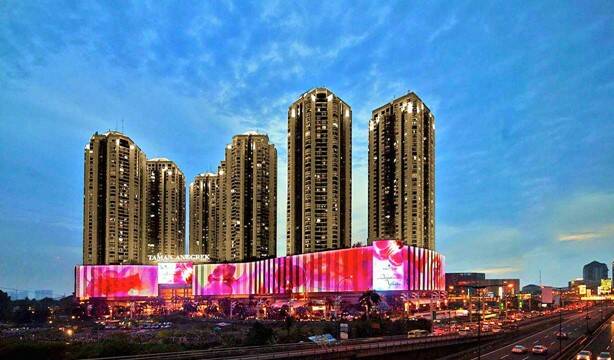 The LED display screen at Mal Taman Anggrek in Indonesia. (Image © Mal Taman Anggrek)
Meanwhile, the largest OLED screen in the world is "only" 40 meters wide by 15 meters tall, a mere 709.69 m2. It was installed in 2017 by Dubai Aquarium & Underwater Zoo at the Dubai Mall. 
What's notable about almost all these large-format screens around the world is that they are transparent or semi-transparent, taking advantage of new LED display methods.
Transparent LED Screens 
In fact, the fastest growing segment of the market is transparent LED displays.5 Made by fusing white LEDs with a transparent screen substrate, these displays typically offer high resolution and transparency of 75-90%. They operate with roughly the same energy efficiency as regular LED displays, making them an attractive option for many indoor and outdoor screen installations. 
Being see-through, they eliminate both aesthetic and safety issues that large opaque screens might cause by blocking the view of the surrounding environment. In fact, some municipalities have implemented rules to limit the visual clutter of display screens, helping to drive the adoption of transparent LED displays for many outdoor installations. 
These displays are also ideal for large screens placed across the front of a windowed building, because occupants can still see out and receive natural light. Retailers can use a transparent display in place of a store window, directing brightly lit advertising and images to passersby, while still enabling customers to see out.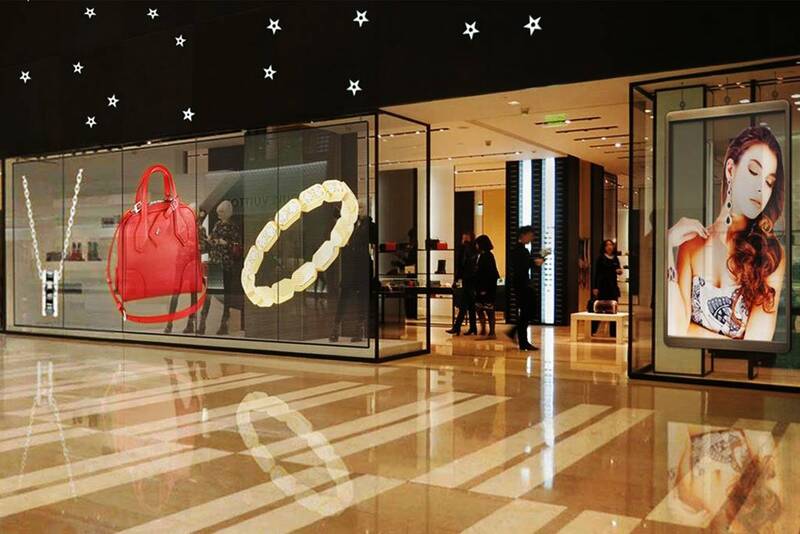 Transparent LED displays in a Singapore shopping mall enable the store to feature enticing product images to draw in passersby, while still enabling customers both inside and out to see through the windows. (Image: © Zoom Visual)
Big Screens Require Big Quality Control
When video or digital content is being projected at larger-than-life sizes, defects and issues in display quality can be glaringly obvious. Ensuring consistent color and brightness across the screen is critical—especially in emissive screens like LED, OLED, and microLED where each diode in the screen is an individual emitter, potentially resulting in wide variability in brightness or color output. This problem is compounded in large-format screens where several separate display modules are tiled together, each with their own potential uniformity issues. Quality testing these displays at the pixel level to identify any non-uniformity or blemishes (mura) is required.
Radiant has been providing solutions to measure and correct LCD, LED, and OLED displays for about as long as those technologies have been on the market. ProMetric® Imaging Photometers and Colorimeters closely match human visual perception of light and color to ensure the performance of display screens—of any size. Our VisionCAL® LED Screen Correction System is an advanced solution for automated color and brightness correction of large LED screens (such as stadium screens and billboards) in a controlled factory environment or in the field.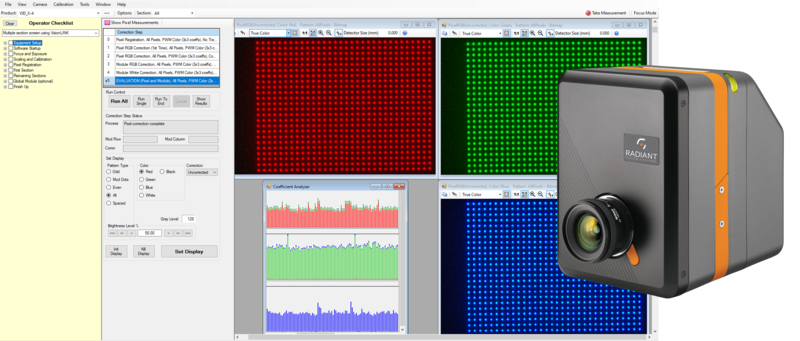 In the VisionCAL Software, pixel-level measurements are captured by a high-resolution ProMetric I Imaging Colorimeter (right). The software outputs luminance, chromaticity, and correction coefficients for each pixel to achieve uniformity for red, green, blue, and white within LED modules.
Transparent LED screens present an additional quality challenge, requiring careful inspection of glass and films to ensure no particles or defects are discernable on the surface or trapped between layers. Radiant's high-resolution ProMetric imaging systems—coupled with our TrueTest™ Software and expert detection algorithms—can spot unwanted particles in and on surfaces, glass, and transparent layers, quickly and efficiently. 
The sensitivity of our cameras and low noise operation ensures that pixel-sized particles are clearly discernable from image noise, so they can be identified and removed before assembly. Radiant engineers tune the process by setting thresholds and key detection criteria to meet manufacturer's specific and demanding requirements.
With tens of millions of dollars invested in constructing today's giant screens at event venues, retail hubs, and stadiums, manufacturers need to ensure that display screens provide the flawless viewing experiences that consumers expect. A defect-free display eliminates any viewer distraction or frustration and lets people simply enjoy what's on the screen—whether digital content, performance, or live play-by-play sports action on the field—or on the ice.
RELEASE THE KRAKEN!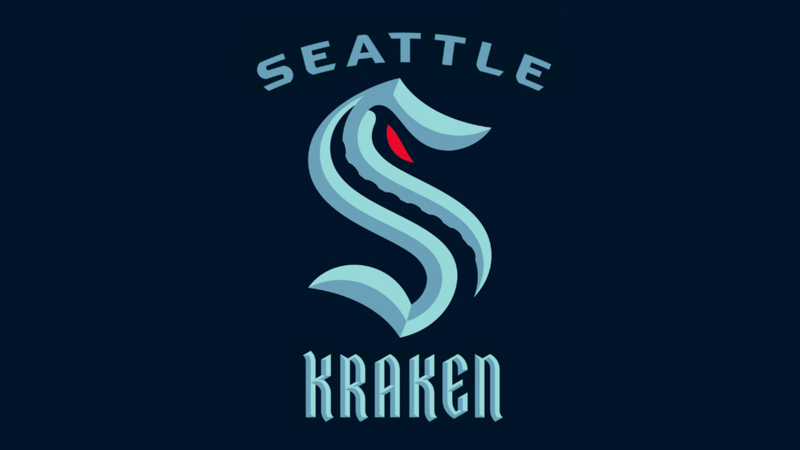 CITATIONS
Digital Signage Market by Screen Type (Video Walls, Video Screen, Transparent LED Screens, Digital Posters, Kiosks, Others), Component (Hardware, Software, Services), Technology (LCD, LED, OLED, Front Projection), Location…Global Industry Analysis, Market Size, Share, Growth, Trends and Forecast 2021-2028. Report by Fior Markets, Januay 2021
"Daktronics Helps Climate Pledge Arena Release the Event-Day Excitement for Seattle Kraken and Concert Goers with LED Display System." Display Daily, October 20, 2021.
Fior Markets Report, January 2021 (refer to citation #1)
LCD, Direct View LED, and OLED Explained. LG Electronics USA, Inc., 2016
LED Display market: Global Industry Analysis, Size, Share, Growth, Trends, and Forecast 2019-2027. Transparency Market Research. (Accessed November 11, 2021)
Ibid. 
Join Mailing List
Stay up to date on our latest products, blog content, and events.
Join our Mailing List