Customer Success Story: Delivering Turnkey Test Systems for HUD Glass Inspection
Mon, August 16, 2021
Automotive head-up displays (HUDs) are already a billion-dollar market, predicted to expand more than 24% CAGR by 2026.1 By displaying key data such as speed, navigation, and vehicle status directly in the driver's line of sight, HUDs keep drivers focused on the road and make vehicles safer. As the canvas for HUD images, the car's windshield is a critical optical component that requires careful testing. 
A demonstration of Honda's HUD System, showing all the different types of information that can be displayed to assist the driver.
A windshield HUD system is complicated to design due to the multiple layers of glass and film that compose today's windshields. These layers can impact the visual quality of a windshield HUD, causing distortion or creating duplicate overlapping images, or "ghost" images, of the projection if not formed and aligned properly.
For example, safety glass is designed with layers that make it less likely to break and cause injury. Tempering (hardening) and lamination (sandwiching a thin film between two thin glass layers) are the two primary techniques for creating safety glass.  Typically, polyvinyl butyral (PVB) is the plastic layer used for automobile windshields. This layer must be taken into consideration when designing the HUD.

Laminated glass (left) is less likely to shatter into pieces when damaged; tempered glass (right) breaks into small pieces rather than long, sharp shards that could cause serious injury. (Images: © Nuline Windows and Doors)
Projecting HUD Images on Automotive Windshields
With a PVB layer between two layers of glass, there are four different surfaces in the windshield that can reflect virtual images: the front and back surface of each glass layer. To correct for any duplicate-image or "ghosting" effect, HUD windshields are made with a subtle wedge shape—the gap between the layers is tapered.2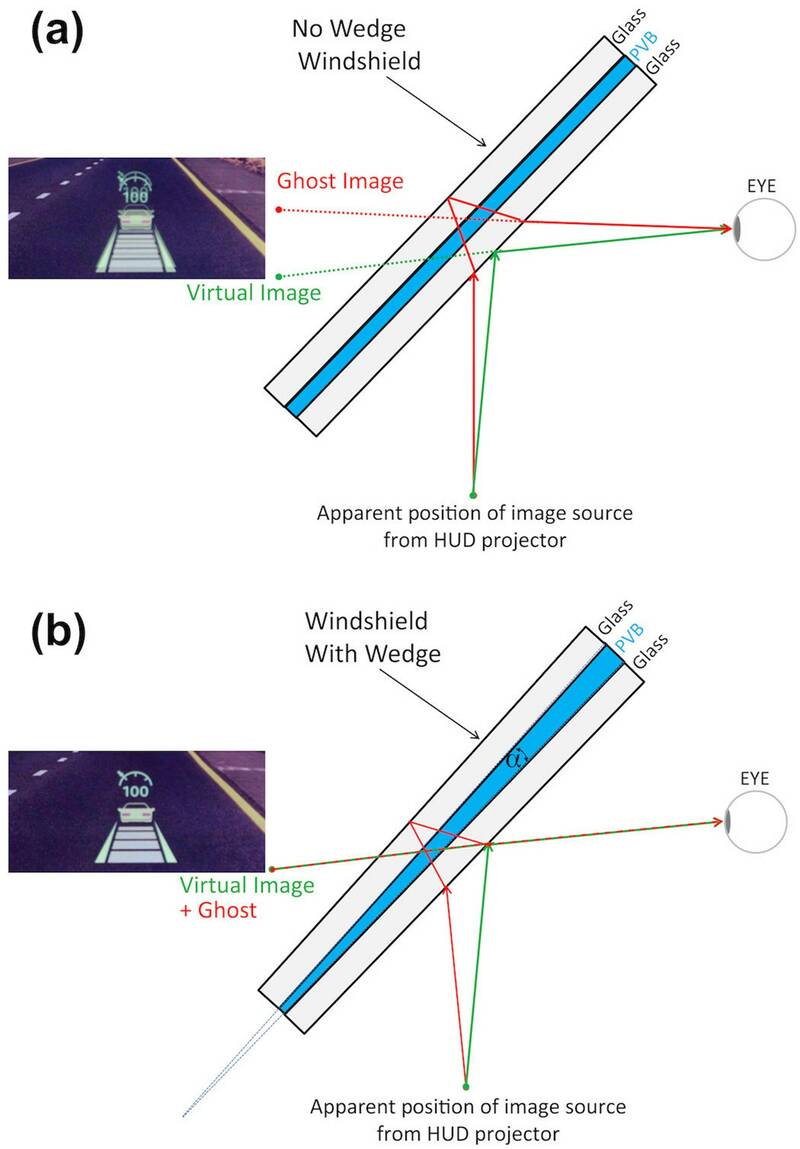 Windshield made from two glass layers and PVB without tapering (a) causes a ghosting effect. When the layers are tapered (b), preventing ghosting or double-image effects. (Image Source)
To ensure HUD images project correctly through a car's windshield, careful testing is required. Windshield testing typically employs imaging systems for visual inspection and isolates the properties of the glass—often called HUD glass—apart from qualities of the HUD projector. Experts in HUD glass testing and inspection provide automotive glass manufacturers with critical information about the glass form, layer properties, and wedge angle characteristics so manufacturers can adjust their process and address issues in glass production.
The tooling and gauging experts at CP Industries have decades of experience engineering and delivering fully integrated test systems for windshield glass to the automotive industry. As HUDs have become more prevalent in vehicles, the complexity of windshield glass test systems has increased. The automotive industry has become more regulated in terms of ensuring HUD visual quality and performance. Likewise, automotive OEMs have broadened their list of test and quality requirements for HUDs and the glass through which they are projected.
Reporting an objective measure of HUD visual quality according to automotive industry and OEM specifications is challenging for traditional inspection equipment and software. As CP Industries began developing its next-generation HUD glass test system, the "HUDSON," they wanted to optimize components that would address the advanced requirements of HUD glass inspection and solve more customer challenges out of the box.
An Optimal HUD Testing Solution
CP Industries determined that Radiant's ProMetric® Imaging Systems and TrueTest Software platform, combined with our industry expertise, offered the best solution. Radiant's HUD measurement solution already provides equipment and analyses developed to meet HUD performance criteria specified by the Society of Automotive Engineers (SAE J1757-2).
The solution can be further engineered to meet specific OEM requirements and test parameters, as well as accommodate integration with unique fixtures and automation controls. For their HUDSON inspection station, CP Industries engineered an automated 6-axis robotic arm system with a ProMetric Y Imaging Photometer, TrueTest's TT-HUD™ software module, and customized software elements developed by Radiant for analysis and reporting unique to CP Industries' test system and customer requirements. 
CP Industries' "HUDSON" HUD glass test system (Image © CP Industries)
With a fully featured HUD measurement solution on board, CP Industries' new HUDSON test system offers performance and delivery time improvements. For example, they have trimmed system delivery times on average from 24 weeks down to just 14 weeks.
They have also been able to reduce the amount of equipment needed for testing, for example, eliminating a luminance meter to test projection light sources (now performed by the ProMetric Y Imaging Photometer). Cycle times have also improved, all while being able to take new measurements that weren't possible with their previous systems, such as dynamic geometric measurement of HUD projections.
In this testimonial video, the CP Industries team discusses the mounting challenges of advanced HUD windshield testing and describes their solution development. They recount the benefits of transitioning from rudimentary machine vision systems to Radiant's complete HUD measurement solution—combining imaging photometers, electronic autofocus lenses, and specially developed HUD test software. They also share their experience working with members of the Radiant team, collaborating to provide next-level solutions to the automotive industry.
Learn more about how Radiant solutions are helping CP Industries meet the critical objectives of automotive OEMs and their suppliers for HUD safety and quality: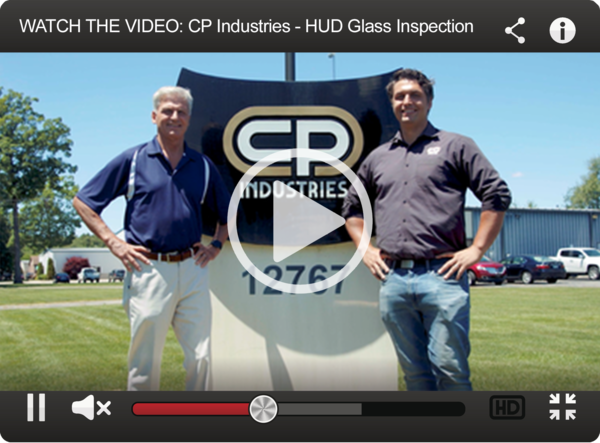 CITATIONS
Automotive Head-Up Display Market – Growth, Trends, COVID-19 Impact, and Forecasts (2021-2026), Mordor Intelligence, April 16, 2021.
Marcus, M., "Simultaneous head-up display windshield wedge-angle and layer-thickness measurements." SPIE News, July 29, 2016. 
 
Join Mailing List
Stay up to date on our latest products, blog content, and events.
Join our Mailing List