MicroLED Displays Go Macro: Large-Scale Digital Signage
Mon, August 03, 2020
Digital signage has had a growing presence in our lives since the 1990s, and is now commonplace in airports and transportation hubs, shopping malls, convention centers, sports venues, banks, medical centers, retail stores, and many other public spaces. It can take the form of large-scale screens and video walls displaying advertising or video content, stand-alone information kiosks, or directional and wayfinding signage. 
Digital panels are rapidly replacing analog information displays such as fast-food menu boards, while touchscreen technology has opened up new possibilities for user interactivity and self-service.1 The digital signage market is growing from an estimated $20.82 billion in 2019 to a projected $29.63 billion by 2024, a CAGR of 7.3%.2 
Part of the appeal of this communication platform is its ability (thanks to the cloud) to provide dynamic content that can be updated remotely: "digital signage is being used in and on all modes of public transportation to attract the attention of on-the-go viewers, providing the real-time location, and context awareness related to traveler information and advertising.3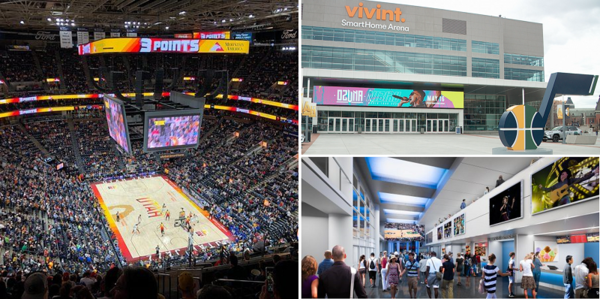 In 2018, Salt Lake City's Vivint Center, home of the Utah Jazz basketball team, completed a major renovation that included the installation of 600 Samsung digital display screens4 outside and throughout the venue. (Image sources: (left) TripAdvisor, (upper right) KUTV, (lower right) Utah Stories)
Digital Signage Display Technologies
The most common technologies used for digital signage have been LCD and LED screens, with some projection displays and, more recently, OLED. "Depending on the size of the installation, different displays are preferred. The small- and medium-sized networks mostly prefer LCD/LED. Users who are looking for large displays choose large screens due to the better video clarity they offer. LCDs fare better, in terms of power consumption and ongoing maintenance costs, especially concerning large displays."5
However, these existing technologies each have some performance and size limitations. The desire for high resolution and enhanced performance is driving interest in microLED displays as a new and potentially breakthrough digital signage technology. Most significantly, "microLED is considered to be the only display technology that has no size limitation."6
LCD and OLED panels use glass substrates, which are limited in size for production lines, making it difficult to create panels of over 120 inches.6 In contrast, microLED display modules are "direct view" technology, where the diodes (the subpixels) are arrayed before the viewer without a liquid crystal or glass panel. Multiple microLED panels "can be mosaicked into 110-, 220-, 440-, 790-inch or even larger displays"7 without bezels, creating a smooth, vast display landscape.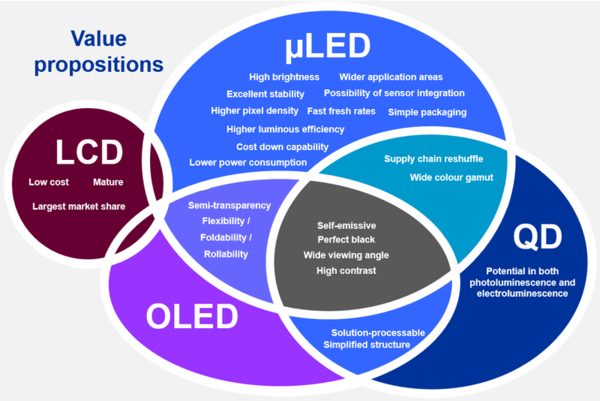 A comparison of the strengths of various display technologies, demonstrating the attractive value proposition for microLEDs. (Image: IDTechEx)
To fabricate a microLED display, "many technologies and processes are involved, such as epitaxy, photolithography, chip fabrication, substrate removal, inspection, mass transfer, bonding and interconnection, testing, repair, backplane and drive IC, etc."8 Challenges in some of these areas have been solved already, some have not, slowing the commercialization of the technology.
For example, mass transfer is an area of heavy research and development by multiple companies using different approaches. Despite the challenges, however, some industry analysts expect that microLED displays will see broad adoption as early as 2024.9 Some prototypes and high-end/custom microLED displays such as Samsung's The Wall are available already.
Recently, a new manufacturing process has been developed to embed CMOS circuits in microLED chips, which reduces the complexity of the mass transfer process. This approach has the potential to increase yields, thereby decreasing production cost for microLED panels. Additionally, "backplanes are not limited to TFT-LCD glass substrates and can be made of glass, metals or flexible materials."10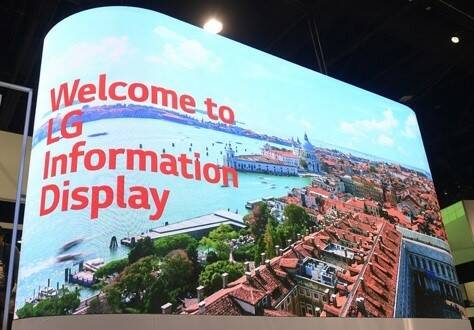 LG's large, curved microLED display model circa 2019 (Photo credit: LG Business Solutions, Source)
OLED and MicroLED Display Quality: The Need for Test and Correction
As with any display product, digital signage customers expect a high-quality viewing experience, free from image defects, nonuniformity in color or brightness, blemishes (mura), or dead pixels. Display metrology solutions help to ensure the quality of displays—a topic regularly discussed by the Society for Information Display (SID). This week, the organization is holding its annual SID Display Week symposium and exhibit as an entirely virtual event, with online access to exhibitor "booths" and conference presentations and seminars throughout the week (August 3-7).
As Emerald Sponsor of the Display Week virtual event, Radiant showcases leading display test and measurement solutions through our booth and technical presentations. The Radiant virtual booth features educational resources about the benefits of using image-based systems for measuring light and color, along with video demonstrations of new display test systems. One of our videos presents a case study of our solution for microLED display measurement and correction as used in microdisplay technology produced by Jasper Display Corporation.
Radiant's ProMetric® Imaging Photometers and Colorimeters can be used for OLED and microLED display testing and production to measure brightness and color uniformity at the pixel and subpixel level, and correct poorly performing pixels. Visitors to Radiant's virtual booth can learn about our correction methods for emissive displays (a process known as demura or pixel uniformity correction) using our high-resolution imaging systems and proprietary software methods. ProMetric Imaging Photometers and Colorimeters can be used with or without an optional Microscope Lens to help manufacturers measure and inspect high-resolution emissive displays such as microLED to improve device quality for commercialization.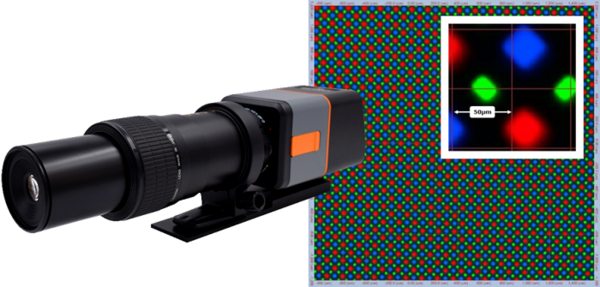 Radiant's ProMetric Y Imaging Photometer—with our Microscope Lens that provides 5x and 10x magnification—can be used to characterize individual microLEDs, subpixel layouts, shapes, and color patterns (right) with TrueTest™ Software, achieving extreme detail in a very small spatial area.
At the concurrent Display Week Symposium, Chief Executive Officer at Radiant, Doug Kreysar, presents a new method for emissive display measurement in his Symposium talk "Fractional Pixel Method for Improved Pixel-Level Measurement and Correction (Demura) of High-Resolution Displays." Attendees of the Symposium can watch this technical presentation (Session 71.1) online starting Thursday, August 6.
Additional measurement solution demonstrations for AR/VR devices and for automotive displays and illuminated components can be viewed at Radiant's virtual booth on demand this week. The Display Week 2020 virtual exhibit is free to attend with registration and can be joined online from anywhere in the world. Visit www.displayweek.org to register.
 
CITATIONS
Alleyne, L., "Technologies Impacting the Future of Digital Signage", Digital Signage Magazine, July 24, 2019
Digital Signage Market by Offering (Hardware (Displays, Media Players, Projectors), Software, Services) Product, Application, Vertical (Retail, Transportation & Public Places, Sports & Entertainment, Education), and Geography – Global Forecast to 2024, Markets and Markets, March 2019. 
Digital Signage Market Size – Growth, Trends, and Forecast (2020-2025), Mordor Intelligence, published 2019. (Retrieved July 21, 2020)
Alleyne, L., "Technologies Impacting the Future of Digital Signage", Digital Signage Magazine, July 24, 2019
Digital Signage Market Size – Growth, Trends, and Forecast (2020-2025), Mordor Intelligence, published 2019. (Retrieved July 21, 2020)
"MicroLED Displays: Getting Ready for the Future?", Digital Signage Connection, July 28, 2020
Haynes, D., "Report: MicroLED Adoption Expected Within Four Years As Tech Improves, Prices Fall", Sixteen:Nine, January 16, 2020
Micro-LED Displays 2020-2030: Technology, Commercialization, Opportunity, Market and Players, ID TechEx
Ibid.
Huang, T., "Micro LED to be widely used in large displays starting 2024", DIGITIMES Research, January 8, 2020.
 
Join Mailing List
Stay up to date on our latest products, blog content, and events.
Join our Mailing List