Production Line Display Testing to Meet Today's Manufacturing Demands
Mon, August 10, 2020
As the world is adjusting to new pandemic realities, so too is the display industry. The focus was on displays last week, as the Society for Information Display (SID) held its first all-virtual Display Week symposium and tradeshow. From business computers and personal laptops to smartphones, televisions, and AR/VR headsets, all segments of the display industry are seeing big shifts since the beginning of 2020, upending some previous predictions and expectations.
For example, demand for IT Displays (e.g., monitors used in office meeting rooms) has seen a drop-off as many people have shifted to working from home. At the same time, purchases of laptops, PC monitors, and peripheral devices such as microphones have all seen a surge in demand as workers outfit their home offices to enhance productivity and video conferencing capabilities.1
Additionally, long hours spent at home are leading to a surge in gaming, driving new interest in gaming PCs and monitors. Meanwhile, educational display purchases are increasing, as classroom instruction gives way to hybrid or fully distance-learning methods.2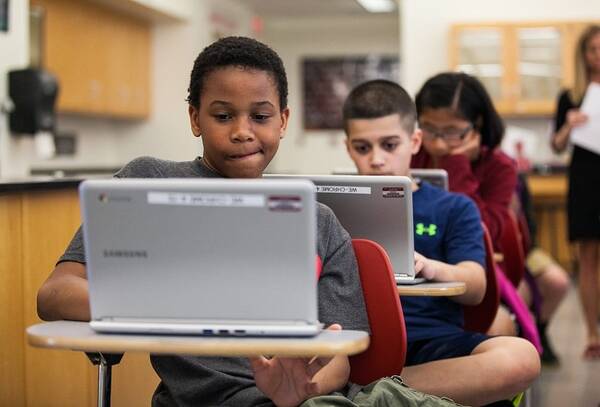 Before COVID-19, Google Chromebooks already made up 60% of classroom computer shipments in the U.S.3 Now, kids need the devices to continue their learning at home. (Image: © Google, Source)
For smartphone makers, pandemic shutdown of retail stores caused a significant dip in sales, although the numbers have begun to rebound globally. A majority of consumers in the US don't intend to delay new smart phone purchases this year, but more than 60% say they will be spending less than originally planned on new models.4
Yet even with these market shifts, innovation and technology adoption has not been significantly slowed. The transition to OLED screens from LCD is continuing in many applications,5 new foldable/flexible/rollable displays are seeing increasing shipments, and development activity in microLED (μLED), quantum dot (QD), and other breakthrough technologies is ongoing.
Rollable OLED prototype display from BOE that scrolls out to 12.3 inches long. Designed to be easily swapped between smartphone and entertainment terminals.
Production Testing to Support Yields, Control Costs
Even under dynamic market conditions, production concerns remain consistent for manufacturers of all types of displays. They need fast, accurate production-line display measurement and inspection, now more than ever, as shifting demand can throw capacity and operating profits into disarray. For more than 25 years Radiant has provided light and color measurement solutions that can help display makers ensure device quality—at production line speeds.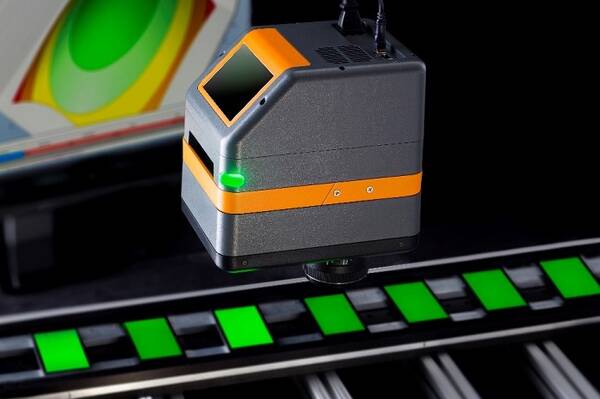 Radiant's workhorse ProMetric® Imaging Photometers and Colorimeters provide high-resolution, automated visual inspection to improve supply chain performance, reduce production costs, and ensure a high-quality end product. Used with our TrueTest™ Automated Visual Inspection Software, Radiant display inspection solutions accommodate multiple screen sizes and display types, including LCD, OLED, miniLED, microLED, projection, and more. Systems can be implemented throughout the display manufacturing process to test display quality every step of the way for in-line inspection and fully automated quality control. 
TrueTest Software includes a broad range of tests:
ANSI brightness
Chromaticity (CIE x,y and CIE u',v' coordinates)
ANSI color uniformity 
Contrast
Gradient
Light or color mura (blemish) detection
Light leakage
Pixel and line defect inspection
Image sticking
View angle performance
As well as specialized test packages for various imaging system lenses and applications from automotive to AR/VR display testing.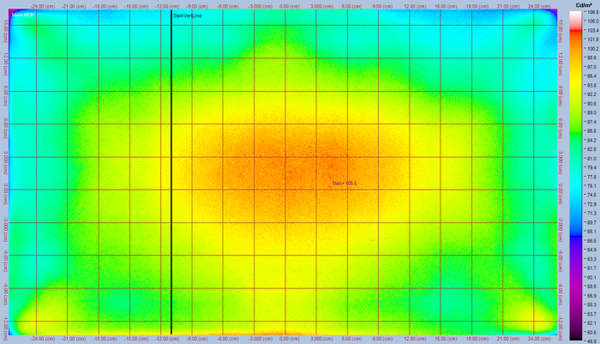 Evaluating display brightness uniformity while identifying and measuring a line defect using TrueTest Software (shown in false color).
Watch this brief product demonstration to see how display manufacturers can realize a complete visual inspection solution for automated display testing using a ProMetric imaging system with TrueTest on-board. This hardware/software system  enables integration to display devices for synchronizing test images with analyses, fully automated test sequencing, and pass/fail based on user-defined parameters.
In this video, you will learn about:
Radiant's complete solution for automated visual inspection of displays
TrueTest software capabilities including test sequencer, integration to devices, and test suite for display testing based on brightness, color, contrast, uniformity, mura, and more
Using TrueTest to asynchronously analyze display images as new images are being captured for extremely rapid automated inspection of all aspects of visual display quality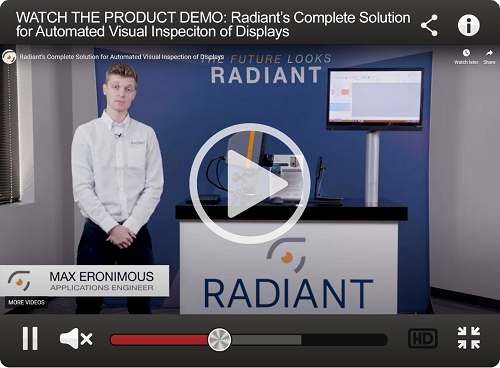 CITATIONS
Young, R., "2020 – A Year Like No Other", presentation of DSCC market analysis at SID Display Week Business Conference, August 3, 2020.
Reith, R., "IDC PC Market Update", presentation of IDC market analysis at SID Display Week Business Conference, August 3, 2020
"Why Chromebooks have expanded in K-12 Classrooms", Kajeet, January 22, 2019
Kang, T., "Is COVID killing the smartphone market in 2020?", presentation of Counterpoint Research market analysis at SID Display Week Business Conference, August 3, 2020
Hsieh, D., "Top 10 Display Topics in 2020-2021: After COVID-19 and Beyond", presentation of OMDIA market analysis at SID Display Week Business Conference, August 3, 2020.
 
Join Mailing List
Stay up to date on our latest products, blog content, and events.
Join our Mailing List