TrueTest™ Software for Display Testing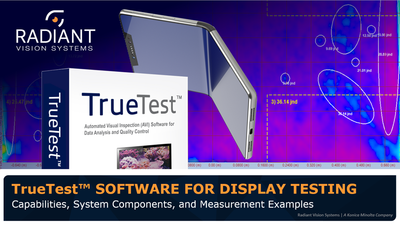 This presentation introduces TrueTest™ Automated Visual Inspection Software from Radiant. The TrueTest platform is designed to enable in-line quality control to detect visual quality issues and surface-level defects in illuminated components during manufacture. The software allows users to easily identify and quantify mura and other visual display defects during the productio of illuminated displays and components, using a ProMetric® Imaging Colorimeter or Photometer and TrueTest Software and leveraging a variety of simple software test sequences and user-defined tolerances. Learn the types of tests that can be performed, how to set up an automated test sequence in TrueTest, and see real measurement results and analyses.
In this Presentation, you will learn about:
TrueTest™ Software and its capabilities for display test
Components of a complete solution
Types of mura we can detect, including:

Color mura, line mura, edge mura, black mura, random mura and more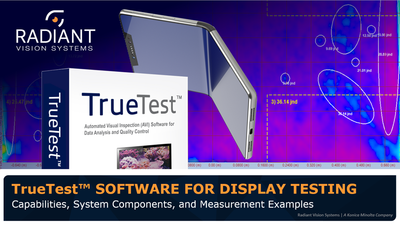 How can we help?
Please complete the following fields and we'll follow up with you promptly.