Automotive Interiors of the Future: Sensing, HUD, and More
Mon, December 07, 2020
The pace of technology innovation in the automotive industry has continued steadily in 2020, despite the global pandemic and some economic "bumps in the road". Increasing vehicle automation, increased connectivity, and deeper market penetration of electric and hybrid vehicles are among the biggest industry trends predicted through 2025 and beyond. New technology developments are already transforming automobile functionality, interiors, and the driver experience.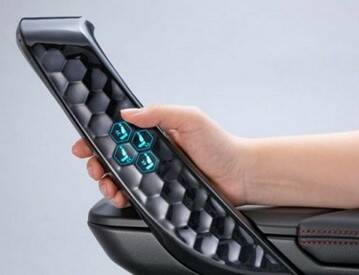 This decorative trim developed by Canatu and TS Tech has 3D touch switches to control power seat adjustments—just one of the many new products and features shown during the Automotive Interiors Expo Virtual 'Live' event. (Image: Source) 
Advances in ADAS and AV Systems
Trends in advanced driver assistance systems (ADAS) and autonomous vehicles (AV) have implications for new vehicle designs, including considerations for sustainability, new materials, finishes, colors, textures, and emerging technology integrations. Smart surfaces like e-textiles, plastics, wood, glass, and others enable touch sensors and lighting to be embedded into new areas of the vehicle, providing seamless control-panel and symbol integration for almost any substrate. 
Industry prognosticators foresee that autonomous driving functions conforming to SAE Levels 3 and 4 will soon start to become common vehicle features. This means that your car can take control under specific circumstances, such as braking to avoid hitting an obstacle. For example, Nissan has made some autonomous driving features standard in upcoming models. Use of autonomous vehicles outside of public roads—such as in warehouses—is already moving "full speed ahead."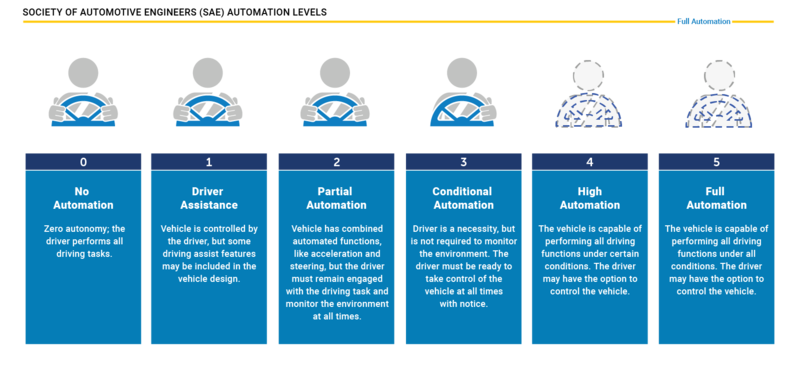 Five levels of vehicle automation, as defined by the Society of Automotive Engineers (SAE). (Image Source: NHTSA)
Another significant area of technology adoption in vehicles combines equipment and software to create new forms of embedded intelligence that can address "both basic and psychological needs of drivers and passengers."1  Some OEMs have developed their own proprietary vehicle operating systems. These smart cars can control critical vehicle operations, monitor passenger status and safety, and provide customized infotainment for vehicle occupants. 
Meanwhile innovative display shapes and integrations offer new possibilities for occupant information and entertainment in dashboards, center stack displays, windows, head-up displays, and other interior locations. The global automotive smart display market is expected to grow at 8.8% CAGR through 2025.2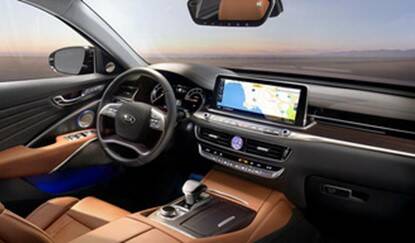 Display-based instrument panels and navigation/infotainment consoles in the 2020 Kia K9000. (Image © Kia Motors America, Inc.)
Technology Inside the Vehicle
With all of these technology features coming together rapidly, manufacturers still must keep safety at the forefront, enabling the driver to control and interact with the vehicle without taking their eyes off the road or their hands off the wheel (in the absence of full autonomy). Multiple contactless interaction capabilities are needed: "voice, gesture, and touch-based operation will see increased adoption, combining comfort with safety through distraction avoidance."3 For example, head-up displays (HUDs) can use augmented reality to project graphics onto the windshield so drivers can see information and alerts without taking their eyes off the road ahead.
Last week, the Automotive Interiors Virtual 'Live' event brought together the global automotive community to discuss the continued development of interior vehicle systems that enhance user experience, safety, and operation. Emerging applications include the use of near-infrared (NIR) light for driver monitoring systems (DMS) and occupant monitoring systems (OMS); the DMS market is expected to increase by more than 12% CAGR between 2020 and 2023.4 These systems project invisible light into areas of the cabin and capture reflections to map the vehicle interior as well as calculate the presence, depth, shape, or other information for all occupants and objects inside.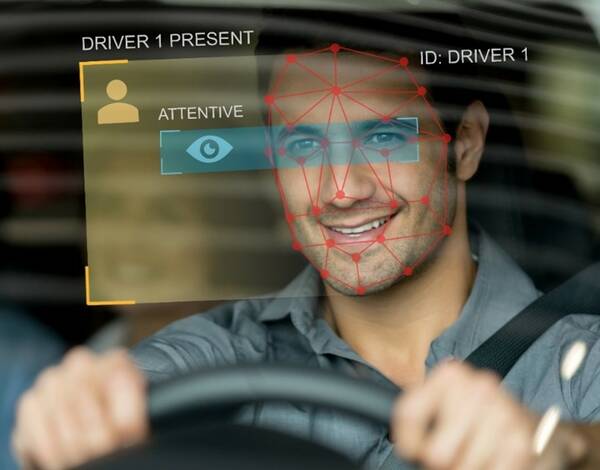 Example of DMS applications such as driver identification, presence detection, and awareness monitoring, which can all be performed using NIR light integrated in the cockpit.
In DMS, NIR light can be used to unobtrusively monitor driver alertness, gaze, presence, and position to prevent accidents due to distraction or drowsiness behind the wheel. New interior surface treatments, lighting, and display integrations are also contributing to enhanced vehicle operation and safety.

Examples of LED light guides integrated within a vehicle that enhance the occupants' functional and aesthetic experience. (Images: © EFI Lighting)
Ensuring Automotive Technology Feature Performance
From digital infotainment displays to backlit controls, from HUD to DMS, Radiant offers effective test and measurement solutions for automotive component inspection and analysis. Our ProMetric® Imaging Photometers and ProMetric® Imaging Colorimeters provide manufacturers with scientific measurement data to enable objective evaluation of illuminated components throughout the vehicle, including new backlit smart surfaces, integrated displays, ADAS, traditional and AR-HUD projections, and NIR sensing used in DMS and lidar. 
Radiant's light and display metrology solutions are specially developed to meet automotive industry needs for automated visual inspection and quality control from research and design labs to production settings. As vehicles incorporate more displays, smart lighting, and NIR for sensing applications, the need to monitor the accuracy of these systems is vital. Radiant solutions for vehicle interior component inspection include integrated camera/software systems to address:
Flat-panel (FPD) and curved display inspection – with a ProMetric imager, TrueTest™ Automated Visual Inspection Software, and the TT-AutomotiveDisplay™ module, manufacturers can perform thorough testing of in-vehicle displays including testing to the German (DFF) black mura standard. 
HUD evaluation – the TT-HUD™ software module enables a complete, automated solution for 2D and AR HUD measurement that can be integrated in labs, vehicles, and with robotics
Interior lighting – interior ambient and task lighting, LED light strips, light pipes, and halos can all be evaluated with a ProMetric camera plus TrueTest software providing a complete interior and exterior light measurement solution
Backlit components, instrument clusters, and symbol testing – TrueTest and VIP™ (Vision Inspection Pack) software include features that enable efficient instrument panel measurement
NIR light source measurement for DMS and other 3D sensing applications – the award-winning NIR Intensity Lens and TT-NIRI™ Software enable quick and accurate evaluation of near-IR light sources, including LEDs and vertical-cavity surface-emitting lasers (VCSELs)
See how Radiant solutions are helping automakers put their products "on the road" to success by ensuring the accuracy of every illuminated automotive component:
CITATIONS:
Join Mailing List
Stay up to date on our latest products, blog content, and events.
Join our Mailing List