Keeping Pace with Display Industry Innovation: Interview with Radiant's Asia Technical Director
Mon, September 28, 2020
From increasing demand for high-resolution televisions, to OLED smartphone commercialization in countries around the globe, to the rise of augmented reality in industry, healthcare, and training—the display market is booming. And the electronics industry hasn't slowed; continuing to innovate by researching and investing in advanced display technologies, new form factors, and enhanced product features. 
A significant amount of electronics development and production activity occurs in Asia, with market leaders such as Samsung and LG Display headquartered in Korea, AUO in Taiwan, Panasonic and Sharp in Japan, and Huawei and BOE in China, as just a few examples. Additionally, many major U.S. consumer electronics brands have manufacturing operations in China, Vietnam, and other parts of Asia. In the U.S., CES is the big annual consumer electronics exposition; in China  the China Information Technology Expo (CITE) provides a similarly grand forum, with typically around 1,500 exhibitors and 100,000 attendees annually. 
Highlights from CITE 2020
This year's event, the 8th Annual CITE, was held at the massive Shenzhen Convention & Exhibition Center in August (postponed from its original April date due to the pandemic). Across nine exhibit halls, the event encompassed technology topics including smart home systems, artificial intelligence, intelligent manufacturing, high-end chips, new display technologies, augmented and virtual reality (AR/VR), robotics, intelligent connected vehicles, 5G, Internet of things (IoT), and more. Just like at CES, many companies premiere their latest and greatest products and prototypes at CITE.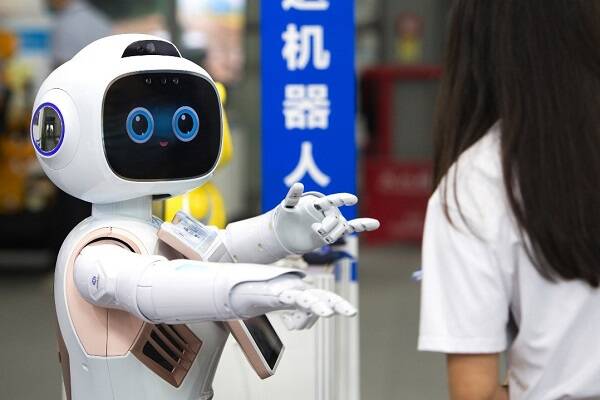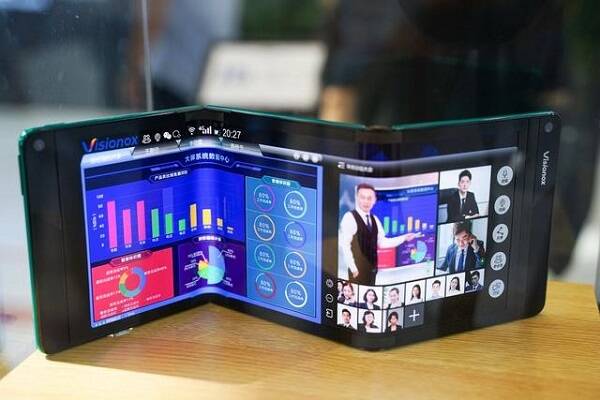 A friendly robot (top) on the floor at CITE (Image: China Science); an AMOLED tri-fold display device from Visionox (Image: Source)
Supporting Industry Innovation & Quality
The Radiant China team was at this year's CITE, exhibiting our display metrology solutions in live demonstrations from the show floor (Radiant has direct offices and operations in Shanghai, Shenzhen, and Suzhou, China, as well as Korea and Vietnam, along with sales offices in Japan, Singapore, and the Taiwan Area). Our ProMetric® Imaging Photometers and Colorimeters have been used by leading consumer electronics manufacturers for automated optical inspection (AOI), measuring and qualifying millions of consumer devices such as smartphones, televisions, laptops, keyboards, and AR/VR headsets. 
Anticipating the next generation of display products, at CITE 2020 Radiant showcased our newest solutions for measuring mini- and microLED display technologies. The advantage of our photometry-based imaging systems is that they are able to match how the human eye perceives light and color, thus automating the process of inspecting for quality that meets the visual standards of end users.
While at the show, Radiant's Vice General Manager of China and Asia Technical Director, Li Sun, was interviewed by FPDisplay. Sun shared the importance of continued innovation of Radiant's own products to keep in step with—and ahead of—the display market. For example, as the AR/VR and near-eye display (NED) market began to develop, Radiant designed a special lens to enable accurate measurement of displays inside headsets, as human viewers would experience them. "To accommodate the special viewing environment of an AR/VR headset, the aperture of the Radiant AR/VR Lens was designed at the front of the lens. This enables the connected system to achieve wide-field-of-view (WFOV) measurements—up to 120 degrees horizontal—from inside the headset, covering the FOV ranges of today's AR/VR devices," said Sun. 
Read the interview to learn more about the latest innovations in display metrology and Radiant's successful R&D approach to business, which combines responsiveness to customer needs, customization of solution packages, and anticipation of future display testing requirements in the rapidly diversifying industries we serve.
Published by FPDisplay (see original Chinese interview) on August 31, 2020.
Join Mailing List
Stay up to date on our latest products, blog content, and events.
Join our Mailing List