Setting the Standard for Smartphone Display Quality
Mon, November 09, 2020
The smartphone market has taken a dip in 2020, along with many sectors of the economy, and is forecast to end the year down 9.5% from 2019.1 Industry analysts predict smartphone sales will rebound by 2022, however, and leading device makers such as Google, Nokia, Samsung, Huawei, and Apple are continuing to develop and release new models.
Consumers have come to depend more and more on their phones for a broad range of functions such as viewing videos and streaming media; managing home smart devices, retail, finance and fitness applications; and staying connected with family and friends amidst pandemic social distancing. With an estimated 3.5 billion smartphone users around the globe—including 81% of Americans2—the market remains highly competitive.
The Need for Smartphone Display Testing
Nearly all aspects of a smartphone are controlled via touchscreen displays. These screens must have sufficient brightness, clarity, contrast, detail (resolution), uniformity, and be free from visual defects to provide a positive user experience and ensure the intended function and performance of the device. Powering the display screen uses roughly 40% of phone's electrical charge, so display makers must "find a good balance between making the display visible in even the most challenging conditions while ensuring that the phone will not run out of power in too short a time interval."3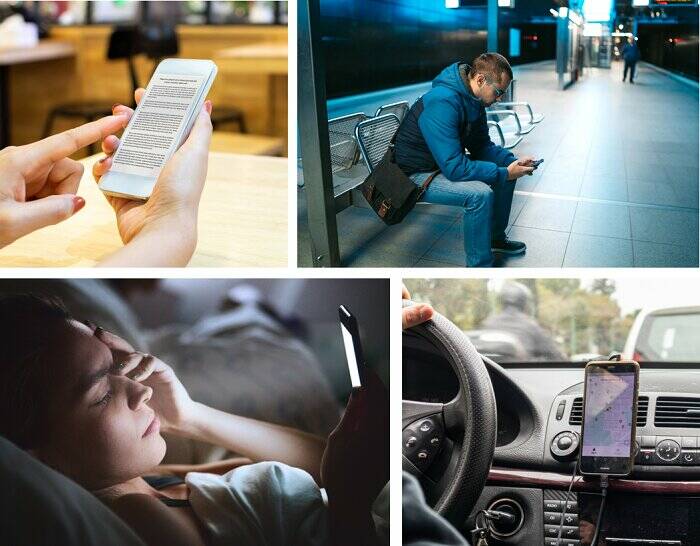 Smartphones have become ubiquitous in our daily lives and must remain clear and readable when used for multiple functions under a wide range of ambient light conditions.
To balance these considerations and ensure customer satisfaction, leading smartphone brands engage in rigorous internal device testing and inspection throughout the design and manufacturing process. Manufacturers may also submit their devices to independent organizations for further testing and review to provide unbiased validation of product quality and performance.
DXOMARK Takes the Lead on Display Quality Assessment
One such independent organization is DXOMARK, a French firm that has been providing independent benchmark studies based on scientific assessment of the latest display devices, cameras, lenses, and speakers for 14 years. Considered by many to be the "gold standard" of smartphone quality ratings, DXOMARK's testing, scoring, and rankings are followed closely by both industry insiders and consumers. A device's DXOMARK score is often published by device manufacturers, news, and media as accreditation of the device's quality. DXOMARK not only provides device scores as a means of qualification, but they also consult directly with manufacturers, applying objective data from comprehensive testing to help manufacturers improve their device designs.
The company recently built a new test lab in its Paris headquarters dedicated to evaluating smartphone display quality. Their custom testing chamber, the Display Bench, standardizes the testing conditions for all devices under test and includes LED lighting to mimic ambient light and fully automated positioning equipment. The DXOMARK display test lab is also stocked with the latest scientific test and measurement equipment, such as the Radiant ProMetric® Imaging Colorimeter and the Konica Minolta CS-2000 Spectroradiometer.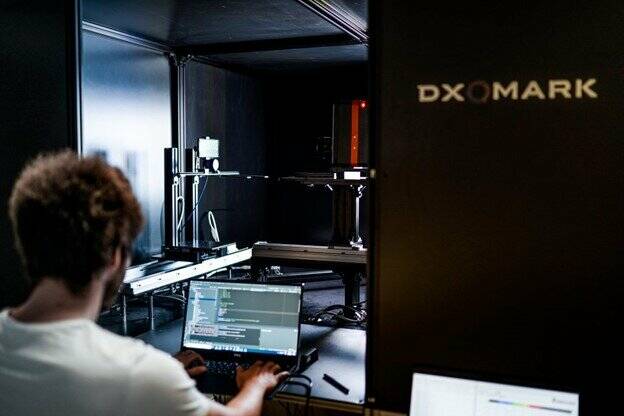 The Display Bench at DXOMARK's new display test lab, with a Radiant ProMetric® Imaging Colorimeter performing automated colorimetric measurements and visual inspections of a smartphone display. (Image © DXOMARK)
A unique aspect of DXOMARK's testing process is that products are evaluated under "real-world" conditions. Smartphones are often used on the go, in all types of ambient lighting conditions, and may be viewed from multiple angles. Typical phone display functions include web browsing, in-car navigation, taking and viewing photos, gaming, viewing videos and movies, and reading eBooks. These displays may be viewed outdoors in full sun, on airplanes, in offices, in moving vehicles, or in darkened rooms.
To evaluate performance under all of these various scenarios, DXOMARK also uses the Radiant FPD Conoscope Lens, which provides high-resolution photopic measurement of the angular distribution of a source up to ±70°. In other words, the lens allows the connected photometric imaging system to measure the display as it would be seen all angles or rotations in any direction to ±70°.  The lens is designed with Fourier optics to capture a full cone of view angle data in a single measurement, providing quick and accurate results.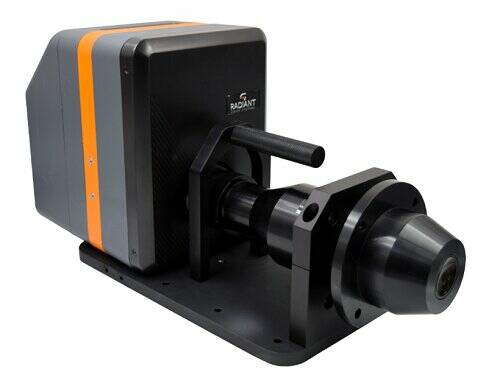 Radiant's ProMetric® I-Series Imaging Colorimeter with FPD Conoscope Lens provides high-resolution measurement of luminance, chromaticity, and contrast across viewing angles up to ±70° in a single image.
To learn about which smartphone display attributes are tested to determine quality—including readability, color, video, motion display, touchscreen performance, and artifacts (flaws)—and DXOMARK's rigorous testing approach, read the article: "How DXOMARK tests display quality."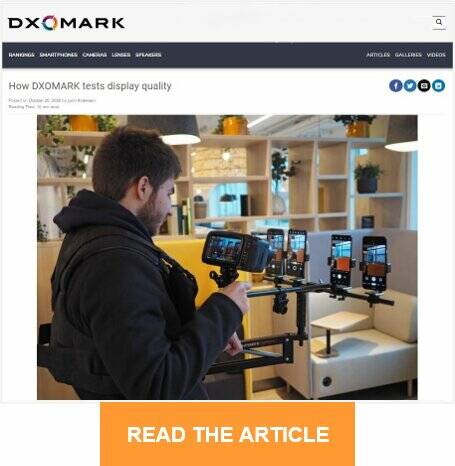 CITATIONS
Sbeglia, C., "IDC Predicts that the global smartphone market will fully recover by 2022", RCR Wireless News, reporting information from IDC's Worldwide Quarterly Mobile Phone Tracker®  
Mobile Fact Sheet, Pew Research, June 12, 2019
Anderson, L., "How DXOMARK tests display quality", DXOMARK.com, October 20, 2020.
 
Join Mailing List
Stay up to date on our latest products, blog content, and events.
Join our Mailing List