Through the Looking Glass: Case Study on HUD Windshield Testing
Mon, April 26, 2021
Head-up displays (HUDs) were first developed in the 1940s and used by military pilots in World War II. The essential concept hasn't changed, for airplanes or automobiles—HUDs project semi-transparent information directly in an operator's field of view so they don't have to take their eyes off the landscape to check instrument panels.
But the methods of projection and the display technologies have come a long way since then. In the automotive industry, we have witnessed a quick progression from small, 2D screens mounted to the dashboard to next-generation 3D, augmented-reality (AR) HUDs that can integrate images with the environment outside the vehicle—for example displaying a navigational arrow that appears to be where a driver needs to turn. Because HUDs help make vehicles safer, enabling drivers to keep their eyes on the road, the market is booming. Automotive HUDs are already roughly a $1 billion market, with expansion of more than 24% CAGR predicted from 2021-2026.1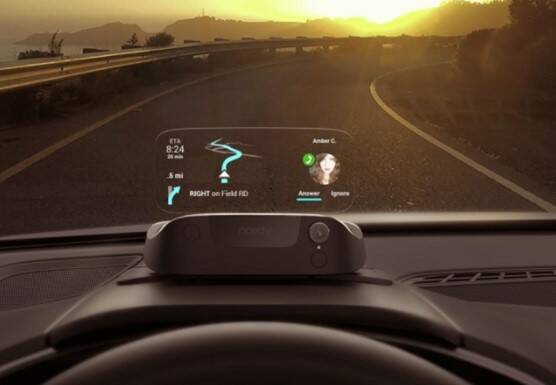 A typical after-market HUD: the display area is limited to a small transparent screen mounted on the dashboard, nicknamed a "dashboard wart" by one industry commentator. (Image: © NAVDY)
Windshields as a HUD Canvas
Today's automotive HUD systems project virtual images onto the vehicle's windshield, which are visualized through the glass at a perceived distance of several meters. The windshield acts as an optical component of the HUD system. This means that the visual performance of HUDs can be dramatically impacted by characteristics of the glass itself beyond the performance of the image projection technology. 
Variations in windshield glass form, lamination, layer thickness, and wedge angle may result in visible defects that appear as dimensional distortion or ghosting (duplication) of HUD virtual images when viewed through the glass. Requirements for HUD testing are based on industry-standard test parameters and formulas in addition to OEM-specified requirements that must be met by suppliers throughout the HUD ecosystem, from glass makers to projection system manufacturers. 

Representations of BMW's futuristic BMW Vision Next 100 augmented reality HUD that extends across the entire windscreen. (Images: BMW)
The Need for Windshield-Level HUD Testing
HUD glass is tested for several primary defect categories—for example, Distortion and Ghosting. Test requirements for each defect category may vary, but fundamentally they include a test image (usually a line or dot pattern) that is projected through the glass, and formulas that use coordinate points in the image to calculate geometric measurements of deviations in the projected pattern from the ideal pattern.
Each defect category has several qualities that must be evaluated, and each quality is measured using a specific formula and method (specified in industry or OEM requirements). For example, a complete Distortion evaluation for HUD glass inspection may require 10-20 calculations to evaluate all visual qualities to account for the range of potential deviations within the projected test image.
Case Study: CP Industries HUD Glass Testing
CP Industries has decades of experience as a full-service tooling integrator, providing custom assembly fixtures and test systems for a range of applications in automotive manufacturing—including glass. With the advent and growth of head-up displays (HUD) in the automotive market, they were well-positioned to address the need for windshield testing as an integral component of HUD systems. 
However, reporting an objective measure of HUD visual quality according to automotive industry and OEM specifications is challenging for traditional inspection equipment and software. As the company began developing its new HUD glass test system, CP Industries looked to optimize components that would address the advanced requirements of HUD glass inspection and solve more customer challenges out of the box.
They determined that Radiant's ProMetric® Imaging Systems and TT-HUD™ software platform, coupled with our domain expertise, offered the best solution for their next generation "HUDSON" test system. Radiant has built a fundamental understanding of HUD measurement criteria through the application of photometric and colorimetric imaging systems for HUD testing across OEM and supplier tiers. Radiant's HUD measurement solutions incorporate standard test criteria specified by the Society of Automotive Engineers (SAE J1757-2) as well as features developed around unique customer application requirements. 
Radiant's systems are applied to test photometric qualities like luminance, chromaticity, and contrast, as well as dimensional checks for distortion, warping, and ghosting. High-resolution, scientific-grade ProMetric imaging systems are equipped to handle significant data processing and output demands, and provide on-board image processing and advanced calculations for image-based measurement.
Replacing machine vision cameras in their design, CP Industries integrated Radiant's ProMetric Y Imaging Photometer into its HUDSON test system to handle the image capture and processing for HUD glass inspection. Data from the ProMetric system is analyzed using TT-HUD, a test suite and user interface developed specifically for automated visual inspection of automotive HUDs. TT-HUD provides all data-capture and analysis functions, and—unlike the machine vision software used in earlier test systems—includes built-in calculations to measure the qualities of HUD projections based on standard formula.
The HUDSON test system from CP Industries addresses complete customer requirements for HUD glass inspection and can be incorporated as part of a fully automated production line or used in offline measurement. (Image: © CP Industries, used with permission)
Since implementing the Radiant solution in place of machine vision cameras in the HUDSON system, CP Industries has experienced myriad benefits and process improvements. Because the Radiant solution performs standard HUD measurement calculations on-board, development times for HUD test systems have been reduced, enabling CP Industries to reduce lead times to their customers by approximately 10 weeks. They have also been able to reduce the amount of equipment needed for testing, for example, eliminating a luminance meter to test projection light sources (now performed by the ProMetric system). Finally, cycle times have improved, and they have been able to take new measurements that weren't possible with their previous systems, such as dynamic geometric measurement.
These optimizations have allowed the company to pass along improved lead time, testing speed, cost-efficiency, and capability to its automotive customer base. To learn more about CP Industries and complete HUD measurement solutions from Radiant, read the case study CP Industries Delivers Turnkey Test Systems for Head-Up Display Windshield Glass Using ProMetric® Imaging Photometers and TT-HUD™ Software. In it you will learn about:
HUD glass inspection: Geometric measurements used to evaluate distortion, ghosting, and other visual quality issues introduced by windshield form, lamination, layer thickness, and wedge angle
Benefits of the Radiant HUD measurement system over machine vision systems for HUD measurement
How Radiant's solution enables CP Industries to meet all HUD test requirements out of the box and pass on shorter lead times and improved functionality to their customers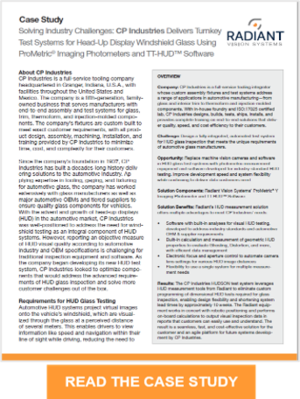 CITATIONS
1.    Automotive Head-Up Display Market – Growth, Trends, COVID-19 Impact, and Forecasts (2021-2026), Mordor Intelligence, April 16, 2021. 
Join Mailing List
Stay up to date on our latest products, blog content, and events.
Join our Mailing List