Trend Watch: Extended Reality (XR) Takes Off
Mon, July 26, 2021
Virtual reality (VR) devices and applications have been around for decades, now one of three branches on a technological family tree that includes the younger augmented reality (AR) and mixed or merged reality (MR) divisions. Collectively referred to as extended reality (XR), adoption of these technologies has been rising rapidly over the last year, influenced by a combination of factors: 
The pandemic, which pushed remote connectivity and virtual interaction to the forefront for a vast range of business, educational, retail, and social activities.
Increasing availability of high-speed 5G networks, which help make mobile AR and streaming applications run better.
More user-friendly designs for headset device and smartglasses, including VR headsets that provide greater freedom of movement and reduced risk of VR motion sickness, and new designs for wireless smartglasses and AR/MR devices.
In fact, this year 58.9 million people in the U.S. are expected to use VR, while 94.4 million will use AR at least once per month.1 The global XR ecosystem—consisting of device makers, application developers, and enterprise deployment services—is estimated at US$30.7 billion in 2021 and predicted to explode to $300 billion by 2024.2 
Applications of XR
While video gaming will continue to represent the largest segment of the XR market, applications in healthcare, engineering, retail, real estate, military, education, and other industries will also be significant.3 In this blog, we take a look at some of the XR applications and developments that will continue to drive adoption.
Travel. After a year-plus of travel restrictions and limitations, many people are eager to get back out into the world. Virtual travel experiences provided an escape during lockdowns, but as business travelers and tourists resume globetrotting, new AR applications such as self-guided tours and interactive city guides are gaining popularity. Closer to home, navigational apps can also help people find their way around a corporate or college campus.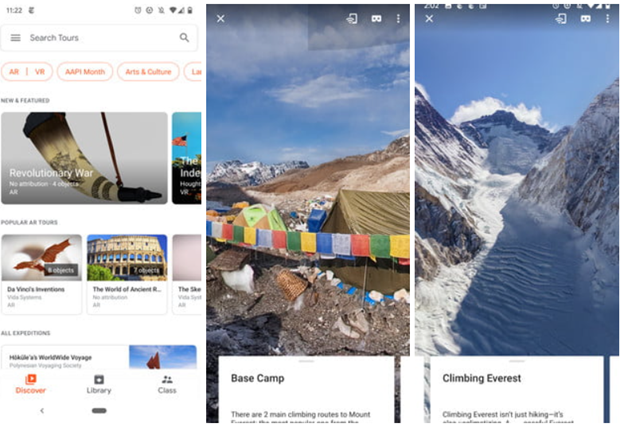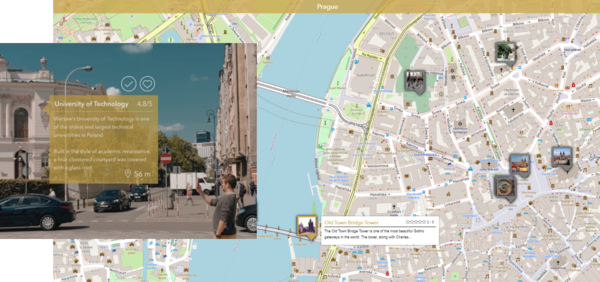 Google Expeditions (top) lets you explore Roman ruins, look at masterpieces of art, climb Mount Everest, or enjoy other travel adventures from your couch. The City Guide Tour app (bottom) provides location, opening hours and admission fees, and information for landmarks (Points of Interest). (Images: © Google, ©CityGuideTour respectively)
Training & Simulation. The immersive nature of VR lends itself to training experiences that vividly recreate real-world situations. Classroom or mock situations can have limited effectiveness at helping professionals prepare for the pressure of on-the-job situations. For example, industrial trainees can practice using heavy equipment or tools that would be dangerous to operate without sufficient training. Medical professionals, first responders, and pilots can use VR to help develop their ability to think on their feet in situations that may have life-or-death consequences. All told, 62% of industrial VR use is for training applications.4
 
Ryan Air uses Varjo's VR systems to create more effective helicopter training at significant cost savings.
Live Events. In the past 16 months, many of us have had the experience of "attending" a virtual conference or tradeshow. While reviews of these events may be mixed and some are looking forward to the return of live conferences, applications of AR for events such as career fairs, art exhibitions, concerts, and sporting events is taking off. Even during in-person events AR content delivered via smartphone can enhance and personalize a live experience for attendees. 
Fitness. Technology has often been blamed for contributing to a sedentary lifestyle as modern humans spend a significant amount of time in front of the television, playing video games, or sitting in front of a work computer all day. But a boom in new AR fitness applications is helping motivate people to get off the couch. You can work with a virtual trainer, create personalized goals and routines, and track progress. 
Many of these apps are part of a trend towards "gamification" (applying aspects of game play) in fitness, incorporating fun and competitive elements to keep people engaged. For example, VR headsets let users walk, run, or cycle through immersive landscapes anywhere in the world; AR creates interactive gameplay elements to spur activity. Pokémon Go's overlay of virtual critters on the user's surrounding environment was an early version of this, which got many gamers out into the world.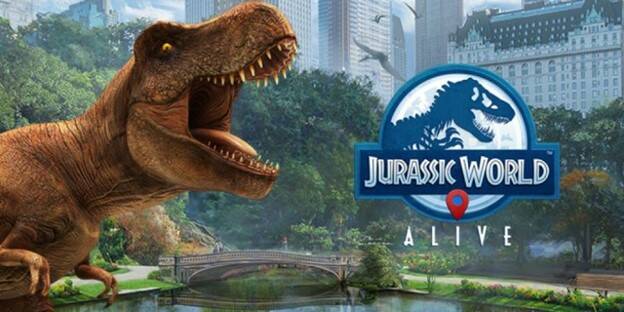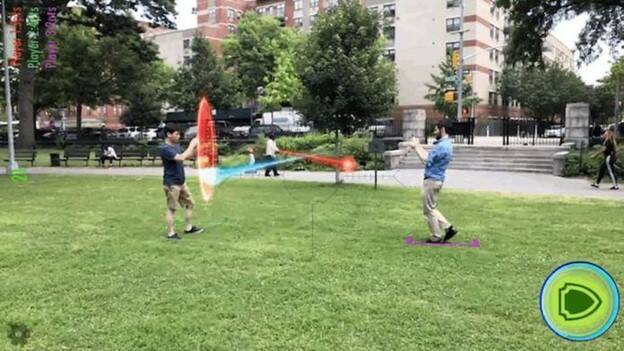 Search your neighborhood for dinosaurs with the Jurassic World: Alive app (top); play virtual laser tag in the park with QuasAR (bottom). (Image credits: Ludia for Jurassic World Alive, Happy Giant for QuasAR)
Telemedicine. Prior to the pandemic, virtual/video interactions with a medical professional had been used primarily in situations where significant distance or other barriers existed. In 2020, suddenly the industry was faced with an unprecedented situation, and state governments and insurance companies rapidly shifted regulations and policies to allow remote access to medical consultation. Soon any medical interaction that didn't require hands-on care moved onto virtual platforms. While not technically an AR/VR application, growth in telemedicine signals a new acceptance of virtualization in multiple aspects of daily life where it might not have seemed likely just a few years ago. As many as 83% of patients say they plan to continue using telemedicine even after the pandemic resolves.5

A remote medical appointment where doctor and patient communicate via video to discuss imaging and test results. The proliferation of connected home monitoring devices also enables physicians to track real-time data on key patient health metrics without an office visit.
These applications are just a small slice of the XR landscape as new use cases, software, and content innovation speeds ahead. The success of these applications, however, depends on having reliable hardware devices such as headsets, goggles, and smartglasses. AR/VR/MR systems must provide a safe, effective visual experience. At the same time, today's tech-savvy customers have come to expect flawless device quality and performance.
Ensuring the Quality of XR Devices
Manufacturers of XR devices need fast, accurate measurement and inspection solutions if they are to meet both mass production demands and user quality expectations. With more industries coming to rely on AR/VR/MR devices to support vital activities, it's important that the headset displays themselves are accurate, reliable, and accommodate extended viewing without causing eyestrain, headaches, or other user discomfort. Careful hardware testing is critical. Because these displays are typically positioned very close to the eye, even miniscule defects are magnified and can impact a user's visual experience. 
Radiant is the only display metrology vendor who provides a complete hardware/software solution developed explicitly for XR device measurement. Our system combines a high-resolution ProMetric® Y-series Imaging Photometer or I-series Imaging Colorimeter, specialized optics in our award-winning AR/VR Lens, and application-specific tests and analysis in the TT-ARVR™ Software. This solution package offers the most complete AR/VR device measurement and inspection solution available on the market. 
Using our high-resolution imaging systems and proprietary methods, manufactures can measure, inspect, and correct visual performance issues in XR displays. Common analyses include brightness, color, contrast, sharpness (applying MTF tests), focus uniformity, and distortion. Radiant also offers solutions to calibrate uniformity issues that are common in emissive displays such as OLED and microLED—technologies that are increasingly used for AR/VR/MR devices.
Learn more about Radiant's solutions for augmented & virtual reality.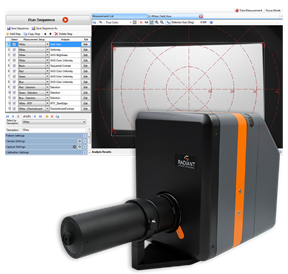 Radiant's award-winning solution for XR device testing: a ProMetric I Imaging Colorimeter with the AR/VR Lens and TT-ARVR sSoftware.
CITATIONS
Join Mailing List
Stay up to date on our latest products, blog content, and events.
Join our Mailing List