Back to School: AR and VR in Education
Mon, September 13, 2021
For many children and teens around the globe, a new school year has started in the last several weeks. Some students are attending in person, some classes are still being held remotely, and some schools are trying a hybrid model. But no matter where or how students may be participating in their lessons, augmented-, virtual-, and mixed-reality (AR/VR/MR) application developers are aiming to support the learning experience. 
Teachers and students alike are finding value in using these technologies. As a result, the global market for virtual reality in education is booming. Revenues are expected to reach more than $13 billion USD by 2026—a compound annual growth rate of 42.9%.1 The global pandemic has certainly helped drive recent adoption, as educators have scrambled to re-invent schooling in the face of lockdowns and social distancing. 
But the success of AR/VR for learning had already made education a fast-growing market. The immersive, experiential, and interactive nature of AR/VR/MR experiences provides the perfect medium to accelerate and deepen learning. Instead of reading about or listening to class subjects, students find that virtual devices help bring ideas to life. Some standout education applications are spotlighted in this post.
AR/VR Applications Teach Science
Using AR/VR/MR, students can "go where no one has gone before," exploring the microscopic structures inside of a cell, or the vast reaches of space. For example:
Seeing History Through Virtual Eyes
AR/VR systems not only create a sense of being in a different time and place, but also provide the experience of "seeing" through someone else's eyes. History can seem dry as dust in a textbook, but researchers analyzing AR/VR suggest that "as a technology augmented reality has the potential to revolutionize the way that certain subjects are taught, along with being able to bring new experiences or revitalize old ones at museums, heritage sites, and other areas of historical value."2 
For example: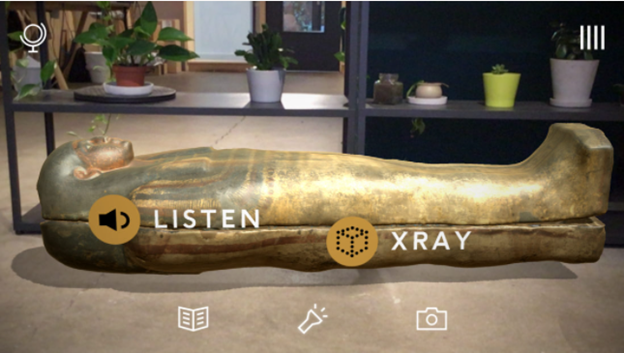 A screenshot from the Civilisation AR app from the BBC and Nexus Studios which allows users to learn about key artifacts from human history. (Image © Nexus Studios)
A World of AR/VR Learning
Some additional subjects that benefit from AR/VR learning tools include:
AR/VR/MR Display Quality
What makes these educational experiences possible is not only the AR/VR/MR applications themselves but also the hardware devices that run them. Some apps are designed for smart phones or simplified devices such as Google Cardboard, others use state-of-the-art headsets such as HoloLens, Oculus, and HTC Vive. What all headsets have in common is a need for testing to ensure their performance meets product specifications. Defects in projected AR/VR/MR images will not only reduce these headsets' value but also detract from the learning experience and can even cause dizziness or headaches. 
Radiant's solution for AR/VR testing replicates the visual perspective of the human eye to ensure measurements of the integrated display are taken in the context of a user's true viewing experience. Our AR/VR Lens has a unique optical design specially engineered for measuring near-eye displays (NEDs), such as those integrated into VR, AR, and MR headsets. The lens design simulates the size, position, and field of view of the human eye to accurately capture and evaluate what a user will see.
Paired with a Radiant ProMetric® Imaging Photometer or Colorimeter, the AR/VR Lens captures high-resolution images of displays inside the headset to detect defects and anomalies that may impact visual quality. Radiant's TrueTest™ Software and our TT-ARVR™ module provide the leading display test algorithms, with the capability to sequence tests for rapid evaluation of all relevant display characteristics in a matter of seconds from a single image. Standard tests in TrueTest include luminance, chromaticity, contrast, uniformity, mura (blemishes), pixel and line defects, and more, while TT-ARVR adds tests developed to assess characteristics of head-mounted displays (HMDs) such as MTF, distortion, and focus uniformity.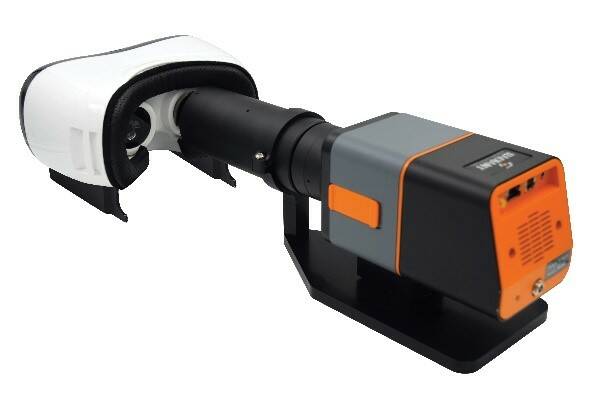 The AR/VR Lens is designed to mimic the size and location of the human pupil within a headset. Shown here with a ProMetric Imaging Photometer, the lens allows you to measure a display as a human user would see it.
Ensuring good visual quality of a device means that applications can achieve the vivid and immersive experiences they were designed for. The various educational applications spotlighted in this blog are just a few of many wonderful AR/VR/MR learning tools out there on almost any topic. The best part is that you don't have to be a student to enjoy most of these apps—anyone can explore from the comfort of their couch.
CITATIONS:
"Virtual Reality in Education Market to Reach USD 13,098.2 Million by 2026; Introduction of Vrituosi, an on-demand Educational Platform by Quality Executive Partners to Bolster Growth: states Fortune Business Insights™." Fortune Business Insights, published on Intrado Global News, March 4, 2021.
Challenor, J., and Ma, M., "A Review of Augmented Reality Application for History Education and Heritage Visualisation." Multimodal Technologies and Interaction 3, 39, May 2019. doi:10.3390/mti3020039
 
Join Mailing List
Stay up to date on our latest products, blog content, and events.
Join our Mailing List