ProMetric® I Imaging Colorimeters
The world's fastest and most accurate high-resolution imaging colorimeters.
ProMetric® I imaging colorimeters are designed to address the demands for high-volume manufacturing of displays, backlit components, light sources, and device components. Applying tristimulus color filter technology based on standard CIE color-matching functions, ProMetric I provides highly accurate color and luminance measurements for lab testing and production-level inspection.
ProMetric I is designed around scientific-grade image sensors in a range of high-resolution options. These sensors enable pixel-level measurements of displays (LCD, OLED), inter- and intra-character luminance measurements on backlit keyboards and panels, and accurate measurements of LED luminance and color in luminaires or large LED arrays.
Request a quote
Request a demo
Get more information
ProMetric I Family
Image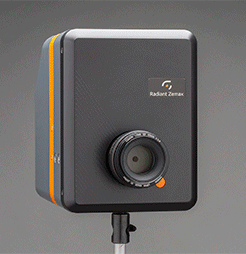 The ProMetric® I family of imaging colorimeters offers the industry's leading imaging solution for calibrated luminance and chromaticity measurement. The system's internal tristimulus color filter provides an innate spectral response that aligns with standard CIE color-matching functions, while high-resolution imaging captures and analyzes millions of values at once across large fields of view and depths of field.
ProMetric I features Smart Technology™ features that simplify operation and provide more accurate measurement results. For example, the electronically controlled focus and aperture setting provides calibrated measurements over a wide range of working distances and field of view. This greatly simplifies measurement set up and allows fully-automated remote configuration of your production test systems
High-Resolution, Scientific-Grade Image Sensors
Each ProMetric I Imaging Colorimeter employs a scientific-grade image sensor optimized for low image noise to provide accurate, repeatable measurements. ProMetric cameras are designed to maximize resolution and dynamic range to ensure imaging performance. ProMetric Y supports high-speed USB and Ethernet communications.
Available resolutions:
2-megapixel (1600 x 1200)
8-megapixel (3296 x 2472)
16-megapixel (4896 x 3264)
29-megapixel (6576 x 4384)
61-megapixel (9568 x 6380)
Purpose-Built for High-Speed Manufacturing
A production line is a harsh environment and reliable communications can be a challenge. ProMetric I supports high-speed USB and Ethernet communications, providing highly reliable operation over long distances, even in the most demanding manufacturing environments.
ProMetric I is optimized to work with the industry-leading TrueTest™ Automated Visual Inspection Software from Radiant. TrueTest provides a complete, turnkey solution for high-volume manufacturing of displays, illuminated keyboards and lighting products, with test sequencing interface to perform multiple inspections in-line in a matter of seconds. Whether you need to increase your test coverage or reduce test time for automated visual inspection, ProMetric I is designed specifically for your application.
Delivering Smart Technology™ Innovations
Smart Control™ for fast, precise setup: Smart Control allows you to electronically adjust both focus and aperture settings of your lens.
Smart Calibration™ for automatic high-accuracy results: ProMetric cameras offer a variety of electronically controlled lenses, each calibrated over a wide range of working distances and aperture settings. ProMetric systems monitor focal distance and aperture settings and automatically applies the correct flat field calibration, greatly simplifying setup and ensuring accurate measurement results.
Smart Touch™ to enable touch input via an integrated touchscreen display interface on the ProMetric I Imaging Colorimeter, which simplifies camera setup and control.
Calibrations
For highly accurate color and light measurements that match values perceived by the human eye, Radiant cameras and lenses are calibrated to obtain absolute data in any environment. Factory calibration procedures are performed on each Radiant camera to enable traceability to national standards such as NRL, ETL, PTB, and NIST. (Is traceability of your measurement system a critical part of your application? Contact Radiant for additional options and support.)

Each Radiant camera and lens pair can also be calibrated for unique applications, in the factory or in the field, ensuring consistency regardless of variation in:
Focal Distance: Flat-field calibration; Image scaling
Device Spectral Power Distribution (SPD): Luminance calibration; Color calibrations, such as one-color calibration, four-color calibration (depending on RGB or single-color emitters); LED and white phosphor LED calibration
Lensing effects: Distortion calibration (if applicable)

Before (left) and after calibration to remove distortion.
ProMetric I Key Features and Highlights
High-speed, high-resolution image sensors, with better than 59dB dynamic range
CIE-matched color filters and neutral density filters, closely matches human visual perception
Multiple lens choices with Smart Calibration™ for a wide range of distance and aperture settings
Comes standard with Radiant ProMetric Software for light analysis and camera control
Works seamlessly with Radiant TrueTest Automated Visual Inspection test sequencing platform for automated applications
ProMetric I imaging colorimeter systems include Radiant Vision Systems ProMetric Software with API support, which provides complete measurement control and Point-of-Interest/Region-of-Interest functionality. In addition, the ProMetric I imaging colorimeters are backed by the industry's best product warranty, including direct access to the Radiant Vision Systems technical support team to maximize the benefits for your application. For automated testing, ProMetric I is optimized to work with the industry-leading TrueTest Software—and specialized software modules—for high-volume manufacturing of displays, smartphones, notebooks and more.
Parameter
ProMetric I2
ProMetric I8
ProMetric I16
ProMetric I29
ProMetric I61
Primary Application

Uniformity Testing,
R&D Settings

Production, Display Testing, Pixel-level Measurement, Color Correction
Sensor Pixel Resolution
1600 x 1200
3296 x 2472
4896 x 3264
6576 x 4384
9568 x 6380
Sensor Megapixels
1.9
8.1
16.0
28.8
61.0
Sensor Type
CCD
CMOS
System Dynamic Range
(single exposure, per pixel)
59 dB (1 x 1 binning)
76 dB (1 x 1 binning)
Luminance (Minimum)

*

0.00001 cd/m2 Limit of Detection
0.0001 cd/m2 @ SNR = 60
0.0005 cd/m2 @ SNR = 100

0.0005 cd/m2 Limit of Detection
0.0010 cd/m2 @ SNR = 60
0.0015 cd/m2 @ SNR = 100
Luminance (Maximum)

1010 cd/m2 with optional ND filters

System Accuracy

**

Illuminance ± 3%; Luminance (Y) ± 3%; Color Coordinates (x,y) ± 0.003
Short-term Repeatability

*

Illuminance ± 0.02%; Luminance (Y) ± 0.02%; Color Coordinates (x,y) ± 0.00005
Lens Type
Electronically controlled focus and aperture
Focal Distances Available
24, 35, 50, 100, 200 mm
35, 50, 100, 200 mm
50, 100, 200 mm
Field of View
(Full Angle, H x V degrees)
24 mm 20° x 15°
35 mm 14° x 10°
50 mm 10° x 8°
100 mm macro 5° x 4°
200 mm 3° x 2°
24 mm 38° x 30°
35 mm 29° x 22°
50 mm 21° x 16°
100 mm macro 10° x 8°
200 mm 5° x 4°
35 mm 41° x 28°
50 mm 30° x 20°
100 mm macro 15° x 10°
200 mm 8°x 5°
50 mm 40° x 28°
100 mm macro 20° x 14°
200 mm 11° x 7°
Minimum Measurement Time

***

0.3 sec - photopic
1.1 sec - color
0.4 sec - photopic
1.2 sec - color
0.6 sec - photopic
1.5 sec - color
0.9 sec - photopic
2.4 sec – color
0.6 sec - photopic
1.8 sec – color
Spatial Measurement Capabilities
Luminance, Radiance, Illuminance, Irradiance, Luminous Intensity, Radiant Intensity, CIE Chromaticity Coordinates, L*a*b* Color Scale, Correlated Color Temperature (CCT), Dominant Wavelength
Units

foot-lambert, cd/m2, nit, W/sr/m2, foot-candles, lux, lux-s, W/m2, W-s/m2, candela, W/sr. CIE (x, y) and (u', v'), Kelvin (CCT)

Communication Interface
Ethernet 100/1000, USB 2.0
10 Gigabit Ethernet (10 GigE)
Power
100-240 V, 50-60 Hz, 140 Watts
LCD Touch Panel
Resolution: 800 x 600; Diagonal: 125 mm
Dimensions (H x W x D)
238 mm x 181 mm x 230 mm
Weight
4.9 kg
4.6 kg
Operating Temperature
 0 - 30° C
5 - 35° C
Operating Humidity
20 - 70% non-condensing
*     Based on a virtual detector size of 100 x 100 pixels.

**   Based on illuminant A or user calibration for specific spectra. Based on a virtual detector size of 100 x 100 pixels and a minimum exposure time of 10ms.

*** For 100 cd/m2, using Ethernet.
 
Specifications subject to change without notice.
Radiant's ProMetric I Series of imaging colorimeters meets the requirements of high-speed production operations, combining the benefits of automation with the accuracy of human visual perception to address a range of applications:
Color and luminance testing of displays
Light measurement and characterization of LED products
Appearance uniformity testing of illuminated instrument clusters and keypads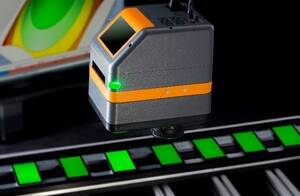 Display Testing
Used for precise measurement of qualities of light and color across a display, the ProMetric I Imaging Colorimeter captures quantifiable values of spatial luminance, contrast, uniformity, and chromaticity (in CIE x, y and u', v'). The system can also detect defects like mura, light leakage, and dead pixels or lines in any area of the display.
ProMetric I captures comprehensive luminance and chromaticity values of each display, with analyses applied in a matter of seconds. Equipped for USB and Ethernet communications, the ProMetric I provides highly reliable operation for production operations from camera to camera and line to line, making it the solution of choice for global display panel production manufacturing operations.
Automotive Systems
Light, color, and dimensional accuracy are key for visual performance, regulatory compliance, and consumer satisfaction of all illuminated elements inside and outside the vehicle, from instrument panels and dome lights to headlamps. Paired with automated analysis software from Radiant's TrueTest platform, the ProMetric I offers the complete measurement solution for systems from center stacks to instrument panels, from headlamps to head-up displays.

Electronically controlled lenses come standard with each ProMetric I system, allowing manufacturers to use software to easily set focus and aperture settings on the fly as image distance changes, or when required for regulatory testing (such as DFF Black Mura Gradient measurement).
Lighting
From individual LEDs to large luminaires, Radiant's light measurement expertise spans decades with applications in data acquisition for light source modeling to correction of non-uniformity for large LED panels. The ProMetric I is applied for both goniometric and non-goniometric measurement of light sources, completely characterizing the three-dimensional output of a source (generating ray sets, IES, or LDT/EULUMDAT files) or evaluating illuminance, luminous intensity, and chromaticity as well as geometric aspects like distribution cut-off gradient and shape.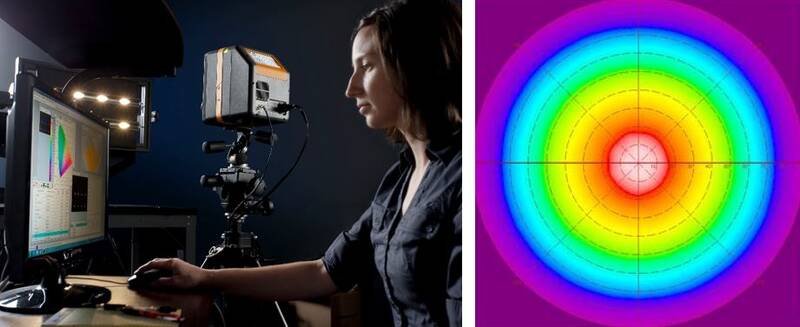 How can we help?
Please complete the following fields and we'll follow up with you promptly.