On the Cutting Edge of VR: The Latest Headset Innovations
Mon, June 15, 2020
Various market and social forces—from 5G technology to the global pandemic—have accelerated the adoption of virtual reality (VR) by both consumers and businesses. The consumer market is driven in large part by gaming,1 but education and health care applications are also growing, along with other enterprise uses such as remote work and collaboration.
The development of innovative new headsets, VR goggles, and head-mounted displays (HMDs,), and advancements in VR technology have also helped increase adoption by improving the quality and comfort of the user experience, and reducing costs. For example, the release of Occulus' mobile-connected, relatively affordable ($399) Quest headset in 2019 drove a spike in consumer interest during the 2019 holiday shopping season.2
VR Hardware Innovations
While compelling applications and games are necessary to grow the VR market, ultimately, without headsets that provide a realistic, immersive experience and high-quality visuals, adoption would be much slower. And if VR makers weren't addressing human factors such as motion sickness, eye fatigue, and headset weight and comfort, VR could have stalled out as just a niche product.
By incorporating high-resolution displays and motion controllers, ensuring high refresh rates, and embracing ergonomic design principles, device makers have continued to improve the VR user experience. For example, many augmented (AR), mixed (MR) and VR device companies are exploring the use of MicroLED displays, which offer extremely high-resolution for a seamless near-eye viewing experience. Additional developments in headset hardware and technology continue to push the industry forward:
In 2019, Varjo showed off a new VR headset that incorporated two displays: one a high-resolution display to cover the foveal area (the part of the eye that is focused to see detail), and the other a standard, lower-resolution display to provide a wide-field of view image covering a user's peripheral vision to create full immersion.3Learn more…
Being able to do away with a cord that tethers a VR headset to a hardware unit such as a PC, gaming console or smartphone has long been a goal for many VR developers. Recent devices such as the Oculus Go finally offered wireless functionality, enabling users to move more freely. Samsung's late 2019 patent filing showed tantalizing images of a potentially wireless new mixed reality 2020 Odyssey headset. Learn more…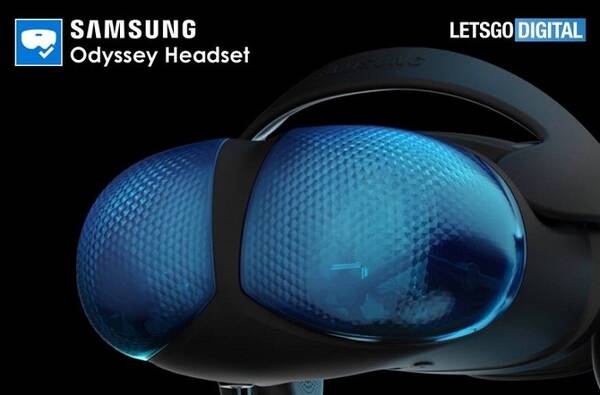 Rendering of the next-generation Samsung AR/VR Odyssey Headset, as included in the company's Chinese patent application. (Image source: LetsGoDigital).
The Valve Index®, released in June 2019, is notable as much for its headset as its rethinking of controller hardware design. The Valve's "knuckle" controllers enable freer finger movement and independent finger tracking.4 An updated Valve Index is anticipated to be released in 2020, offering a wider field of view and increased refresh rate. Learn more… 
The latest Vive™ Focus also offers a wireless VR system designed for enterprise customers, touted as an "all in one solution" that doesn't require any base system or sensors.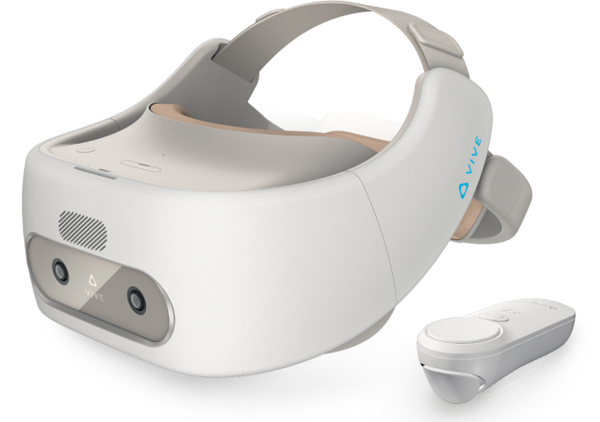 The latest HTC Vive™ Focus enterprise VR headset and controller. (Image: Vive)
Hot Off the Presses: HP Reverb
Just last week, an innovative new VR device was announced during the VR/AR Global Summit Online: the HP Reverb G2. Created in a joint initiative between Hewlett Packard (HP®), Microsoft, and Valve, the Reverb device incorporates two 2160 x 2160 LCD display panels (one per eye) that reportedly remove 90% of mura (defects and blemishes that can mar display appearance). The Reverb is marketed as "mura-free"). 
The headset uses special lenses developed by Valve (using a Fresnel design) that improve angular resolution and provide visual clarity out to the edge of the lens. The device also includes four small built-in cameras to track more movement, and high-quality speakers offset 10mm from the wearer's ear to provide an immersive spatial audio experience. HP anticipates a lot of interest in this device from gamers, but also sees many commercial applications.
Preview the HP Reverb G2 virtual reality headset.
Ensuring the Best User Visual Experience
Before manufacturers of VR headsets can release any of these new systems to the market, they require careful testing—both during the development phase, and as a device moves into mass production. Radiant's display measurement solutions fit the bill with high-resolution, precision measurement of near-eye devices. 
Our AR/VR Lens has a unique optical design specially engineered for measuring NEDs such as those integrated into VR, AR, and MR headsets. The lens design simulates the size, position, and field of view of the human eye to accurately capture and evaluate the what a user will see. Paired with a Radiant ProMetric® Imaging Photometer or Colorimeter, the AR/VR Lens captures high-resolution images of displays inside the headset to detect defects and anomalies—such as mura—that may impact visual quality.
The aperture of the AR/VR Lens is 3.6 mm—replicating the size of a human pupil—and is located on the front of the lens, enabling the imaging system's entrance pupil (where light is received) to be positioned within NED headsets at the same location as the human eye.
Radiant's TrueTest™ Software and our TT-ARVR™ module provide the leading display test algorithms, with the capability to sequence tests for rapid evaluation of all relevant display characteristics in a matter of seconds, applying all selected tests to a single image captured by the camera. Standard tests in TrueTest include luminance, chromaticity, contrast, uniformity, mura, pixel and line defects, and more, while TT-ARVR adds tests for characteristics of HMDs such as MTF, distortion, and focus uniformity.
To learn more about display metrology for AR/VR/MR devices, watch this webinar presented at the AWE Online Conference & Expo, May 27. 2020. In it, Radiant Regional Sales Manager Davis Bowling describes our innovative imaging solution for near-eye display testing that replicates human vision for the most accurate evaluation of the user's visual experience.
Topics include:
Challenges of near-eye display measurement
Important optical design features that allow imaging systems to replicate human vision within headsets
Radiant's AR/VR display measurement system and software analysis capabilities

CITATIONS
Cohen, M., "How the Coronavirus Crisis Will Shape the Future of Virtual Reality", Columbia Business School, Forbes, May 21, 2020.
Ibid.
Raikes, B., "Varjo Pushes the Envelope on VR Performance", Display Daily (retrieved June 11, 2020). 
Pino, N. and St. Leger, H., "Best VR headset 2020: the virtual reality headsets you need to try", TechRadar, May 12, 2020.
Join Mailing List
Stay up to date on our latest products, blog content, and events.
Join our Mailing List