Game On: The Gaming Display Market Accelerates
Mon, November 16, 2020
With millions forgoing many of their usual recreational and social activities to stay home during the pandemic, it's not surprising that computer gaming has seen a surge in participation during 2020. As a result, sales of gaming PCs, monitors, and consoles are expected to increase 16.2% year over year to a reach a total of 49.6 million units in 2020, with growth continuing to surge to as many as 61.9 million units sold annually by 2024.1
Even before COVID-19 struck, the electronic games market was booming. With more than 2.5 billion gamers around the globe in 2019, sales of gaming monitors had already been on pace to grow 40%.2
Types of Gaming Display Devices
I'm old enough to have played one of the earliest video games when it was first released in 1972: Atari® Pong. It had a big clunky console and joysticks that were hooked up to the wood-paneled, cathode-ray television set in my friend's family room. Since then, a wide array of hardware and systems have been released to provide ever-more-engrossing game experiences. Today's digital gaming setups typically include either a computer or console device for running the game and a display where the game visuals are shown.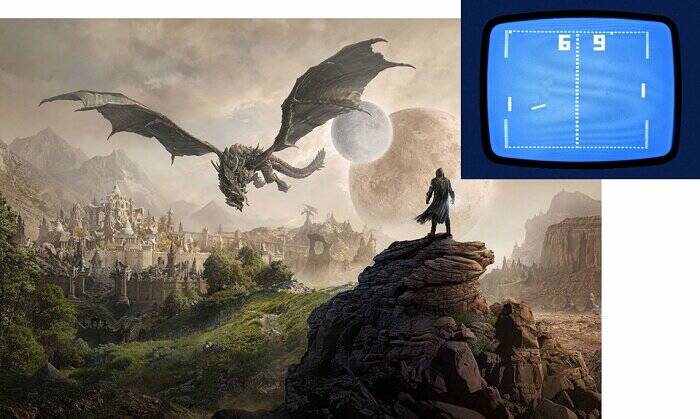 The original Atari Pong game (inset) didn't require much in the way of display performance compared to today's graphics-intensive games such as Elder Scrolls VI (main image), named one of the most beautiful video games of all time. (Atari Image Source, Elder Scrolls Image © Bethesda).
Gaming displays can be built-in (such as a laptop screen or handheld gaming device) or stand-alone with the operating console connected to a television or display monitor. The primary types of gaming systems in use today are:
Gaming PCs
Gaming PCs are similar to personal computers and laptops but are designed with certain performance upgrades that enhance gameplay, including gaming displays that go beyond the specifications of standard PC monitors. Gamin PCs are used for playing solo games, locally on a single computer, or connecting with other players on the Internet for an MMPORG (Massively Multi-Player Online Role-Playing Game) such the iconic World of Warcraft. Criteria that serious gamers look for in a gaming PC include:
Better graphics card/GPU – enabling the computer to process high-quality HD graphics in real time, seamlessly. 
More computing power – Gaming PCs typically have more RAM (for example, 8GB or higher) and a better-quality CPU (for example, core i5 processors, quad- or hexa-core).
Liquid cooling tubes – high-end gaming computers may contain tubes that carry liquid coolant to counteract the heat from running ultra-powerful CPUs.
Better displays – Game designers have created awe-inspiring worlds and visual action using state-of-the art graphics, and players want to see every detail, demanding high-performance display screens. Gaming displays are discussed in more detail below.
Longer battery life – Laptops for the gaming market offer extended battery life so players don't have to stop the action right in the middle of an Assassin's Creed chase just to recharge.
Liquid cooling tubes inside a gaming PC.  (Image Source)
Game Consoles
Game consoles are hardware created specifically for gameplay, leaving aside traditional PC functions to focus solely on delivering the best gaming experience. Some consoles are small, handheld devices that a player can carry in a pocket;, others are stationary units for in-home use. Consoles from Nintendo, Sega, Microsoft (Xbox®), and Sony (PlayStation®) are prominent on today's console market. Many of the latest models also integrate with virtual reality headsets and unique hand controller units to create a truly immersive and interactive experience.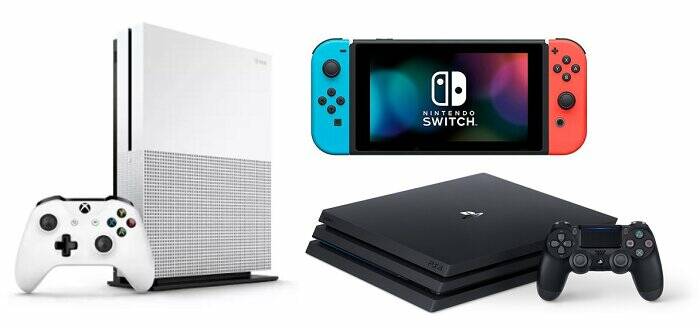 Gaming consoles on the market today include (clockwise from left) Xbox, Nintendo Switch, and Sony PlayStation. (Images © Microsoft, Nintendo, and Sony, respectively)
Gaming Displays vs. Standard Displays
Whether using a desktop PC, laptop, or game console, to fully experience heart-pounding action or appreciate an imaginary landscape, game players want more from their displays. Using a standard flat-panel computer display at 60Hz refresh rate may be entirely sufficient for ordinary office or personal computing such as emails, word processing, and online shopping. But many games aim to create a fast-paced, immersive world for their players.

At left, a 27" LG 4K monitor; at right, a 25" Alienware gaming monitor from Dell (Images © LG Display and © Dell Computing, respectively)
For any serious gamer, a display screen with high resolution and refresh rate is as essential as Redstone is to advancing in Minecraft. What sets gaming displays apart from standard television screens and monitors are:
Resolution – resolution is the number of pixels in the display, and determines the level of detail and seamlessness of the display's visual content. Gaming laptops typically start at 1920 x 1080 pixels with higher quality models at 2560 x 1440 (aka 2K). Today's 4K displays with 3840 x 2160 pixels are becoming a more common gamer choice.3
Refresh rate – Refresh rate is the number of times your monitor updates per second, measured in hertz (Hz).  The higher the refresh rate, the more often an image on screen will refresh, resulting in smoother and less choppy viewing. For gaming, the refresh rate is particularly important for keeping up with high-speed action. A minimum 75 Hz is the minimum, with most of today's gaming monitors offering at least 144 Hz.4 
Response time – this refers to the time it takes for an individual pixel in the display to change from black to white (or, GTG response time measures the change from one shade of gray to another). A shorter response time is better, as longer times can cause motion blur when gaming or watching fast-paced videos. Today's gaming monitors typically offer response time no more than 5 milliseconds (ms) with the fastest at 0.5 ms.5
Input lag – The time it takes for a user's actions (inputs)—such as pushing a controller button or typing on a keyboard—to be registered on screen.
Panel technology – Choosing the best panel technology for image quality can involve trade-offs; many industry experts recommend Vertical Alignment (VA) while others prefer In-Plane Switching (IPS). The panel types are named for the alignment of the molecules in the LCD crystal structure of the display, and how they change when voltage is applied.6
| | | | |
| --- | --- | --- | --- |
| Panel Type      | Twisted Nematic (TN)   | Vertical Alignment (VA)   |  In-Plane Switching (IPS) |
| Gaming Performance Considerations | The cheapest and most popular due to their fast pixel response and refresh rate. However, they can be prone to color shifting and poor image quality when viewed at various angles. | Best known for high-contrast ratio, vivid colors, and ability to display deep blacks. However, they often produce noticeable ghosting, which can affect gaming performance. | These provide the best overall color quality, strong gray-scale performance, and wide viewing angles. Faster response time than VA, but they cannot match TN response rate and can be subject to motion artifacts. |
Both televisions and monitors are used as gaming displays, but monitors typically offer much greater pixel density, even if the screen sizes are smaller than today's larger televisions. TVs are typically optimized for a viewing experience, rather than interactive gaming, but newer HDR televisions conquer this visual gap. HDR does negatively impact the input lag time, however, so many of these TV sets give the user an option to switch to a gameplay mode.7
Newer curved displays are also appealing to gamers for enhanced immersion and lower eyestrain, but these screens can also be subject to glare at certain angles. A minimum 30" screen is recommended, viewed at the optimal distance for its curvature (e.g., a screen with 180R curvature is best viewed from a distance of 1.8 meters).8
One additional consideration for gaming monitors is whether to have a matte or glossy surface. "Glossy displays are shiny and are known to display colors better and make them more vibrant. However, their shiny surfaces create an annoying glare that can damage the eye after long periods of use. Matte displays eliminate all glares and reflections but tend to wash out color and detail."9 OLED displays are attracting game enthusiasts for avoiding the faults of both matte and glossy displays. Their thinner, power saving screens also provide improved color and contrast.
Ensuring Display Quality is the "Call of Duty" for Manufacturers
With their higher price tag and promise of premium visual performance, gaming display systems must deliver top-of-the-line display quality. Ensuring a virtually perfect display appearance is a key success factor for manufacturers of gaming systems. Dead pixels, nonuniformity, and display mura (blemishes) can mar the gameplay experience, create customer dissatisfaction, and damage brand reputation where value hinges on visual performance.
To inspect displays, Radiant's photometric imaging solutions for display metrology are used by leading manufacturers of televisions, computer monitors, laptops, and other display devices. Combining a ProMetric® Imaging Photometer or Colorimeter with our TrueTest™ Software, device makers can measure, identify, and quantify the severity of defects and mura on both flat panel displays (FPD) and curved displays as they would be perceived by the human eye.
Our high-resolution, scientific-grade imagers provide accurate photometric measurements of LCD, LED/backlit, OLED, and mini- or microLED displays down to the pixel and subpixel level. These systems can be applied both in the R&D lab and on the production line, ensuring continuity in data and quality control from end to end of the manufacturing process. Radiant solutions are also used with a range of specialized optical components, such as our FPD Conoscope Lens that enables manufacturers to quickly assess screen performance as viewed from different angles in a single measurement.
Image


A Radiant ProMetric I-Series Imaging Colorimeter with the FPD Conoscope Lens (left) can be used to measure the view-angle performance of displays as seen from ±70° tilt or rotation. TrueTest Software can further detect and analyze display defects that appear anywhere on screen, such as this dark line defect and broad luminance nonuniformity shown in false-color scale (right).
With the holiday shopping season upon us and Black Friday sales just around the corner, maybe there is a gaming display on your wish list this year. Radiant is happy to be a part of making your next display picture perfect. Game on!
CITATIONS
IDC Worldwide Quarterly Gaming Tracker, as reported by Display Daily, October, 2020
Chen, M., et al., "Gaming monitor shipments to grow 40% on year in 2019", DigiTimes, June 18, 2019. 
"What's the difference between a regular monitor and a gaming monitor", Fifth Geek, December 1, 2019
Harding, S., "How to Buy a PC Monitor", Tom's Hardware, June 5, 2020 
Ibid.
Brokkes, T., "TN vs. IPS vs. VA: What's the Best Display Panel Technology?" How-to-Geek, March 12, 2020
Johnson, B., "TV Vs. Monitor For Gaming", WePC, November 9, 2020. (Retrieved November 12, 2020)
Harding, S., "How to Buy a PC Monitor", Tom's Hardware, June 5, 2020
"What's the difference between a regular monitor and a gaming monitor", Fifth Geek, December 1, 2019
 
Join Mailing List
Stay up to date on our latest products, blog content, and events.
Join our Mailing List