A Look at Laptops: Ensuring the Quality of Essential Technology
Mon, April 27, 2020
Since they first emerged on the market in the 1980s, laptop computers have become essential to our list of equipment for both work and personal use. As coronavirus stay-at-home orders increased, many consumers rushed to upgrade their home computing systems and many companies had to provide their employees with new hardware and systems to support remote work. In mid-March, The Wall Street Journal reported that store shelves were being stripped of laptops.
A week later, TechRepublic reported that many models from online stores were also marked "out of stock."1 According to Paul Bay, president of global technology solutions for Ingram Micro Inc., "demand for laptops in the U.S. is expected to continue to rise as more businesses adopt and require work-from-home flexibility…The same goes for mobile devices and computing accessories such as docking stations, cameras and displays."2
Markets outside the U.S. are seeing similar buying trends, for example, PC sales spiked 38% year-over-year in Western Europe3 during the first three weeks of March. Likewise, desktop computers are seeing a "historic" spike in demand in North America.4 However, some of this worldwide demand continues to go unmet, as the buying surge unfortunately intersects with supply chain interruption. Many production lines in Asian factories had to shut down in early 2020, also due to the coronavirus—for instance, factories in China, the world's largest supplier of PCs.
In fact, PC shipments in the first quarter of this year dropped by an estimated 10-12%, according to Gartner and IDC.5 Nevertheless, Chinese factories are already restarting activity, and industry analysts seem to expect supply to rebound and sales to continue strongly as the virus threat recedes. In fact, the laptop market is expected to grow by $7.52 billion during 2020-2024.6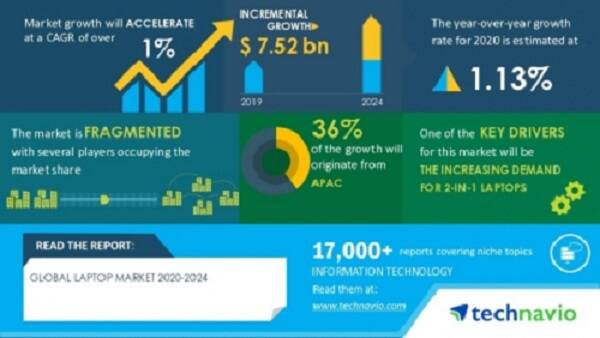 A snapshot of the global laptop market outlook from 2020-2024 predicts 1.13% YOY growth. (Image: Technavio)
The market will be particularly strong for so-called "2-in-1 laptops," which incorporate features of both laptops and tablet computers. Typically these systems combine a touchscreen and a built-in keyboard that can be rotated or folded. Demand for 2-in-1 laptops has surged, especially with the addition of features such as 4-16 GB RAM, front and rear cameras, fingerprint readers, and 256 GB to 1 TB data storage.7
The Rise of the Laptop
How did we get to this point? The earliest laptops were called "luggage" models, because they were often large ("a suitcase with a brain"8) and would close in such a way it could be carried like a piece of luggage. The now familiar folding "clamshell" laptops, which became standard during the 1980s, were referred to as notebooks. At first, businesses users were the primary market for laptops, due to the high cost of the devices. But consumer adoption soon followed, and advancements in battery efficiency, high-speed processors such as those from Intel, and improved display screen quality helped laptops to become as popular as they are today.

The Osborne 1 (left) was released in 1981 as the first portable computer on the market. The Grid Compass 1000 model (right) began the move towards today's familiar notebook laptop design. (Image Source).
Laptop designs have evolved to suit a variety of use cases, with features and specifications to match. For example, lightweight models provide easy mobility; models with large, high-quality display screens are ideal for gaming and video/graphics display; and heavier "desktop replacement" laptops are intended as a primary workstation. The laptop's close cousin in portability is the tablet PC, with stripped-down versions often lacking an attached keypad and instead operating via touchscreen. Additionally, a wide range of "rugged" laptop models are designed for use in harsh environments such as outdoors, industrial facilities, and even in space.
Future trends in laptop design, as indicated by products on display at CES 2020, include dual-screen and foldable-screen laptops, taller aspect ratios (e.g., 16:10) to accommodate scrolling through webpages and documents, and smaller (or non-existent) bezels.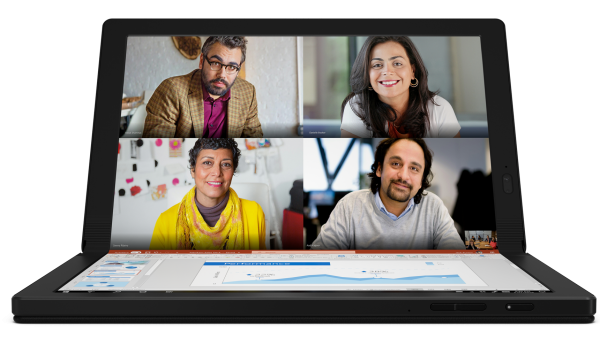 The Lenovo ThinkPad X1 Fold laptop, shown at CES 2020, but not yet available for general sale. One half of the screen can be used as a touch keypad, or a separate keyboard can be used with images displayed across both halves of the screen. (Image: Lenovo)
Laptop Market Trends
Just as display technologies have evolved from CRT to LCD to OLED, laptop display screens have also. A majority of today's laptops use LED-backlit liquid crystal display (LCD) screens, but a handful of laptop models are now offering OLED (organic light emitting diode) screens. One advantage of OLED displays is their higher contrast and more saturated colors for easier viewing in bright ambient light conditions. OLED laptops, although typically more expensive than LCD, can be well-suited to gaming and graphics-heavy uses.
However, LCD screens still have advantages when it comes to most laptop use cases, particularly typical business activities such as reading and working on documents, spreadsheets, or Google search windows, which all have a large amount of white background area. OLEDs in general are more power efficient than LCD, but driving primarily white display images takes more energy and can drain a laptop battery at almost the same rate as an LCD display will.9
Smartphones have seen more adoption of OLED technology because its advantages in brightness, color saturation, and power efficiency dovetail closely with the desired smartphone user experience. But many work laptops run operating systems with limited color diversity, which restricts the ability of the device to take full advantage of the color capabilities of OLED. Due to the higher cost of OLED screens, they are not predicted to overtake the workhorse LCD laptop screens any time soon.
Penetration of OLED by Device Category
By 2023, OLED laptops (NBs), are forecast to capture just 6% of total units sold. (©2019 DSCC. Source: DSCC's Quarterly OLED Shipment and Fab Utilization Report, as presented at SID Display Week 2019)
Quality Assurance for LCD and OLED Laptop Screens
Whether they are LCD, OLED, or any other display technology, the visual quality of laptop screens not only enables functional operation but in large part defines the customer experience. Laptop designers and manufacturers must meet ever-increasing consumer expectations for exquisite display quality and clarity for on-the-go use in a wide range of ambient environments.
Radiant applies decades of experience in automated visual inspection at all stages of the display design and manufacturing process, using our expertise in light and color measurement and production-level display test solutions to help ensure the quality of laptops and other electronic devices. We support major consumer electronics manufacturers worldwide to meet their quality goals and understand that a flawless device—with uniform brightness, color, and free from mura (blemishes) and other defects—is necessary for market success. We work closely with our customers to support operating imperatives such as increasing throughput, reducing rework, and achieving absolute quality.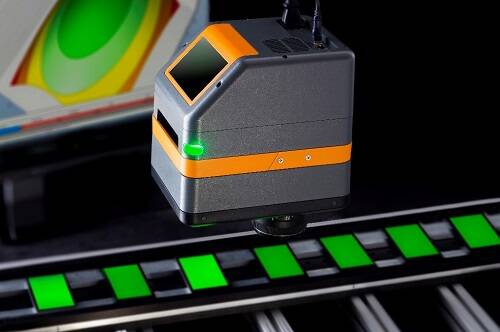 A ProMetric I Imaging Colorimeter performs automated visual inspection of displays in production to ensure accurate brightness, color, and overall quality.
A broad range of visual inspection tests can be performed on LCD and OLED displays using a Radiant ProMetric® Imaging Colorimeter or Photometer paired with TrueTest™ Software, including:
ANSI brightness
ANSI color uniformity (CIE x, y and CIE u',v' coordinates)
Chromaticity
Contrast
Gradient
Light or color mura (blemish) detection
Light leakage
Pixel and line defect inspection
Image sticking
View angle performance
Radiant's automated visual inspection systems measure and grade defects based on severity and scope, correlated to standards of human visual perception. These systems offer extremely high imaging resolutions that enable brightness and color measurement at the pixel and sub-pixel level to ensure the quality of high-resolution backlit and emissive displays. In addition to standard lenses (from 24 to 200 mm), the Radiant FPD Conoscope Lens can be added to a ProMetric imaging system to measure view angle performance of a wide range of flat panel display (FPD) types. The lens captures a full cone of view angle data in a single measurement to ±70°. This provides quick, accurate results, making the system ideal for both R&D projects and in-line production quality control.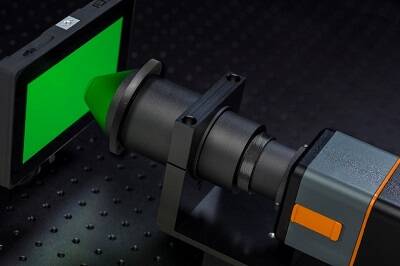 A Radiant ProMetric Y Imaging Photometer with FPD Conoscope Lens uses Fourier optics to take high-resolution photopic measurement of the angular distribution of color, luminance, and contrast for displays and display components. 

CITATIONS
Weiss, T., "Laptops are becoming harder to find online due to coronavirus", TechRepublic, March 25, 2020
Needleman, S. and Tilley, A., "Store Shelves Stripped of Laptops as Coronavirus increases Working from Home", The Wall Street Journal, March 18, 2020.
Todd, D., "Coronavirus creates PC sales spike in Western Europe", ChannelPRO, April 20, 2020
Howley, D., "Americans buying 'historic' amount of computers during coronavirus lockdown", Yahoo! Finance, April 5, 2020.
Protalinski, E., "PC shipments saw 10-12% decline in Q1 2020 due to coronavirus", VentureBeat, April 13, 2020.
"Global Laptop Market 2020-2024 | Increasing Demand for 2-in-1 Laptops to Boost Market Growth | Technavio", BusinessWire, March 19, 2020.
Ibid.
Pothitos, A., "The History of the: Laptop", Mobile Industry Review, December 9, 2016.
Grunin, L, "OLED laptop screens are worth it—for some", CNET, February 29, 2020
 
Join Mailing List
Stay up to date on our latest products, blog content, and events.
Join our Mailing List