MiniLEDs Capture Major Market Momentum
Mon, June 14, 2021
MicroLED (μLED) technology continues to generate significant display industry buzz, R&D activity, and market attention. But for now, microLEDs have achieved limited commercialization mainly for very high-end television displays and microdisplays found in smart watches and AR/VR devices. 
Meanwhile, miniLEDs have become one of the two leading technologies driving next-generation LCD televisions (along with QDEF).1 The miniLED market is forecast to expand at a CAGR of 22.55% to 2030, driven especially by growing demand in India, China, and other Asia markets for high-performance TVs and display devices.2
Despite being based on the same light-emitting-diode (LED) concept, micro- and mini-LEDs are each finding different use cases and applications to match their size and unique characteristics. Both technologies rival the brightness of OLED but are more durable because they are inorganic. However, miniLEDs (generally defined as being 100-300 μm or so) are a bit easier to produce than microLEDs (<100 μm with some as small as 3 μm), which require entirely new fabrication equipment and processes. 
"General LED chips are mainly used for lighting and backlight modules in displays; mini LEDs are used for backlight applications in power-saving, thinner, HDR, and notch design displays, for example, displays of smartphones, TVs, automotive displays, and gaming notebooks… As an entirely new display technology, Micro LED can be applied to wearable handsets, smartphones, automotive displays, augmented reality/virtual reality products, displays wall and television, etc."3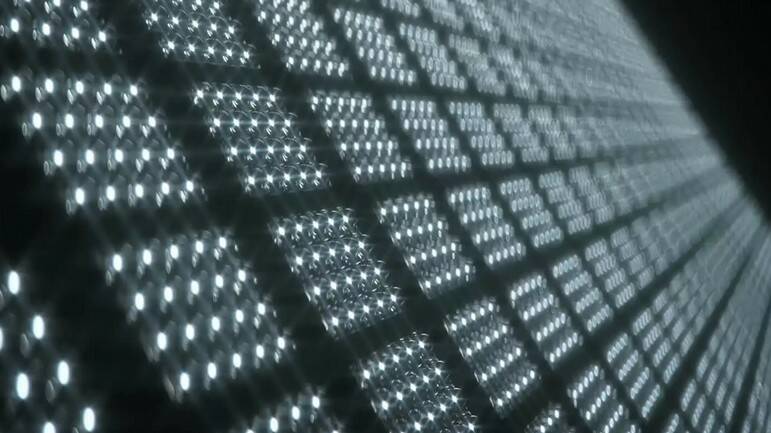 Magnified image of a miniLED backlight array. (Image: © TLC)
The MiniLED Application Landscape
MiniLEDs offer a combination of of high brightness with relatively low power usage, making them an attractive option for devices such as tablet and notebook computers that rely on battery power as consumers use them on the go. For example, the newest Apple iPad Pro 12.9-inch tablet has a display with more than 10,000 miniLEDs distributed across 2,500 different dimming zones.4 Its brightness (up to 1,000 nits) is comparable to that of a high-end HD 4K television. 
The brightness and high contrast of miniLED displays are also a fit for the high-grade visual performance that consumers expect from top-of-the-line PCs such as gaming computers.
Billed as the world's first miniLED gaming monitor, the Republic of Gamers (ROG) Swift PG32UQX is a 32-inch monitor boasting full array local dimming with 1,152 independent dimming zones.
Just like OLEDs and microLEDs, miniLEDs are well suited to foldable and flexible displays, and other creative form factors. For example, Rohinni has developed a miniLED LightThread product with a string of miniLEDs so thin (less than 1 mm wide) it can be threaded through the eye of a needle. Theoretically, the flexible thread could be used for a range of applications including lighting and even clothing.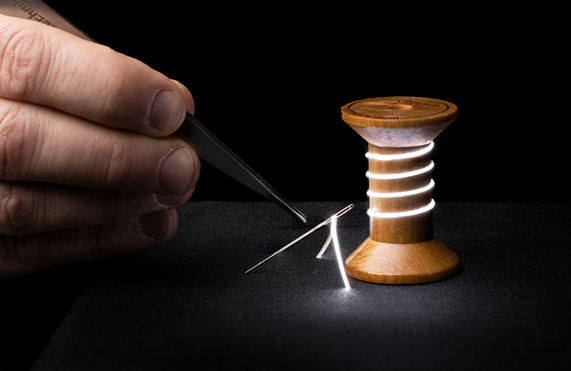 Rohinni's LightThread technology. (Image: © Rohinni)
MiniLEDs Challenge OLED for Television Market Dominance
Where miniLEDs are making the biggest splash is the television industry. MiniLED TV technology was a hot story coming out of the 2021 CES exhibition. The brightness, contrast, size, and energy efficiency of miniLED displays are exciting to TV manufacturers—and their price is roughly on par with OLEDs (with a higher/lower range depending on the number of LEDs used in a device).5 MiniLED technology has already made inroads into the consumer television market:
TCL released the first commercially available miniLED TV in fall 2019, added more models in 2020, and introduced their 3rd generation miniLED TV at CES 2021, the OD Zero.
Other brands have since introduced miniLED TVs including Samsung, LG, Hisense, Philips, Xiaomi, and others.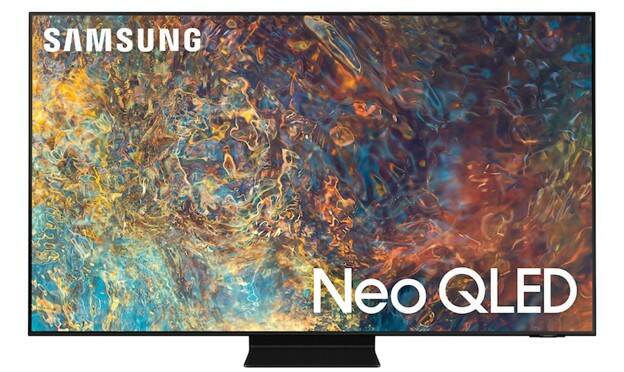 Samsung's latest "Neo QLED" 4K and 8K televisions feature a miniLED-based full array local dimming backlight array. QLED stands forQuantum LED, where a quantum dot filter is placed in front of display screen for enhanced vibrancy; Neo QLED models replace the backlight with a miniLED array for greater precision and contrast control, rivaling the brightness of OLED televisions. (Image © Samsung)
Industry analysts are predicting that miniLED displays will become the dominant technology for 8K televisions 75" and above. While slow initially, the miniLED supply chain has caught up to current demand and is poised for the expected market growth. What makes miniLEDs such an attractive technology for television makers? Two words: local dimming.
Local Dimming Displays with MiniLEDs
The most basic LED television backlight is what's called "direct lit." These displays have several rows of LEDs behind the screen that operate in unison. They produce generally lower contrast images with a lot of gray tones instead of true black. To improve the contrast of television screens, manufacturers developed other configurations such as edge-lit displays, which do allow different areas to be dimmed. For years, edge-lit backlight units were the industry norm. Sections of an edge-lit screen can be dimmed to improve the appearance of dark areas, making edge-lit contrast performance superior to direct-lit devices.
But a more recent and far superior approach is called local dimming, or full array local dimming (FALD). FALD uses a matrix of individual LEDs spread across the entire area of the panel, grouped into multiple small zones that can be individually controlled. This allows the display to continually adjust the brightness of each zone, resulting in much greater precision for lightening or darkening different portions of the screen. However, full array local dimming with traditional LEDs necessitates a thicker panel (the LEDs must be set back slightly from the screen).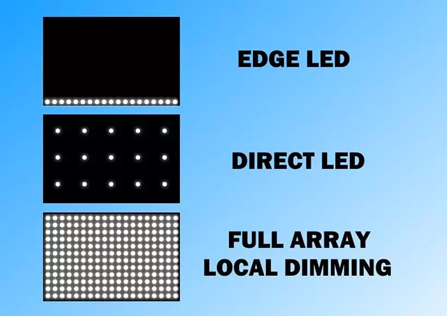 Full array local dimming uses more LEDs but provides much greater precision for zoned control. (Image: ITIGIC)
Like traditional LEDs, miniLEDs are individually driven and can adjust or even turn off completely independently of each other for extra-sharp contrast and minimal light "bleed" between zones. MiniLEDs have generated the most excitement as a replacement for traditional LEDS in local dimming displays due to their smaller size. In fact, miniLED screens have been described as offering "local dimming on steroids." MiniLEDs are an order of magnitude smaller (roughly 1/7th the size) of traditional LEDs, meaning more LEDs can be used per panel (granularity that offers the potential for more dimmable zones) and panels can be made thinner. 
Testing the Performance of MiniLED Displays with Local Dimming
The independent control of miniLEDs means better contrast performance, but it can also mean more individual defects. Emissive displays—such as miniLED, OLED, and microLED—require precise quality inspection and measurement to identify issues such as dead pixels and to ensure uniformity in brightness and color from pixel to pixel—or from zone to zone. 
Radiant offers automated visual inspection solutions that can measure the quality of all types of local dimming displays including full array. Our solutions combine a high-resolution ProMetric® Imaging Photometer or Colorimeter and TrueTest™ Software with advanced algorithms to analyze display performance for both small- and large-format displays.
For individual pixel-level defects (which cause display nonuniformity, or mura), Radiant offers a solution that provides individual pixel and subpixel measurement and correction (demura). Using our systems, miniLED display manufacturers can also evaluate regional luminance, chromaticity, and uniformity per zone. For each zone, users can run iterative tests to calculate the output changes needed to enable color balance and gray-level gamma correction for ultimately flawless visual performance. 

Image of a Radiant ProMetric Imaging Colorimeter performing color balance and gamma correction on the unique zones of a full array local dimming display.
CITATIONS
O'Brien, B., "TV Market and Technology Update", presented at DSCC Business Conference, Society for Information Display (SID) Display Week 2021
Mini LED Market Forecast, Trend, Analysis, & Competition Tracking – Global Market Insights 2020 to 2030, report published by Fact.MR, as reported by The Courier, Jun 10 2021.
"Difference between MicroLED and Mini LED." LEDInside, May 8, 2018.
Welch, C., "Big iPad, Mini LED: why Apple's new IPad Pro display is better and brighter." The Verge, April 21, 2021
O'Brien, B., "TV Market and Technology Update", presented at DSCC Business Conference, Society for Information Display (SID) Display Week 2021
 
Join Mailing List
Stay up to date on our latest products, blog content, and events.
Join our Mailing List