Signs of the Times: Video Walls, Digital Billboards and Large-Format Display Trends
Mon, August 12, 2019
Great big display screens are not just for Times Square and sport stadiums anymore. Digital signage and video walls are showing up everywhere: in retail stores and malls, at events, on public transit, in fast food restaurants, in schools, and even in your doctor's waiting room. These types of displays are categorized as Digital Out-Of-Home (DOOH) displays. While most often used for advertising purposes, they also showcase useful information for people in public, corporate, event, and entertainment spaces.
The Digital Place Based Advertising Association (DPAA) estimated that in 2018 DOOH advertising spending reached approximately $75 million in the U.S.1 Globally, the digital signage market was estimated at $US 18.5 billion, with growth projected at 8% (CAGR) through 2025 (including all types and sizes of digital signage, both in-home and DOOH).2
The marketing benefits offered by DOOH in terms of targeting and interactivity makes digital signage an attractive channel for advertisers, spurring growth. Advancements in display technologies like LCD, LED, OLED, and—most recently—microLED, coupled with improvements in transparent displays, is also helping drive growth as visual display quality and user experience is enhanced.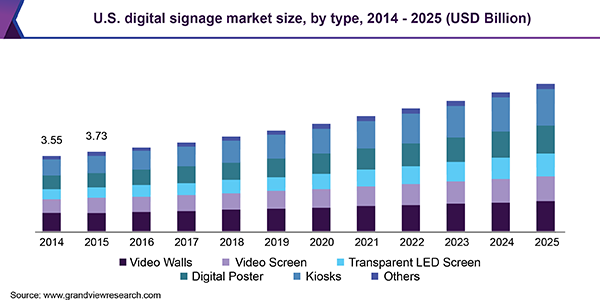 Projected growth of the U.S. digital signage market, broken out by different types of displays. Source: Grandview Research.2
Display Types: Video vs. Digital
While there is some terminology overlap between video walls and digital signage (video can be considered just one category of digital signage), video walls are typically used to display pre-made content that is fed directly to the screen on a loop. Video walls are constructed from multiple smaller screens tiled together, with extremely narrow bezels to minimize any visible gap between screens. 
Most of today's video walls are made up of LCD or LED panels, DLP tiles, computer monitors, or even projection screens.3 Adoption of video walls and screens has been rapid, since these types of displays are often relatively inexpensive and are the simplest to install and configure. Running one of these large screens typically requires a video wall processor to direct content to the different screens at the right time to display the desired images and video cohesively, based on a pre-set program of content.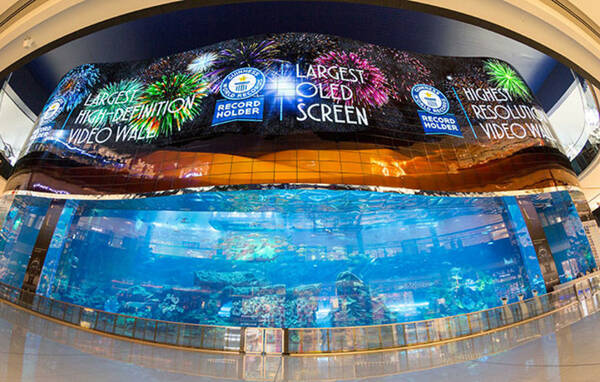 The world's largest high-definition video wall, installed at the Underwater Zoo in Dubai's Aquarium, uses LG OLED screens and measures 709.69 square meters total area. Image source: Guinness Book of World Records.
By contrast, digital signage typically refers to a network of connected screens where information can be displayed and changed in real-time. For example, digital signs can display a continuously updated list of session times and locations throughout a conference center during events. The jumbotron screens at sports venues are another example of digital signage, with dynamically changing information displayed as throughout gameplay.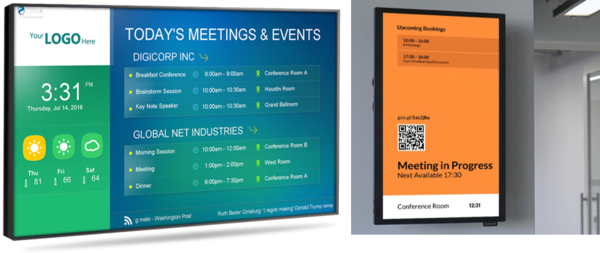 Example of dynamic information display screens used at meeting venues. Image sources: Orlando Digital Signage and Screen (left) and ScreenCloud (right).
Touchscreen Digital Displays
Another category of digital signage is interactive displays, such as touchscreen information kiosks that allow users to navigate through a directory or map, or complete a self-service process. For example, if you've taken a flight with any airline recently, you may have used a self-serve check-in kiosk. One of the most common applications of interactive signage includes wayfinding (interactive maps) at venues like malls, museums, and hospitals.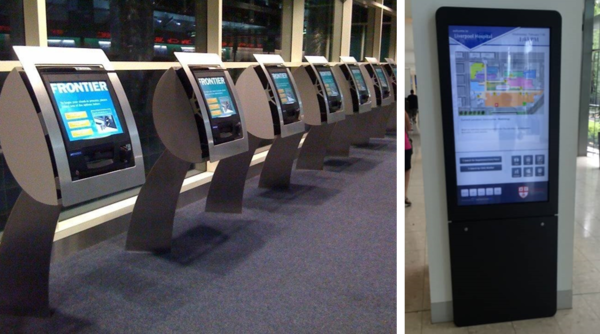 Airline self-service kiosks allows passengers to check-in, select/upgrade seats, and print baggage tags and boarding passes (left). A touch-screen digital wayfinding display at Australia's Royal Liverpool Hospital (right). Image Sources: Kioskindustry.org and Digital Wayfinding Solutions, respectively.
Some playful interactive applications have also been developed, such as Yahoo's Bus Stop Derby. The game featured 72 screens installed at bus shelters around San Francisco that allowed people to play neighborhood versus neighborhood while waiting for their bus. Today, the subway system in Shainghai features a 10-meter-wide video screen that uses augmented reality (AR) to engage riders while advertising a lemon iced tea product.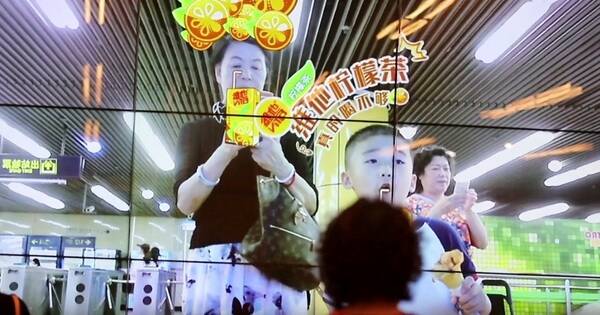 When Shanghai subway passengers stand in front of this video wall, they see themselves with superimposed AR images promoting a lemon iced tea. Image credit: Sixteen-Nine.
Digital Billboards
Billboard advertising has been around since the mid-1800s and perhaps seems a bit dated, but the advent of digital billboards has seen a sudden resurgence in the popularity of these displays. In fact, billboards and digital advertising are the only sectors of advertising that are growing, while radio, TV, and print ads are on the decline.4 Companies are discovering that a big presence can mean big impact and are using the capabilities of digital billboards in creative ways. For example, a billboard for a coffee chain can adapt to real-time weather conditions: on cold days, it shows a hot cup of coffee and a donut; on hot days, an iced coffee drink appears.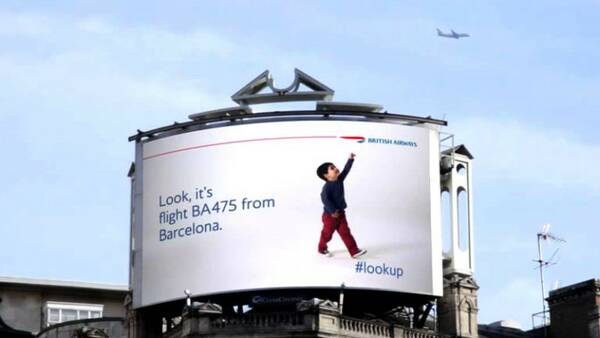 A British Airways digital billboard connects to real-time flight information. Image Credit: ASUS Business HUB
Challenges of DOOH Display Performance
When configuring and installing video walls and digital signage, there are several key considerations that can dramatically affect performance. The first is the environment. Is a display going to be viewed outdoors, semi-outdoors (or indoors near a window), or fully indoors? Ambient lighting conditions can affect the visual performance of a display depending on its location. For example, bright outdoor conditions demand a very bright display screen with strong color performance and contrast to ensure visibility. When a display is transparent, the challenge of maintaining content clarity in variable ambient light conditions is even greater.
Viewing angle is also an important consideration. Is a digital display going to be used primarily by a single user standing directly in front (e.g., an airline check-in kiosk), or is it intended to be viewed by people who may be passing by and seeing a display from a variety of angles? If the objective is maximum visibility, such as for paid advertising exposure, then the display needs to be easily viewed from different angles.
Signage Screen Technologies: LCD, LED, OLED, and More
Along with the rest of the display industry, digital signage has evolved to incorporate a range of different technologies. The first LED billboards were installed in the early 2000s; now a few OLED displays are starting to make their way onto the market, such as LG's new transparent OLED display.
What determines the choice of screen technology is often the intended size of the display. For very large billboard-size or stadium displays, LED technology is preferred. Clusters of small LEDs (light emitting diodes) are energy efficient with bright vivid colors that can be seen easily even in ambient outdoor lighting conditions. Smaller displays often use LCD screens, due to their affordability and ease of installation. Although LCD screens are available in sizes up to 95" with 4K resolution, they perform better for indoor applications due to limited brightness output and contrast. 
Today, LCD screens represent about 45% of the digital signage install base, LEDs about 35%, and projection displays are roughly 20%, with no significant penetration by other display types—yet.2 
There are other screen technologies available; each with its own strengths and weaknesses:
OLED. Organic Light Emitting Diode (OLED) displays offer superior contrast with deeper blacks (since individual pixels can be turned on and off), potentially high resolution, and energy efficiency. However, they are still relatively expensive to produce, so widespread adoption will depend on further technology advancements that can bring down the price.
Plasma Screens. Plasma displays offer a wider display angle and more uniform light output than LCD screens, along with higher contrast and possibly a lower cost. However, they are heavier and consume more electrical power than LCD screens.
Projection. A projected display is typically less expensive than a large screen or video wall. Projectors also offer high brightness output and can be high-resolution. However, a flat, white projection surface is required, and a projection doesn't allow for any interactivity. 
ePaper. This technology is a relatively new entrant to the digital signage space and is not suited to all applications, but for small (e-reader-size) black-and-white or grayscale displays, they can be a good choice, especially for relatively static content, since they can maintain a fixed image on screen without consuming any energy. 
MicroLED. Samsung has released a new line of custom-made Crystal MicroLED displays sized from 146"–219". MicroLED technology promises superior color, brightness, resolution, and view-angle performance, but with prices ranging from $US350K–$780K, this technology is still a reach for most digital signage applications.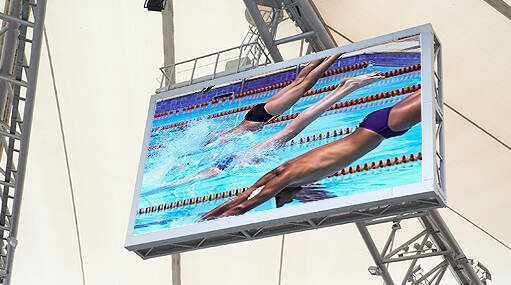 An LED display at a sporting event.
Big Screens Demand Big Quality Control
When video or digital content is being projected at larger-than-life sizes, defects and issues in display quality can be glaringly obvious. Ensuring consistent color and brightness across the screen is critical—especially in emissive screens like OLED, LED, and microLED where each diode in the screen is an individual emitter, potentially resulting in wide variability in brightness or color output. Quality testing these displays at the pixel level to identify any non-uniformity or blemishes (mura) is required.
Radiant has been providing solutions to measure and correct LCD, LED, and OLED displays for almost as long as those technologies have been on the market. ProMetric® Imaging Photometers and Colorimeters closely match human visual perception of light and color to ensure the performance of display screens—of any size. Our VisionCAL® LED Screen Correction System is an advanced solution for automated color and brightness correction of large LED screens (such as stadium screens and billboards) in a controlled factory environment or in the field. 
To learn more about Radiant's large-format screen correction solutions, read the Case Study of Martin Professional (now Martin Harman) and how Radiant helped them launch the first ever color-calibrated LED video products.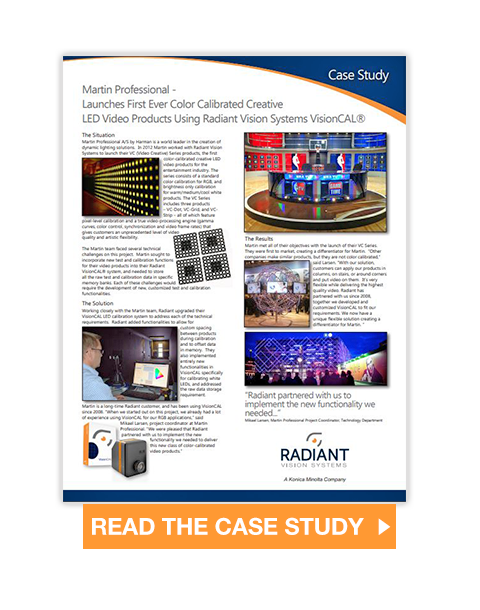 CITATIONS:
"Top 2019 Trends In LED Display for Billboards", Prismview (a Samsung Company), July 2019.
Digital Signage Market Size Analysis Report By Type, By Component, By Technology (LCD LED, Projection), By Application, By Location, By Content Category, By Size, By Region, and Segment Forecasts, 2019-2025, Grand View Research, May 2019.
"Understanding the Basics of Digital Signage Video Wall Displays", Ingram Micro, June 25, 2017.
Crockett, Z., "The hottest advertising trend of 2018? Billboards." The Hustle, November 30, 219.
 
Join Mailing List
Stay up to date on our latest products, blog content, and events.
Join our Mailing List