That's Right, Foldable Smart Phones Are Coming...Soon...Probably...
Mon, August 13, 2018
The reality of foldable smartphones has been lingering just over the horizon for a few years now, with hints and rumors circulating, prototype models popping up, competitors jockeying for position, and buzz about product launches that haven't quite come to fruition yet. But it looks like 2019 might finally see foldable smartphones on the market. In just the last few months: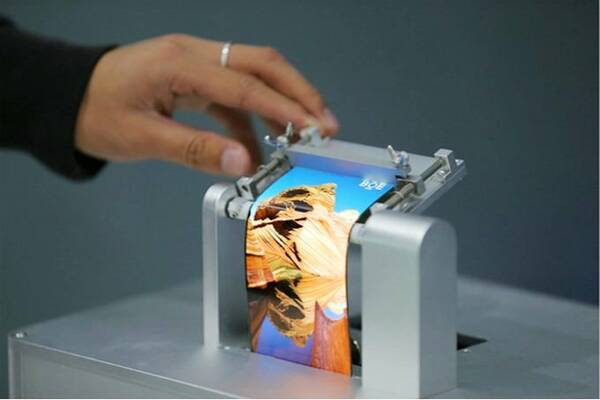 A foldable screen produced by BOE. Photo source: CNOEMS: China OEM Suppliers, 29 May 2018.
It can be hard to keep track, but clearly "foldable" is the blazing hot trend for the next generation of smartphones. So, what's the hold up?
Well, Radiant isn't going to jump on the rumor wagon or speculate about any particular manufacturer or product development effort, but there are some tricky issues common among foldable technology that must be worked out for virtually any flexible screen design to be realized. In this article, Tim Bajaran of PC Magazine discusses some of the challenges of foldable phones, such as mass-production constraints and consumer expectations.
One of the challenges is that all components of the phone—not just the OLED display itself—have to be equally flexible; for example, the cover screens. Rigid phones typically use glass covers, which provide a crystal-clear image and lasting durability. But, glass screens don't fold. While plastic screens provide the flexibility to bend and fold, they scratch easily and don't provide the same clarity as glass screens. So the race to develop foldable phones may actually be the race to develop more flexible glass and glass-like materials to use as the cover layer on next-gen foldable displays. (Refer to Radiant's recent blog post, Raise a Glass to Glass for more on this topic).
Additionally, there can be issues with production of flexible OLED displays. Low OLED yields have been well documented in both the television and smartphone industries. As recently as August 2017, Foxconn was reporting only 60% yield on the iPhone 8 OLED screens that it was producing. This means that as many as 40 out of every 100 units produced did not meet quality standards and could not be used. Low yield leads to a lot of wasted materials and high costs, making mass production for OLED-based consumer electronics much less financially viable.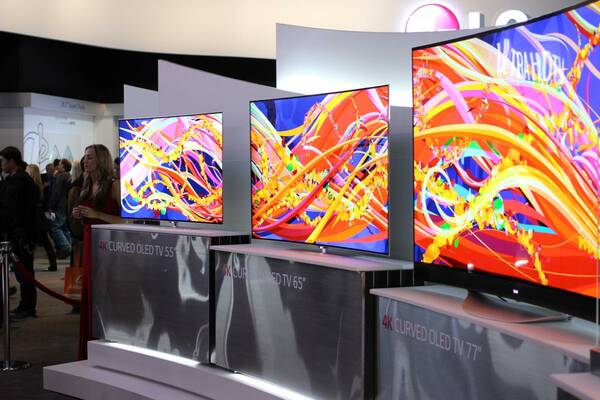 LG's curved OLED 4K television screens. By September 2017, LG was reporting 85% yield on it's large format OLED screens, helping bring down costs to a more affordable market price. Photo: Creative Commons attribution 2.0 Generic license.
More recently, some small-screen manufacturers have managed to work the kinks out of OLED production. For example, Samsung has been able to achieve 90% yield on OLED displays for smartphones. However, when "flexible" is added to the requirements list, yield issues arise again due to challenges producing or sourcing the optimal cover material.
Foldable phones rely on flexible, active matrix OLED (AMOLED) screens. AMOLEDs are thin, light, and flexible in part because they don't require a rigid backlight, making them the top choice for many innovative smartphone brands.
The production challenges for flexible vs. rigid OLED displays are a bit different. David Shieh explains the AMOLED production processes in detail in this article. He says, "Challenges include key equipment, substrate, backplane, emitting layer, color patterning, encapsulation, touch panel, and cover windows." Flexible displays require different approaches to the substrate and carrier glass, encapsulation method, cutting, and touch-sensor patterning. Even manufacturers who have been successful at achieving desired display quality with rigid OLED can be challenged by these aspects of flexible display production.
One critical step in the process of identifying issues and ensuring the quality of displays is having an effective inspection and testing solution in place. Radiant's experience qualifying flat panel displays—including smartphone technologies manufactured by the leading consumer electronics companies—has enabled us to develop the latest innovative testing and correction solution for OLED screens. Algorithms and test methods that we have engineered to detect defects in FPD and large format OLED screens also apply to the smaller smartphone screens: measuring and qualifying issues like mura (blemishes), non-uniformity, pixel defects, and measuring the independent emissions of OLED displays for uniform brightness and color at the subpixel level. 
These same quality testing methods can be extended to testing the quality of flexible/foldable OLED screens. Radiant's ProMetric® imaging colorimeter and TrueTest™ Software solution not only detects and quantifies OLED display defects and subpixel emissions, but can correct them in a process called "demura".
Learn more about OLED demura in this recent article featured by EE Publishers.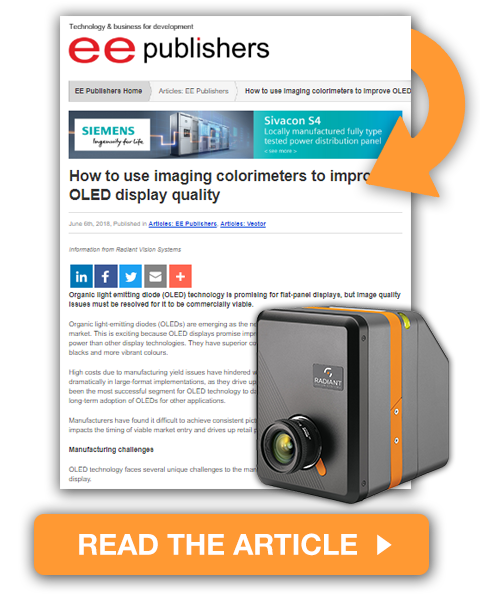 Join Mailing List
Stay up to date on our latest products, blog content, and events.
Join our Mailing List