The Total Inspection Pack for Backlit Symbols & Signs: Light, Color, and Defect Testing in One
Mon, June 08, 2020
Backlit signs and symbols are all around us, from illuminated icons on buttons and knobs, to the EXIT signs in public buildings, to computer keyboards. Backlit symbols are used on airplanes and in automobiles to ensure visibility even in dark ambient light conditions. In these heavily regulated industries, there can be stringent quality specifications for the brightness, color, and other characteristics of backlit signage, since information presented can be vital to operator and passenger safety.

Backlit symbols on a vehicle instrument panel (left) and backlit airplane signage (right).
Evaluating the quality of backlit signs and symbols is a unique challenge because the visual quality of each symbol is determined equally by its photometric properties (brightness and color) and its dimensional integrity (shape and completeness). Symbols and text need to be carefully tested to ensure visual clarity, legibility, and function. Measurement of symbol luminance, chromaticity, character shape, uniformity (both within a single symbol, and between sets of like-symbols) is critical. To perform measurement accurately, a backlit symbol inspection systems must be able to precisely register unique shapes, ensuring that only the illuminated region of an icon is used to quantify its photometric value and that defects can be detected reliably.
While photometric measurement systems excel at light and color analysis, they have traditionally lacked functionality that can provide consistent registration of unique shapes, and overall inspection of shape or text quality. On the other hand, standard machine vision equipment has long provided an effective method for registering the area of distinct objects and shapes within images, but doesn't have photometric measurement capability.
Photometric measurement systems have been designed to evaluate the relatively undefined distribution areas produced by light sources, or the rectangular measurement areas of displays. Backlit symbol inspection, therefore, has required either human inspection, or a combination of software or equipment—usually a photometric system and a machine vision system—each component accomplishing only part of the quality control objective. In the latter case, a photometric system measures the brightness and color of a symbol, while separately a machine vision system evaluates shape quality (performing defect detection within the registered area of a symbol).
Combining Photometric Measurement with Machine Vision Inspection
To address the need for greater efficiency in backlit symbol measurement in industries like automotive, aerospace, and electronics, Radiant has developed a new software extension for our TrueTest™ Software platform that combines photometric and machine vision capabilities within a single system: Vision Inspection Pack (VIP™).
With VIP, Radiant offers the first complete solution for backlit symbol inspection, which simultaneously performs photometric measurement of light and color along with machine vision-based registration and defect detection. With both capabilities in a single system, VIP greatly improves the efficiency of measurement for lab testing and production-level quality control. What's more, VIP measurement solutions are applied to help manufacturers meet component quality and performance requirements outlined in standards for industries from automotive to aerospace. Applicable standards include:
MIL-DTL-7788 (formerly SAE AS7788) – "Panels, Information, Integrally Illuminated" standard for backlit instrument panels (such as flight deck controls in an aircraft)
FMVSS 111 – "Rear Visibility" standard, as it pertains to indicators in vehicle rearview mirrors (such as blind zone indicators in sideview mirrors)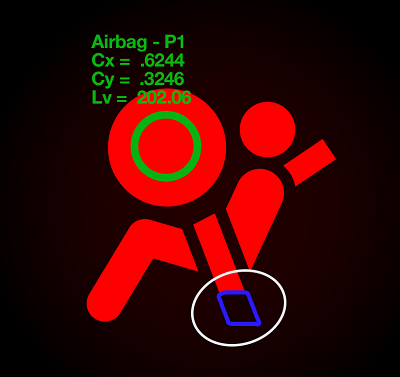 A single measurement in VIP software includes responsive symbol registration, unlimited user-defined POI (points of interest) for photometric measurement (luminance, chromaticity, and more), and automatic defect detection of inclusions, exclusions, and other deformations of the shape. 
Leveraging machine vision software functionality, the VIP software license applies TrueTest photometric analyses for luminance (Lv), chromaticity (CIE xy, u'v'), and other values within the precise registration areas of unique shapes such as icons, text, and other backlit components. The VIP solution combines the standard measurement capabilities of TrueTest Software with defect detection to ensure trained measurement regions are free from inclusions or exclusions caused by inaccurate laser etch or errors in overlays, filters, or other substrate layers.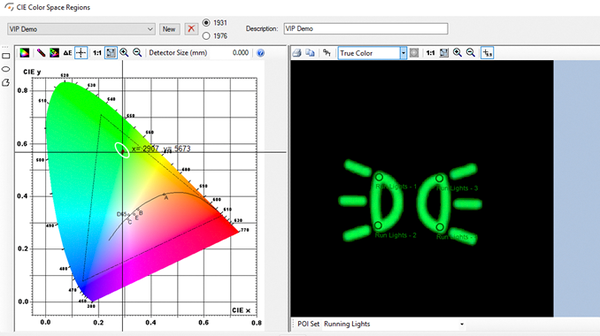 Users can set pass/fail tolerances for photometric and colorimetric values measured within VIP registrations regions, including specific POI. In this example, the four POI on the Side Lights indicator (right) are shown plotted on the CIE color space (left) based on their chromaticity (xy) coordinates. A user-defined ellipse on the CIE color space sets the chromaticity tolerances for pass/fail based on measured POI color coordinates.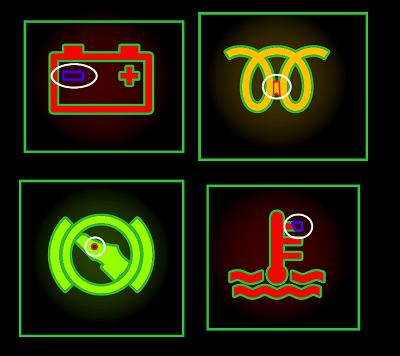 Examples of inclusion and exclusion defects detected by VIP software.
Efficient Symbol Registration and Inspection in Production Applications
In high-throughput inspection applications, VIP provides an efficient solution for rapid registration of multiple symbols and shapes captured within a single measurement image, quickly applying trained registration regions to multiple components inspected in series. Registration regions can be applied globally (across multiple symbols) to ensure the accuracy of relative symbol locations, sizes, orientations, and aspect ratios; or locally (symbol by symbol) to dynamically register each symbol for measurement and defect detection.
VIP automatically locates and registers symbols in new orientations (as components move or rotate) while maintaining the same relative placement of custom POI within each registration region. This ensures all symbols in a series of components are consistently measured based on the same POI locations, without requiring users to maintain exact fixturing tolerances or reapply registration regions or POI for each component measured.
VIP allows users to set pass/fail criteria based on measurement results for each registration region (the entire icon or shape), or pass/fail only on the measurement results for the POI applied within each symbol. Registration functionality enabled in TrueTest Software by the VIP license includes:
VIP: Points of Interest
VIP: Image Variation
Advanced registration functions
Detection of inclusions/exclusions
Pass/fail on luminance, color, and overall quality

VIP saves POI locations for each registration region, ensuring the location of POI within each icon or shape remain consistent (relative to the registration region) even if components move or rotate.
The Power of TrueTest With Vision Inspection Pack
Paired with a Radiant ProMetric® Imaging Colorimeter or Photometer, TrueTest Software with VIP provides a complete inspection solution for backlit components. The VIP solution enables manufacturers to:
Simultaneously inspect the integrity of backlit icons, text, and shapes while measuring photometric values
Accurately apply consistent registration regions and POI locations for each symbol, even if components move or rotate
Simplify component placement and system fixturing
Inspect multiple icons and shapes in a single measurement image
Achieve highly efficient automated testing for quality control of multiple parts in production
Learn more about Vision Inspection Pack capabilities and analyses in the VIP Spec Sheet: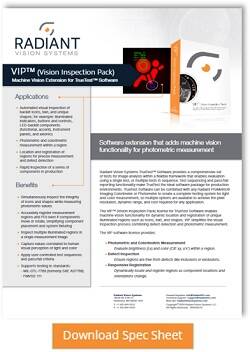 Join Mailing List
Stay up to date on our latest products, blog content, and events.
Join our Mailing List