As the World Goes Virtual, AR and VR Take on New Importance
Mon, April 20, 2020
Coronavirus concerns have forced many organizations to rethink how they operate, find new ways to connect employees, and shift to remote work. This has driven a massive shift to online platforms that offer video conferencing, group chat, and virtual collaboration. With this virtualization of large segments of global business activity, augmented- (AR) and virtual-reality (VR) technologies have been thrust into the spotlight, with an increasing number of useful applications.
An overwhelming number of recent developments in the AR/VR space provide benefits in the fight against the disease and helping humans to adapt to their new socially distanced environment. Here are some of the ways AR/VR is getting the job done:
New AR technology tools are helping pharmaceutical laboratories to implement remote connections so researchers can collaborate across geographies. For example, Apprentice's Tandem AR tool kit is loaded onto hands-free, cleanroom-compliant AR glasses and accessories.1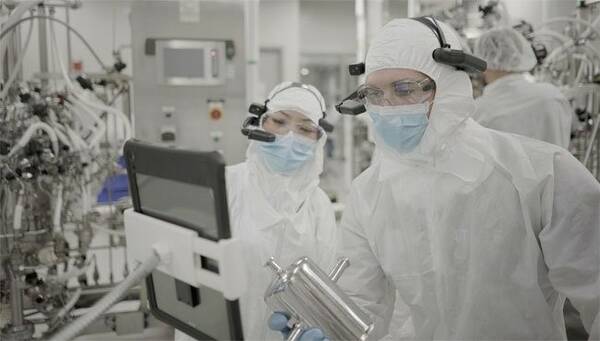 Pharmaceutical researchers using Tandem AR system for remote testing and collaboration. (Image: Apprentice.io)
Companies may find that using VR with remote team members provides a more immediate, distraction-free way to hold meetings and keep collaboration going. One VR meeting platform provider asserts that VR meeting participants have a 25% improved attention span than those on a typical video call.2 Research also suggests that participants retain more information from a VR meeting. There are multiple products already available for holding VR meetings with or without VR headsets. Learn more…
Researchers are using augmented reality programs to visualize the virus, help understand how it infects human cells, and search for flaws in the molecule that can be exploited to defeat it. Learn more…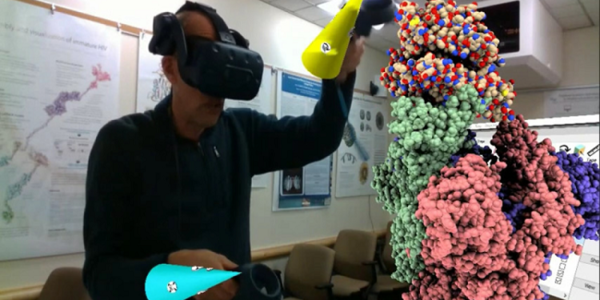 Tom Goddard at the University of California San Francisco uses a mixed-reality molecular visualization tool developed there, called ChimeraX, with a depth-sensing camera and VR headset to manipulate a 3D model of the SARS-CoV-2 virus (the scientific name for COVID-19). (Image: UCSF3)
Ventilators are a critical piece of medical equipment needed to take care of many patient who have developed a serious case of COVID-19 and are hospitalized. But, like any piece of equipment, ventilators can break down or require maintenance.
AR has become a key tool helping ventilator mechanics to service equipment remotely, while avoiding having to venture into a hospital hot-zone and risk their own health. Using a combination of video and AR, mechanics can partner with a hospital staff member to fix machines and keep them running to support patient care. Learn more…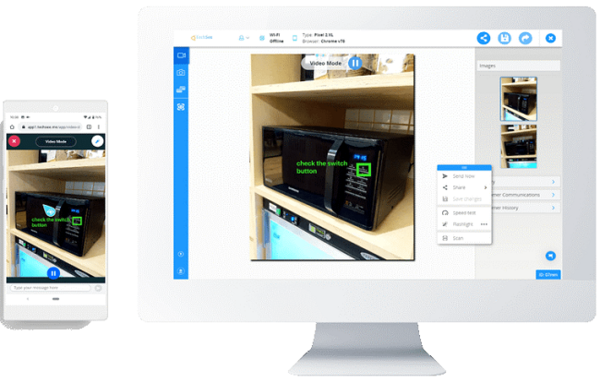 Equipment technicians can use an application like this one from Israeli startup TechSee with the camera on a user's phone and AR overlay to provide remote support for repair and maintenance (the picture shows a Microwave, but the same platform is used to support many types of equipment, including X-ray machines and ventilators). (Image: Source)
While not as life-saving as ventilators, internet and cable connections are nevertheless very important to the millions of people staying home right now who depend on network connectivity for work, education, and entertainment. Cox Communications is one telecom provider who has been using video and AR/VR to provide customer support remotely, allowing technicians to troubleshoot issues and help customers at a safe distance. Learn more…
With so much shopping activity shifting to online lately, retailers are looking at AR to help give consumers the visuals and information they need to make a buying decision. Retailers that already had an AR-enabled shopping experience have a head start, while others are now hurrying to catch up.
The number of AR retail platforms has been growing the last several years, as more than two billion phones worldwide are capable of displaying high-quality, true-to-size AR content.4 The evolution of WebAR has also enabled retailers to offer AR directly on their websites, helping shoppers assess products previously bought in person such as furniture and clothing. Learn more…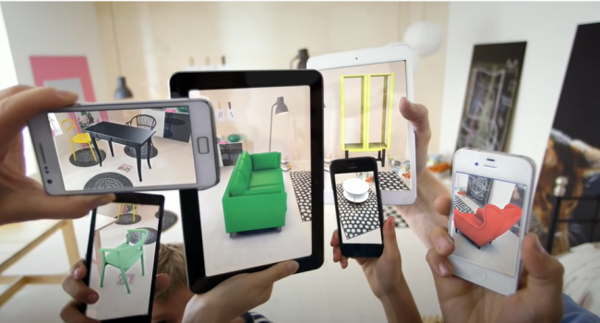 Time to upgrade the furnishings in your home office? Ikea's AR application lets customers view catalog items in the context of their own home before buying. (Image: Source )
Expanding the Overall AR/VR Market
Industry figures suggest that the current pandemic will drive increasing adoption of AR technologies in enterprise and industrial settings, where it had already taken a strong foothold. One of the barriers to more rapid adoption—despite typically positive ROI results from pilot implementations by many companies—was simply the scope of behavioral change and adaptation that the new technology would require across an enterprise.5 With behavioral change and adaptation now thrust upon them, companies may now be more open to reconfiguring their operating models and taking full advantage of AR/VR/MR technologies.
While there is no data yet to confirm this, some VR industry folks are also predicting that the coronavirus may help drive a surge of interest in consumer VR.6 Confined to their homes, people seeking ways to mitigate stress and boredom could escape for a while into a virtual world, or use VR platforms to connect remotely with friends and family. The release of new, affordable headsets from various brands may help VR take off in 2020.
Ensuring the Quality of AR/VR Devices
Manufacturers of headsets, smart glasses, and other head-mounted devices (HMDs) need to ensure that they operate as intended and provide an accurate viewing experience—especially if they are being used for critical healthcare and industrial operation applications.
Radiant's AR/VR Lens has a unique optical design specially engineered for measuring near-eye displays (NEDs), such as those integrated into VR, AR, and MR headsets. The lens design simulates the size, position, and field of view of the human eye to accurately capture and evaluate the what a user will see.
The aperture of the AR/VR Lens is 3.6 mm—replicating the size of a human pupil—and is located on the front of the lens, enabling the imaging system's entrance pupil (where light is received) to be positioned within NED headsets at the same location as the human eye. Paired with a Radiant ProMetric® Imaging Photometer or Colorimeter, the AR/VR Lens captures high-resolution images of displays inside the headset to detect defects and anomalies that may impact visual quality.
Radiant's TrueTest™ Software and our TT-ARVR™ module provide the leading display test algorithms, with the capability to sequence tests for rapid evaluation of all relevant display characteristics in a matter of seconds, applying all selected tests to a single image captured by the camera. Standard tests in TrueTest include luminance, chromaticity, contrast, uniformity, mura (blemishes), pixel and line defects, and more, while TT-ARVR adds tests for characteristics of HMDs such as MTF, distortion, and focus uniformity.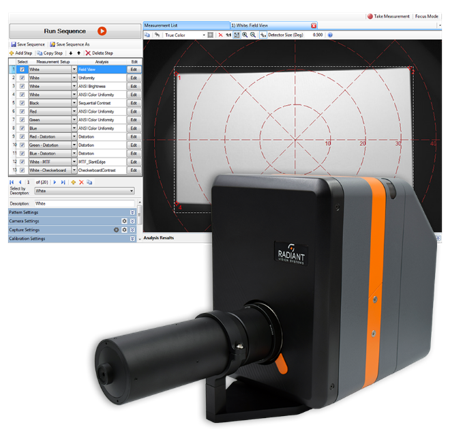 Radiant ProMetric® Imaging Colorimeter with the AR/VR Lens, shown with TT-ARVR™ analysis software.
CITATIONS
Join Mailing List
Stay up to date on our latest products, blog content, and events.
Join our Mailing List