Automated Head-Up Display Measurement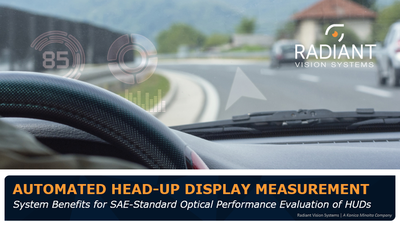 Head-up displays (HUDs) project images onto ambient real-world scenes at infinite focal distances. This unique viewing context poses a challenge for ensuring image visibility and position, especially when it comes to meeting all requirements of established quality standards. Photometric measurement of light and color is equally important as dimensional measurements for image size, distance, location, and integrity in performing comprehensive HUD evaluation to SAE standards for optical quality. Although no one system is specified, Radiant's photometric imaging systems and software offer several differentiating benefits that greatly reduce HUD evaluation time, enabling fully-automated measurement, ensuring SAE compliance, and limiting cost and time to market.
In this presentation, you will learn about:
SAE Standards for Head-Up Displays
Technology to Enable Automated Testing:

Electronically-Controlled Lens
Line-Pairing Algorithm
Full Field-of-View Imaging
Multi-Test Sequencing Software

Software Tests Available in Radiant's TrueTest™ TT-HUD™ Module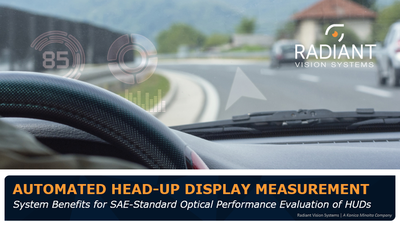 How can we help?
Please complete the following fields and we'll follow up with you promptly.