Quality-Driven: Automotive Display Testing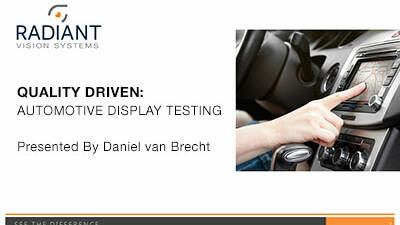 Displays have become a central feature of today's automobiles, with touchscreen-controlled infotainment and navigation systems, digital instrument clusters, and head-up displays now extending well beyond the luxury vehicle market.
Defect detection of in-vehicle displays presents a unique set of challenges. These displays will be viewed in widely varied lighting and must withstand harsh environmental conditions. Detection of subtle flaws that could worsen as a result of these circumstances is critical to ensuring a high quality display throughout the lifetime of the vehicle.
Daniel van Brecht, Distribution Account Manager for Radiant Vision Systems, has helped top global manufacturers implement display testing solutions to ensure a user experience that reflects the quality of their brand. In this 45-minute webinar, he presents:
Testing considerations for automotive displays
Mura detection
Testing to the black mura standard (as defined by the German Automotive OEM Work Group Displays)
Both automakers and suppliers to the industry will find this webinar informative.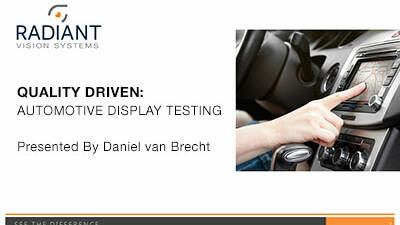 How can we help?
Please complete the following fields and we'll follow up with you promptly.