Augmenting the Office: Reinventing Workspaces with AR/VR/MR
Mon, October 19, 2020
As employers and workers around the globe adjust to life during a pandemic, many companies have had to rethink how they structure the workplace to incorporate remote, virtual, and hybrid models. Many are reevaluating the pros and cons of having a remote/geographically distributed workforce, not only due to COVID-19, but as a possible longer-term option. 
Even before the coronavirus hit, augmented-, virtual-, and mixed-reality (AR/VR/MR) technologies were finding a place in the enterprise with applications such as technical training and support, field maintenance and repair, design collaboration, and more. 
As an example of the benefits of AR for field maintenance work, two GE technicians wire a wind turbine control box, one using the company's current process (a paper manual), and the other "guided by line-of-sight instructions overlaid on the job by an AR headset. The device improved the worker's performance by 34% on first use."1
Now AR/VR tools are offering additional communication and collaboration platforms that go well beyond the now-ubiquitous videoconferencing with all its attendance limitations and frustrations. For example, some workplaces have already been experimenting with using AR headsets to bring remote employees together, allowing workers to share virtual spaces and feel the presence of co-workers. "There's a lot of potential to be together in a space instead of rectangles on a screen."2 Employees also seem to welcome the idea of adopting interactive technologies: "66% of global employees would be willing to use AR/ VR products in their professional life; most as a training tool."3
Bringing AR/VR/MR into the Workplace
Current estimates predict the AR/VR market could reach $35 billion in revenues by 2025. While roughly $19B of that is expected to be consumer and gaming activities, $16B is expected to focus on enterprise and commercial uses.4 Emerging enterprise applications of AR/VR include functions like:
New employee training – For hands-on occupations, self-guided learning from manuals and videos can only go so far, but in-person training can be both inconvenient and time consuming for managers/preceptors—and currently presents a pandemic contact risk. Now businesses can use an AR/VR application to virtually walk a new employee through work project scenarios, with real-time coaching and correction. The immersive nature of VR makes it a very effective training tool to prepare employees for real-world situations, as organizations as diverse as NASA, Walmart, and the National Football League have found.
Hiring and onboarding – Few company functions benefit from face-to-face interaction as much as human resources, especially during the hiring process when both an employer and prospective hire are trying to make qualitative mutual assessments of personality, cultural fit, work style, environment, leadership, etc. Companies have begun embracing AR/VR to help attract and retain talent in competitive marketplaces. "For instance, new technologies allow candidates to 'virtually shadow' existing employees to get a real feel for what their position or role would be like." Similarly, VR could be used in the interview process, "for example, a sales candidate could be placed in an immersive situation to demonstrate how they would deal with a challenging customer."5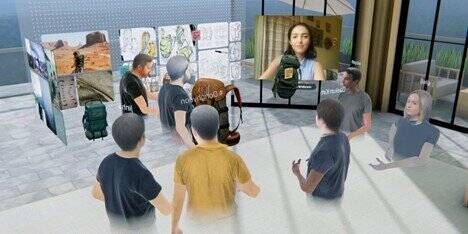 A holographic meeting application from Spatial that brings realistic avatars and productivity files into a room-sized virtual space (Image © Spatial)
Meetings and Collaboration – Email, chat/messaging apps, and videoconferencing platforms generally work okay for conducting the basic meeting and communication functions, but humans thrive on personal contact. Recent studies have demonstrated that videoconferencing requires a higher level of brain effort to stay focused, leaves workers more fatigued and stressed, and that even a few seconds of silence contributes to a negative perception (whereas a few seconds of silence in in-person meetings is typically interpreted as being thoughtful). Not to mention, our self-esteem drops when we are forced to look at ourselves on screen for a period of time.6 
These limitations are driving companies to explore more immersive AR/VR technology as an alternative communication platform, to enhance employee engagement and well-being and improve productivity—and thus bottom lines. The technology can enable remote workers and clients to have a "physical" presence in meetings and collaboration sessions. For example, some companies are already using so-called mixed-reality rooms to conduct meetings.
Example of a mixed reality meeting room from MeetinVR.
Some industry experts are predicting that offices will begin dedicating space to "VR rooms" or media production studio-like areas for suites of AR/VR equipment and collaboration. However, it may still be a few years before these technologies become prevalent in the workplace; barriers to rapid adoption include hardware costs, and the need for more—and more robust—application platforms and software to facilitate a range of use cases and industry-specific needs.
Ensuring the Quality of AR/VR/MR Displays
With more companies coming to rely on AR/VR devices to support key business activities, it's important that the headset displays themselves are accurate, reliable, and accommodate extended viewing without causing eyestrain, headaches, or other user discomfort. Careful hardware testing of head-mounted displays like those in VR goggles and AR glasses is critical. Because these displays are typically positioned very close to the eye, even miniscule defects are magnified and can impact a user's visual experience. AR and MR devices also require that any quality testing system measure that projections can be viewed clearly and accurately through a transparent medium such the lens of smart glasses.
Radiant's AR/VR Lens has a unique optical design specially engineered for measuring near-eye displays (NEDs), such as those integrated into AR/VR/MR headsets. The lens design simulates the size, position, and field of view of the human eye to accurately capture and evaluate what the user will see.
The aperture of the AR/VR Lens is 3.6 mm—replicating the size of a human pupil—and is located on the front of the lens, enabling the imaging system's entrance pupil (where light is received) to be positioned within NED headsets at the same location as the human eye. Paired with a Radiant ProMetric® Imaging Photometer or Colorimeter, the AR/VR Lens captures high-resolution images of displays—including technologies such as LCD, LED, OLED, holograph, light field, projection, and microLED—to detect image defects and anomalies that may impact visual quality.
Radiant's TrueTest™ Software and TT-ARVR™ module provide the leading display test algorithms for AR/VR devices. These platforms automate sequences of visual inspections for rapid evaluation of all relevant display characteristics in a matter of seconds, applying several tests to a single image captured by the camera. Standard tests in TrueTest include luminance, chromaticity, contrast, uniformity, mura (blemishes), pixel and line defects, and more, while TT-ARVR adds tests for characteristics of NEDs such as MTF, distortion, and focus uniformity.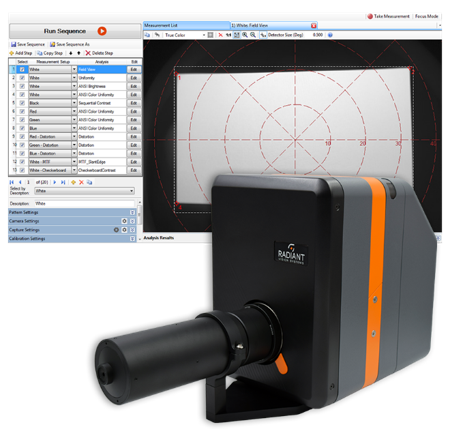 Radiant ProMetric® Imaging Colorimeter with the AR/VR Lens, shown with TT-ARVR™ analysis software.

CITATIONS
Join Mailing List
Stay up to date on our latest products, blog content, and events.
Join our Mailing List