Automotive HUD Inspection Challenge: Characterizing the Effects of Windshield Glass
Thu, October 07, 2021
As head-up display (HUD) systems in automobiles have become more widespread, industry demands and customer expectations for visual quality and performance have only increased. From their origin in World War II aircraft to the first automotive HUD from General Motors in 1988 to today, HUD systems have come a long way in sophistication and visual UI. 
HUDs are now offered as a standard feature or option from more than 30 automakers around the globe. They can be found in luxury vehicles such as BMW, Mercedes-Benz, Jaguar, and Rolls Royce along with many mid-range and SUV models from companies such as Hyundai, Volvo, Genesis, Mazda, Audi, Chevrolet, and Toyota.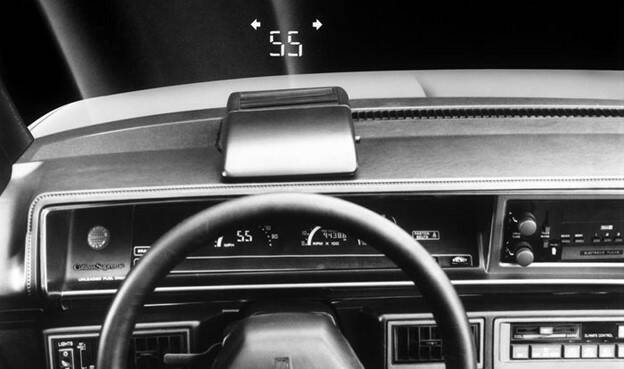 The first commercial automotive HUD was in the 1988 Oldsmobile Cutlass Supreme. (Image: © General Motors)
The Role of the Windshield in HUD Systems
Some of the early HUD systems, and most after-market HUD systems available today, incorporate their own small screen where information projections are displayed separate from the windshield—these are called combiner HUDs. Other HUD systems project "static" images such as speed or navigation data onto a limited area of the windshield. In both cases, the windshield plays a very limited role so its effects on the visual appearance of the HUD projection are next to negligible. 

A typical 2D HUD projection (left) displays information without reference to the external environment; the HUDWAY Drive after-market HUD system (right) with its own display panel. (Right Image © HUDWAY)
By comparison, HUDs of the future will use advanced augmented-reality (AR) technology. These systems leverage cameras and sensors to project 3D images that are integrated with the environment outside the vehicle, for example, placing navigational arrows so they appear in the correct traffic lane. These AR HUDs use a large area of the car's windshield as their display canvas. As a result, the integrity of the windshield can have a significant impact on the visual quality of the HUD projection. The structure or coatings of the windshield itself can potentially introduce defects such as distortion, ghosting, or magnification of the virtual image.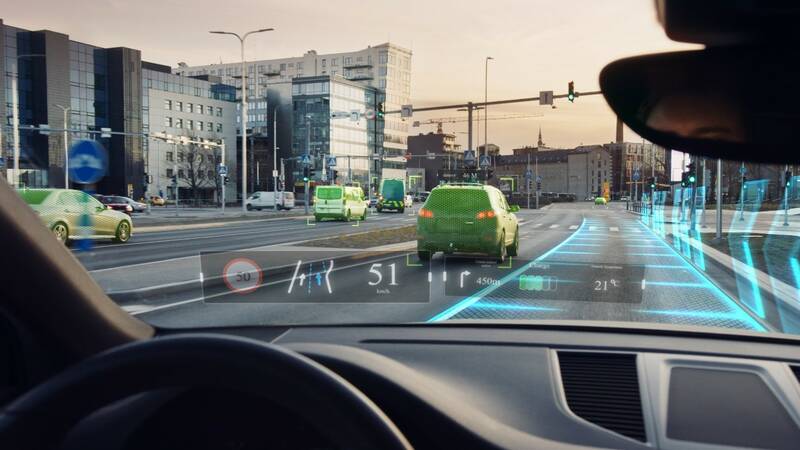 Automotive HUD systems can present drivers with key information such as speed and navigation data, the location of other vehicles and objects, and lane guides, without requiring them to take their eyes off the road. Shown here is an AR-style HUD where 3D projected images are integrated with the environment outside the vehicle.
Already, automakers are setting strict quality parameters for their windshield manufacturers. As visual inspection requirements become more complex, traditional inspection equipment like machine vision cameras and software cannot meet the demand. Manufacturers need more powerful inspection tools to continue to ensure HUD quality now and into the future.
Measurement Criteria for Windshield HUD Systems
Windshield testing typically employs imaging systems for visual inspection and isolates the properties of the windshield glass apart from qualities of the HUD projection system. Windshield testing and inspection provides automotive glass manufacturers with critical information about the glass form, layer properties, and wedge angle characteristics so manufacturers can adjust their process and address issues in production and quality control. 

Examples of ghosting (left) and distortion (right), two types of defects commonly introduced by the windshield in HUD displays, which must be corrected to ensure both regulatory compliance and safe vehicle operation.
An effective method to test windshield HUDs uses an imaging system such as Radiant's ProMetric® Y-series Imaging Colorimeter or I-series Imaging Colorimeter. A test pattern such as a dot grid is projected onto a windshield, and the imager—used with the TT-HUD™ module of Radiant's TrueTest™ Software—measures the projection to identify and quantify defects. Multiple image qualities can be evaluated simultaneously to ensure compliance with both OEM specifications and industry requirements such as those specified by the Society of Automotive Engineers (SAE J1757-2).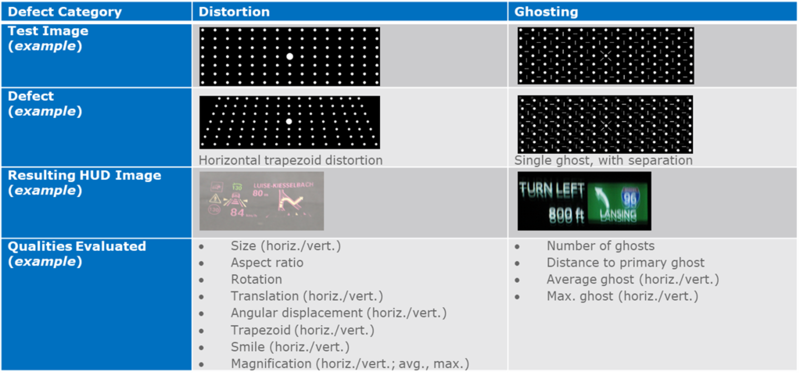 Radiant's HUD testing solution compares a test image (first row) to the projected image from a HUD (second row) to identify defects such as distortion and ghosting. Multiple image qualities are evaluated in a single image, providing fast, effective HUD quality inspection.
To learn more, watch the Webinar "Characterizing the Effects of Windshields on Head-Up Displays: New Demands for Visual Inspection." Hosted by Automotive IQ as part of the Intelligent Lighting 2021 virtual conference, this 30-minute webinar features an in-depth presentation by Radiant's Automotive Business Leader, Matt Scholz. Topics covered in the webinar include:
The role of the windshield in an integrated HUD system
Common defects caused by windshield glass, and how to measure them
Limitations of traditional inspection systems for OEM-specified testing
Essential characteristics of inspection equipment for HUD windshields, supported by customer case studies and measurement examples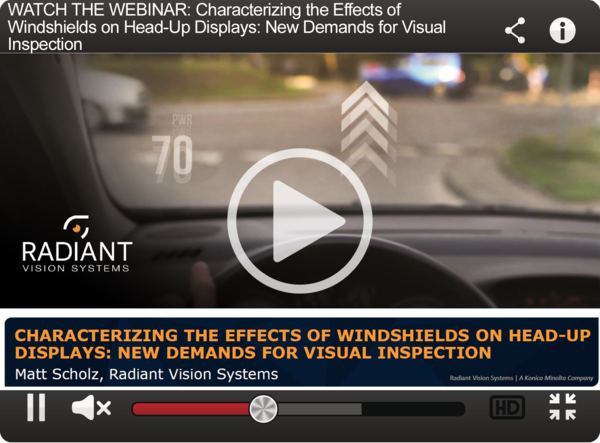 Join Mailing List
Stay up to date on our latest products, blog content, and events.
Join our Mailing List