Face to Face at CES: The Latest Facial Recognition Tech
Mon, February 24, 2020
Facial recognition (or "FR" for short) is booming, showing up in more and more products, and the FR market is expected to grow at a CAGR of 16.6% from $3.2 billion in 2019 to $7 billion in 2024.1 FR technology has enabled advances in public safety, biometric security, and convenience, but critics point out that it can also be applied in ways that might seem like "big brother" surveillance.2
Both aspects were in evidence at the recent Consumer Electronics Show (CES). Vendors exhibited FR across multiple product categories, while panel discussions provided some insight into how the industry is starting to address concerns about consumer privacy.3 These ethical issues are beyond the scope of this blog post, however; which instead looks at the myriad uses and advances of FR technology.
Facial Recognition on Phones
One of the most widespread applications of facial recognition to date is in cell phones, where a scan of your face can be used to verify identity and unlock the device. At CES, some of the many phones on display with facial recognition capability included the Galaxy S10/S10 Plus and Galaxy Note, Coolpad Legacy, TCL 10 Pro, and Alcatel 3L.
These are all Android-based phones, which use two-dimensional (2D) facial recognition. Typically, these phones use a front-facing camera to capture a 2D image of the user's face, then create a mathematical facial map that's stored for future reference.4 Some of these 2D photographic FR systems are also coupled with an iris scanner.
Using 2D identification often provides a fast unlock, which users appreciate. But it means that a photograph of the user (either a printed photograph or image displayed on another phone) can potentially be used to hack into the user's phone. These 2D systems are also subject to poor performance in low lighting or due to the angle of the phone from the face.5
Android OEMs have worked to improve 2D FR capabilities over the years. Using a higher-quality front camera enhances accuracy, as does "the complexity of the algorithm used to extract facial details. The use of neural network hardware can also accelerate more secure algorithms on high-end smartphones."6
Three-dimensional (3D) FR uses a different approach based on near-infrared (NIR) light. For example, Apple's 3D Face ID is considered one of the most secure facial recognition systems in the industry—"it uses an infrared camera, depth sensor, and dot projector to map 30,000 points on your face. From that, the software creates an artificial 3D scan that is secure enough to unlock your phone and verify digital payments through Apple Pay."5 Phone makers Huawei, Xiaomi, and Oppo are also using 3D FR for their recent models.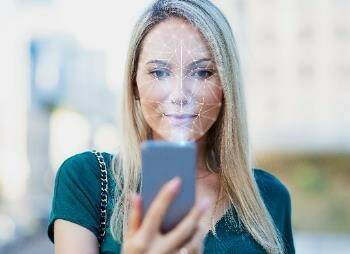 Phone-based 3D facial recognition works by casting a grid or dot pattern on the user's face, and reading the deformations of that pattern as it's reflected off the subject's facial features. The method yields an accurate 3D facial map that can correctly identify a user even in darkness or profile.
Facial Recognition for Home Safety
Just as internet-connected devices (e.g., the Internet of Things, or IoT) once seemed novel but have now proliferated in our workplaces, homes, and on our personal devices, likewise FR technology is poised to expand into many facets of daily life.7 For example, the CES show itself used an (optional) photo facial recognition system for badge pickup at 11 venues around the event.8
Many FR products displayed on the show floor focused on home security, including:
The Ring home security systems booth, which included the company's well-known video doorbell, new smart lighting that can alert the homeowner to any motion detected on their property, remote control apps for electronic gates, and a Key app to give access to Amazon package delivery drivers.
LG Electronics displayed a "smart door" that uses 3D FR and a palm print to unlock itself, and also includes secure storage compartments to hold package and perishable deliveries.
 A discreet cannabis safe by KEEP Labs, Inc., won one of the CES 2020 Innovation awards.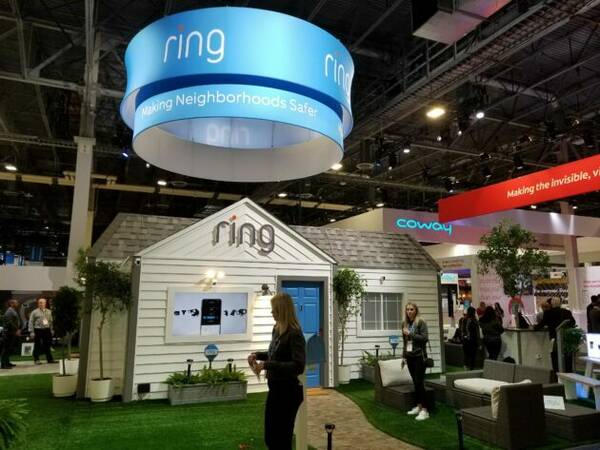 Ring's booth at CES 2020 featured their smart doorbell, smart lighting, solar-powered outdoor lights, and more. (Image: GeekWire Photo / Taylor Soper)
FR for Fun and Convenience
You want to secure your home from intrusions by criminals and strangers—what about securing it from stray cats? At CES, Sure Petcare displayed its smart pet door product with facial recognition. For any cat with a standard implanted microchip, the smart door will scan the chip and then match it to the unique head shape of that cat to unlock the door.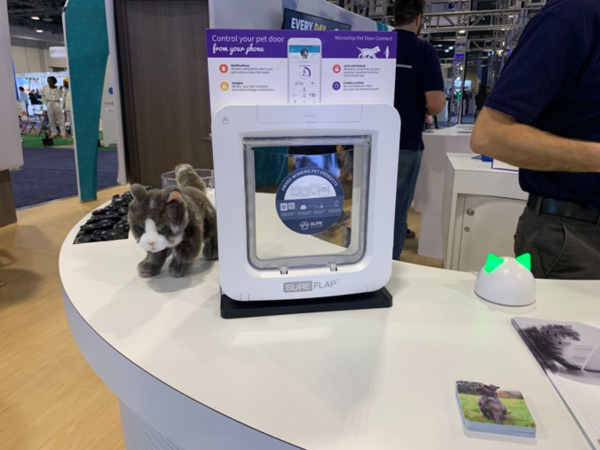 SureFlap pet door at CES 2020. (Image: Sissi Cao for Oberver)
While they weren't exhibiting at this year's CES, Konami Gaming's headquarters are located not far away in Las Vegas. The slot machine maker is working to bring FR to the casino gaming sector. They are integrating FR capability into kiosks linked to loyalty program apps that can help casinos recognize and reward repeat players.
Meanwhile, if you want to take your selfies to the next level, check out the PowerEgg X from PowerVision that combines a hand-held gimbal camera, waterproof drone, and autonomous AI camera. It uses facial recognition to help keep photo subjects in the frame while in motion.
The PowerEgg X camera/drone combo.
Facial Recognition in the Automobile
Raven Connect is offering its business customers an in-dash camera system with facial recognition. The system enables employers to monitor who is driving company vehicles and when, helping to track operations. At CES, the company launched its new Raven+ all-in-one connected vehicle system with FR capability integrated with AI.
Also at CES, Bosch unveiled a unique facial recognition technology designed to keep you safe behind the wheel of an automobile. Cameras mounted between the steering wheel and the instrument cluster "transfer footage to an on-board computer which relies on artificial intelligence to gain several important data points. It identifies the location of the driver's facial features, like their nose and the mouth, and it knows where they're looking, so it can tell if they're distracted…By leveraging this technology, the car is capable of telling when the driver is looking down at a phone, trying to identify a bird on a power line, eating, drinking, or drowsy."9
Theoretically, the system could then act on this information to avoid a dangerous driving situation by issuing an audible warning, slowing down the car, or bringing the vehicle to a stop entirely.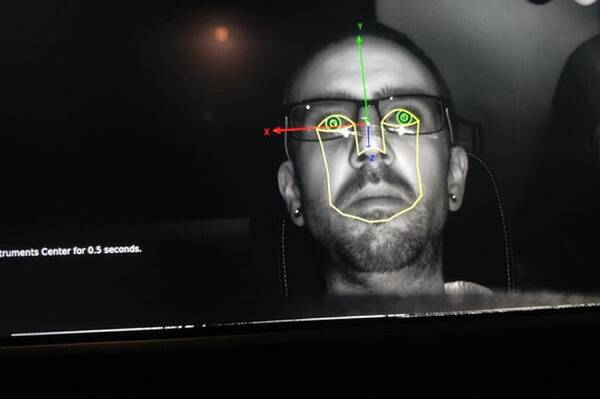 Demonstration of the Bosch automotive facial recognition system (Image: Ronan Glon)
While many of the products mentioned above are prototypes not yet available for sale to the general public, CES provides an interesting preview of what our tech-enabled future might look like.
Ensuring Accuracy and Quality of FR Systems
A majority of 3D facial recognition systems rely on NIR light, primarily from near-IR LEDs and VCSEL lasers. As mentioned in the earlier smart phone examples, NIR light emissions are reflected off an object (like the human face), and the reflected light is captured by an IR camera to create a three-dimensional map of the object.
The proper distribution and intensity of NIR light ensures expected performance of NIR-based facial recognition systems. Further, NIR light is invisible to humans, but it is still received by the eye and, with extreme exposure, can cause damage to the retina or cornea. To ensure that NIR-based facial recognition systems are operating at correct levels (wavelengths and intensity), these emitters must be carefully designed and tested. 
For device quality, accuracy, and performance, manufacturers employ measurement methods to test the design and manufacture of NIR light sources and their FR device integrations. Ideally, a measurement system captures a variety of different characteristics from the light source such as emission uniformity, maximum power or intensity, radiant flux, emission distribution, or spatial position—and it measures these parameters across the entire distribution area.
The Radiant Vision Systems Near-Infrared (NIR) Intensity Lens system is an integrated camera/lens solution that measures the angular distribution and radiant intensity of 850 or 940 nm NIR emitters. The system uses Fourier optics to capture a full cone of emission data in a single measurement up to ±70 degrees inclination and 360 degrees in azimuth, giving you extremely fast, accurate results ideal for in-line quality control.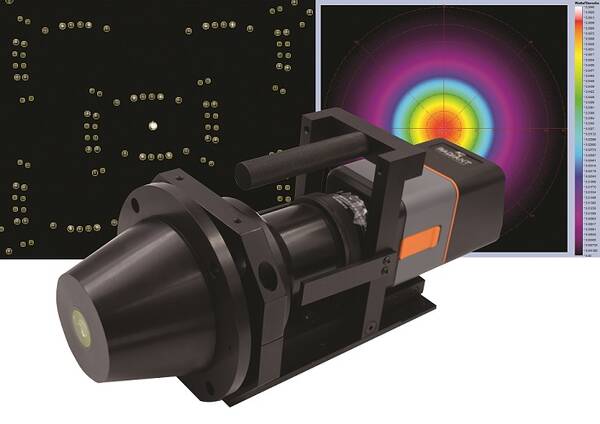 Radiant's NIR Intensity Lens solution, including specialty lens, integrated ProMetric® Y16 Imaging Radiometer, and TT-NIRI™ Software. Software images show measurement of a dot pattern emission, left, and polar plot of radiant intensity as a function of angle for NIR LED light distribution, right.
Manufacturers of products with 3D sensing technology can apply the NIR Intensity Lens solution for fast and efficient angular measurement of NIR LEDs, lasers, and structured light patterns (dot patterns) produced by Diffractive Optical Elements (DOE). The solution enables production-level testing of NIR light sources, where previously equivalent measurements were only achievable using goniometric systems (rotating the light source or measurement system) in the lab. The lens is integrated with a Radiant Vision Systems ProMetric® Y16 Imaging Radiometer, and features ProMetric® or TrueTest™ software for intuitive system setup and customizable automated measurement sequences. Additional tests specific to NIR emission measurement are available in the TT-NIRI™ software module. 
To learn more about ensuring the accuracy of NIR emissions, read the white paper: "Measuring Near-Infrared (NIR) Light Sources for Effective 3D Facial Recognition."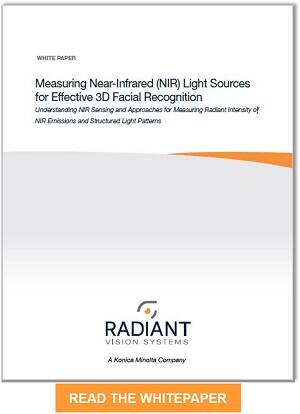 CITATIONS
Join Mailing List
Stay up to date on our latest products, blog content, and events.
Join our Mailing List