How To: Measuring Automotive Headlamps to Meet Industry Standards
Tue, June 01, 2021
Since 1967, the U.S. Federal Motor Vehicle Safety Standard No. 108 (FMVSS 108) has mandated that automotive headlights must have a dedicated low beam and high beam. However, new adaptive-beam headlight (ADB) technology has emerged in recent years, which combines advanced LED lamps and mirrors with on-board sensor and/or camera systems that monitor the environment around the vehicle. "ADB lights combat the need to turn off your high beams upon oncoming traffic. They do this by casting a shadow so oncoming drivers can still see, all while maintaining high beam brightness where the driver needs it."1  
This video shows how ADB headlights remain in high-beam mode for maximum visibility, but a shadowed area of the beam pattern prevents the light shining into an oncoming vehicle.
Keeping Up with Multiple Regulatory Standards
The U.S. is considering, but has yet to issue, new rules that will allow fully adaptive headlights to be used for automobiles in the U.S., but ADB technology has been approved in other countries already. For many European countries, vehicles must adhere to Regulation No 48 of the Economic Commission for Europe of the United Nations (UNECE), which encompasses adaptive headlamp technologies. 
Keeping up with differing industry standards around the globe is a continuing challenge for automakers. For example, Audi has released its ADB headlights in Europe, but has more limited capabilities on vehicle models sold in the U.S. to remain in compliance with FMVSS 108.2 
The Insurance Institute for Highway Safety (IIHS) is an additional standards body in the US marketplace. IIHS rates vehicles for Headlight Evaluation as part of their highway safety research and communications. Since 2016, IIHS has evaluated automotive headlights and rated them for acceptable intensity. The first year, only two models out of 95 earned a "good" rating. Since then, IIHS has made "good" or "acceptable" headlamp ratings a qualifying condition for any vehicle's overall safety evaluation. Automotive manufacturers are faced with negative brand implications and consumer perception if they do not improve their standing. This pressure has driven improvements in headlamp performance. 
Headlamp Testing Challenges
Precise and comprehensive measurement and characterization of car headlamp intensity is a necessity in every geographical region. To meet strict safety and performance standards, headlamp manufacturers need measurement and test equipment with higher accuracy than ever before. With headlamps casting such an expansive beam of light, optimizing and controlling test methods and environments can be challenging. 
Headlamp standards require a headlamp to emit a specific amount of light, in a specific direction, to produce a specific beam pattern. To test for these features, the headlamp beam can be projected from a known distance onto a flat surface such as a screen or wall; illuminance measurements are then taken at physical locations along the plane of the wall. 
In the past, a common method used to measure these points was using a handheld illuminance meter to manually test each point on the wall. This process is tedious, and not efficient for measuring many headlamps in a row. However, Radiant Vision Systems offers a much simpler solution that speeds up the process of measurement by capturing and evaluating all test points at once.
Measurement and Characterization of Headlamp Beams
Radiant offers a specialized toolset for headlamp measurement and documentation: our ProMetric® Software with PM-HL™ headlamp evaluation module. When used with ProMetric® Imaging Photometers and Colorimeters capable of capturing all data points in a single image for evaluation, the Points of Interest (POI) tool in PM-HL software allows manufacturers to easily measure all points of a headlamp beam pattern in a matter of seconds. 
Radiant's image-based measurement systems capture both illuminance and luminous intensity measurements from headlamp beams cast on a Lambertian wall or screen, allowing customers to meet the requirements of a variety of industry standards in one testing environment using a single system. PM-HL software includes POI presets for the major industry standards:
ECE R20
ECE R112
ECE R123
FMVSS 108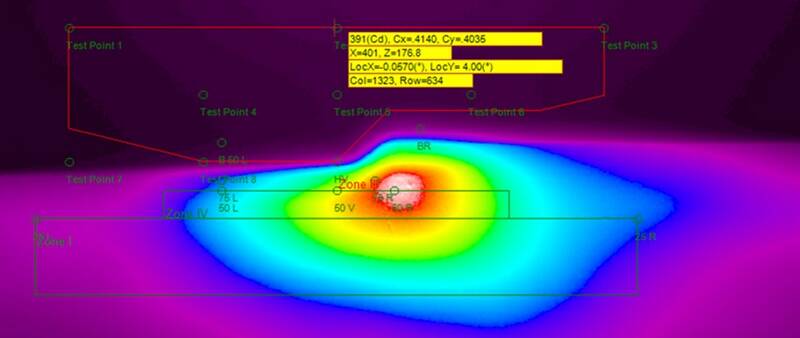 POI are applied to the image of a headlamp beam pattern captured by a Radiant ProMetric imaging system. In this image, POI presets match the test point positions specified by ECE R112.
Beyond beam pattern POI test points, the PM-HL package also includes Road Illumination and Gradient POI tools. For more information about using ProMetric imaging systems and PM-HL software to quickly and easily measure headlamps, read the How-To Guide: Using Points of Interest to Meet International Headlamp Standards.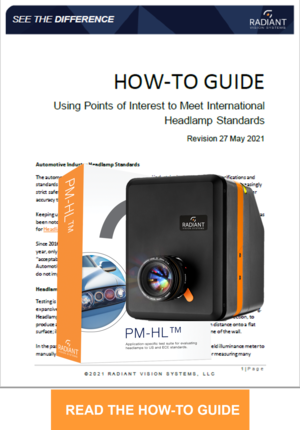 CITATIONS
Curry, R., "Are Adaptive Driving Beam Headlights Legal in the US?" Headlights, January 28, 2021
Lingeman, J., "NHTSA Still Hasn't Ruled on Adaptive Headlights," Autoweek, October 26, 2020.
 
Join Mailing List
Stay up to date on our latest products, blog content, and events.
Join our Mailing List