Mura, Mura on the Wall....
Mon, June 25, 2018
These days we're even more reliant on our screens than Snow White's queen was on her magic mirror. Considering their importance, the need for quality and clarity in displays—from televisions and smart phones to automobile dashboards to VR headsets—is no fairy tale. Mura is a Japanese word that means unevenness, irregularity, or blemish. In the display industry, this word has been adopted as the name for irregularities and "clouding" effects seen on LCD—and more recently OLED—screens.  Also referred to as a luminance non-uniformity, mura's effects on a display screen detract from the user's viewing experience and can impede display performance or functionality.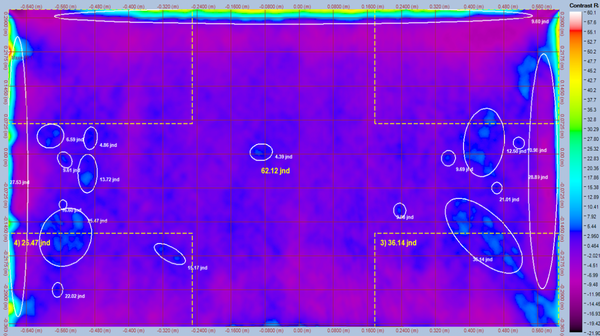 Display quality is impacted by a number of factors—one very common defect is called "mura."
Causes of Mura

Mura is one possible side-effect of the manufacturing process of today's display screens (both LCD and OLED). Displays are typically composed of multiple layers of material and substrates bonded together. It is virtually impossible to combine these layers with pure precision every time; various seams, transitions, pollutants, air bubbles, or other imperfections can creep in. For example, mura on an LCD can result from:
Impurities or foreign particles in the liquid crystal matrix
Uneven distribution of LCD matrix during manufacturing
Non-uniform TFT thickness
Uneven gaps between substrates
Non-uniform color in color filters, optical filters, or a warped light guide/diffuser
Non-uniform luminance distribution of the backlight
Flaws in the LCD cells
Any of these factors can cause irregularities in how the light filters through the display. Another cause of mura can be the tensioning of the panel itself, due to mechanical stress, vibration, shock, or from pinching or twisting during assembly into a device casing or an embedded display environment. The increasing miniaturization of displays—like those used in slimmer panels and smart wearables—has only increased the likelihood of mura in the manufacturing process. 

When it comes to organic light-emitting diode (OLED) displays, mura is also a challenge, but for different reasons. Because each pixel in an OLED display acts as its own emitter, inconsistency from pixel to pixel is inevitable. Plus, OLED has provided the technology of choice for flexible displays—devices that face a whole new set of manufacturing stresses.
The Museum of Mura

While the following examples are by no means comprehensive, some of the most common types of mura and display defects are shown below—as they would appear "in the wild" and as analyzed/characterized by Radiant's TrueTest™ Software, and captured using a Radiant ProMetric® Imaging Colorimeter or Photometer.
 
LINE DEFECTS

Line Defects are sharp, extended blemishes that usually span the entire width or height of the display, and only exist in the vertical or horizontal directions.

Defect:

 

Analysis:

 

PARTICLE DEFECTS

Particle Defects are very small blemishes on the display. These can be the result of dust or defective pixels present in the display or under the display glass.

Defect:

 

Analysis:

 

COLOR EDGE MURA

Color Edge Mura is a deviation in color at one or more of the edges of the display

Defect:

Analysis:

 

COLOR MURA

Color Mura is a deviation in color at any point on the display. Light intensity can be the same and therefore color mura is not possible to detect on a luminance-only image. Colorimetry measurement is needed to detect and analyze Color Mura

Defect:

 

Analysis:

Thresholds can be set depending on customer preference for variance in Cx, Cy or other types of color systems like u'v'.

 

POLARIZER DEFORMATION

Polarizer Deformation consists of large, gradual blemishes across the display screen. These can be the result of stress on or non-uniform thickness of an LCD layer

Defect:

 

Analysis:

 

BLACK MURA

Black Mura consists of large blemishes grouped together, and is most commonly analyzed per quality parameters for automotive displays

Defect:

 

Analysis:

Quantification can be in local contrast ration, "just noticeable differences" (JND) or customer-defined

 

BUTTERFLY MURA

Butterfly Mura consists of blemishes in the corners of the display that are bright (or dark) in contrast with the edges

Defect:

 

Analysis:

Shown on a "local contrast" image

 

CORNER LIGHT

Corner Light is a bright blemish in the corner of the display that is more easily detectable by the human eye when the display is dim. This defect may occur when the LCD is subject to pressure from the display casing, but could also have other root causes.

Defect:

 

Analysis:

 

DIAGONAL LINE MURA

Diagonal Line Mura (or Diagonal Band Mura) is an extended blemish that can be oriented in any direction.

Defect:

 

Analysis:

 

EDGE MURA

Edge Mura are bright blemishes on the edges of the display that are easily seen when the display is dim.

Defect:

 

Analysis:

Using "Just Noticeable Difference" (JND)

 

LED MURA

LED Mura (or BLU Mura) consists of bright, evenly spaced blemishes at one edge of the display. These blemishes often vary in shape.

Defect:

 

Analysis:

 

LINE MURA

Line Mura (as distinct from Line Defects, described above) consists of extended blemishes oriented in the horizontal or vertical direction accross a display.

Defect:

 

Analysis:

 

SPOT MURA

Spot Mura are circular or non-circular blemishes. One possible threshold for quality control is the circularity of the blemish; in this example, only circular blemishes are considered mura.

Defect:

 

Analysis:

 

LIGHT LEAKAGE

Light Leakage consists of different-sized bright areas near the edge of the display. these defects typically appear when the display is set to black or a very dark pattern. Light Leakage is typically the result of mechanical stress in the LCD layer.

Defect:

 

Analysis:

 
Detecting and Correcting Mura and Display Defects
Radiant's TrueTest Automated Visual Inspection Software is designed to enable in-line quality control to detect uniformity issues and surface-level defects in illuminated components during manufacture. You can easily identify and quantify mura and other subtle defects during the manufacturing process using a ProMetric imaging colorimeter and TrueTest Software by using  simple software test sequences and user-defined thresholds. Learn the types of tests that can be performed, how to set up a test sequence in TrueTest, and see real application results and analyses. The standard TrueTest install includes the following tests:
Defect Testing
Display Testing
Mura Testing (within standard TrueTest)

Gradient
Line Defect
Particle Defects
Pixel Defects

ANSI Brightness
ANSI Color Univormity
Checkerboard Contrast
Chromaticity
Compare Points of Interest
Distortion
Focus Uniformity
Points of Interest
Uniformity

Color Edge Mura
Color Mura
Diagonal Pattern Mura
Polarizer Deformation
Spot Pattern Mura

The add-on TrueMURA™ software module includes these additional mura-specific tests:
Black Mura
Blob Analysis
Butterfly Mura
Corner Light
Diagonal Line Mura
Edge Mura
LED Mura
Line Mura
Spot Mura
TrueMURATest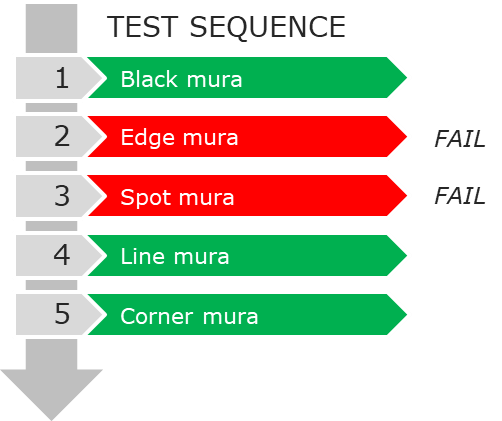 An example of a TrueTest test sequence, identifying and qualifying multiple types of mura on a display in a series, using automated inspection. 
If you're faced with mura and uniformity issues in OLED displays, Radiant has also defined a solution for OLED inspection and correction that helps manufacturers of OLED devices improve product quality and yield. A ProMetric® imaging colorimeter or photometer provides the high optical resolution necessary to measure OLED displays on the pixel and sub-pixel level, and TrueTest Software can be used to calculate discrepancies in luminance to correct individual display pixels. This process, referred to as "demura," adjusts the luminance and/or chromaticity of each OLED pixel to produce displays with an entirely uniform appearance. Read Our Tech Note to learn:
Methods for measuring luminance and chromaticity of all pixels in high-resolution OLED displays
System for quantifying the exact correction coefficients to address pixel-level non-uniformity
"Demura" method for adjusting pixel luminance values
Adaptable solutions for various OLED pentile structures, moiré patterns, and gamma inconsistency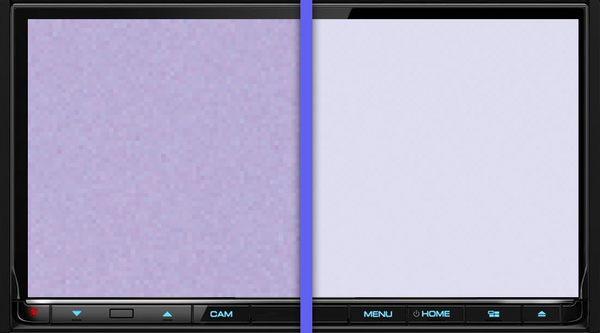 Actual images captured with TrueTest Software showing OLED pixel-level non-uniformity in a display (left) and the same display after the Radiant demura process (right).
Want to know more? Radiant has been evaluating and correcting displays of all shapes, sizes, and industrial applications for over 20 years. Contact us to find a solution for display quality, and get support from one of our many global teams.
Join Mailing List
Stay up to date on our latest products, blog content, and events.
Join our Mailing List