Preview of Coming Attractions: Looking Ahead at 2022
Mon, January 03, 2022
Happy New Year! If the uncertainty of the past two years has you wondering what to expect next—how about a few sure bets? This blog spotlights some notable events, anniversaries, and landmarks to look forward to in 2022.
Historical Dates
In 2022 we will mark some significant dates:
The 380th birthday of Sir Isaac Newton is on January 4.
On February 27 it will be 75 years since Edwin Land demonstrated the first instant camera, the Polaroid Land Camera, at the Optical Society of New York. Land is also responsible for the development of neutral density (ND) filters that help control the amount of light entering a camera, used today in Radiant's ProMetric® Imaging Photometers and Colorimeters, among many other instruments.
April 24 is the 60th anniversary of the first transcontinental relay of a television signal by satellite at the Massachusetts Institute of Technology (MIT), inaugurating today's satellite-enabled, globally interconnected telecommunications networks.
December 2 will mark the 70th anniversary of the first sustained nuclear chain reaction, under the direction of Enrico Fermi—for which he later won the Nobel Prize. It took place on a squash court underneath the bleachers at the University of Chicago's Stagg Field football stadium.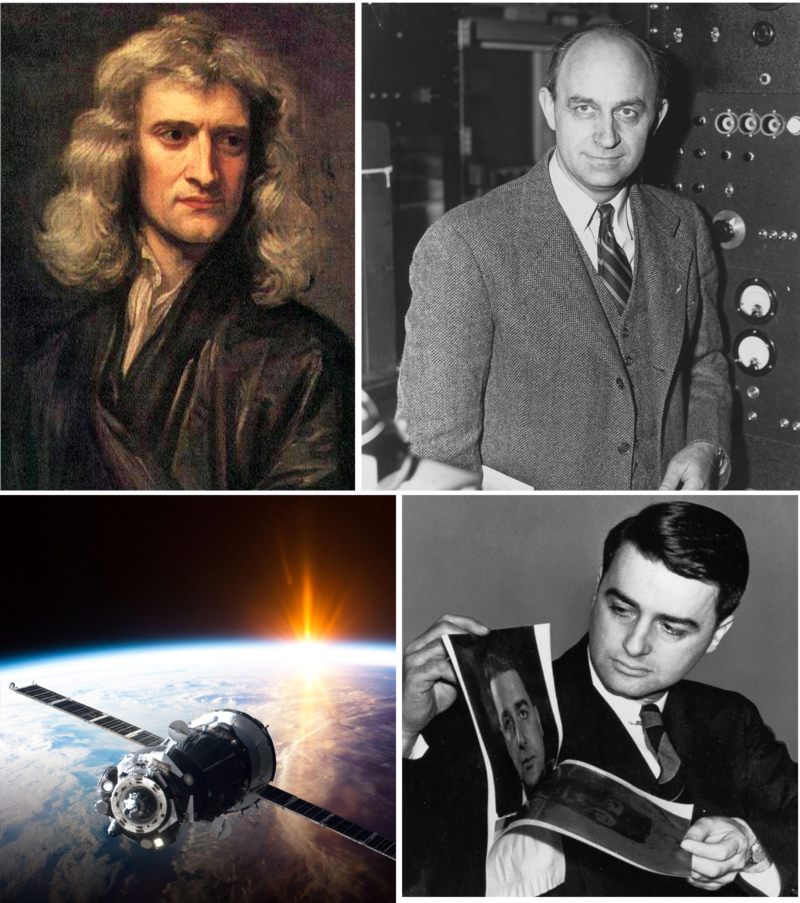 Clockwise from top left, Sir Isaac Newton, Enrico Fermi, Edward Land demonstrating his instant photo invention, and a modern telecommunications satellite in orbit.
The Year of Glass
Throughout 2022, organizations worldwide will be celebrating the UN International Year of Glass. Events will celebrate the material's contribution to society, having "fostered innumerable cultural and scientific advancements"1 including (quoted from the official site):
Glass is the main conduit for information in our knowledge-based society. Glass optical fibers have led to a global communications revolution; they are the backbone of the internet. Glassmakers have given us touch-sensitive covers for our mobile phones, revolutionizing the way we communicate.
Glass is the chemically resistant container material for many of today's life-saving medicines and is playing its part in the world's quest to deliver a vaccine to fight the COVID-19 pandemic. Strengthened glass containers have dramatically improved the reliability of the EpiPen treatment of life-threatening anaphylactic shock from severe allergic reactions.
Bio-glass compositions have advanced healthcare with their ability to: integrate with human bone; stimulate the human body's natural defense to heal flesh wounds; aid tissue design and regeneration; and resolve hearing and dental issues.
Glass sheets support solar cells and give clean energy; glass fibers reduce our carbon footprint by strengthening wind turbine blades, by insulating our homes and through carbon capture and sequestration (CCS); the vitrification of hazardous waste is making nuclear energy safer.
The evolution of glass optics and optoelectronics mean that the James Webb space telescope can study the first moments after the big bang and expand understanding of the Universe.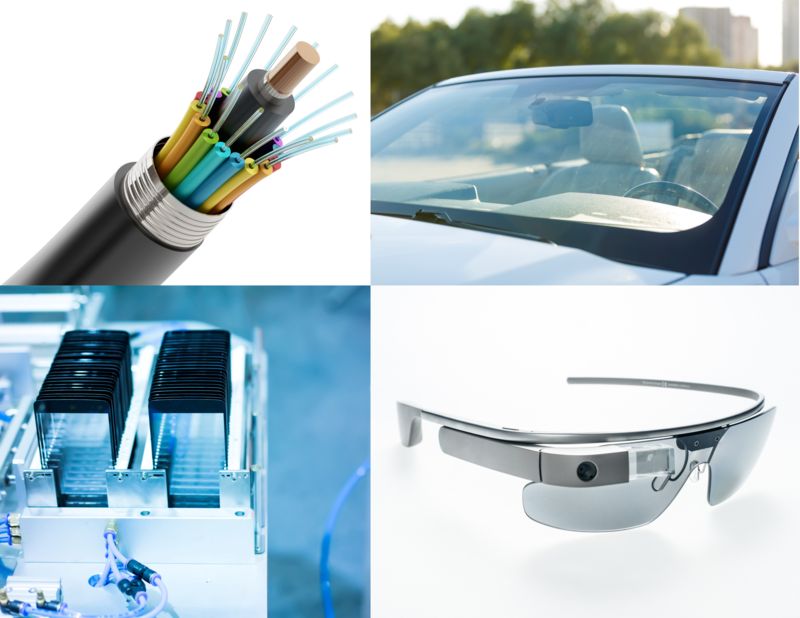 A few of the many applications of glass, clockwise from top left, fiber-optic cable, automobile windshield, augmented reality smart glasses, and cell phone cover glass panels.
And of course, here at Radiant we celebrate the vital importance of glass in our work. It is a key component of many devices and materials our cameras are used to inspect, such as the illuminated displays on smartphones, computers, and televisions; the windshields and screens used for head-up display (HUD) projections; and the glass in AR/VR devices and smart glasses. 
Our own products also rely on glass for the lenses, filters, and optics of our ProMetric camera systems, and our specialized lenses designed for measuring the view-angle performance of displays, AR/VR/MR devices, near-infrared emitters, microscopic pixels and subpixel elements, and more.
Anniversaries
Several eminent scientific organizations are celebrating major anniversaries this year, including:
The Niels Bohr Institute is turning 100 years old. This year is also the 100th anniversary of Niels Bohr's Nobel Prize in Physics, awarded in 1922. Learn more about Bohr's contribution to the science of light & color.
IEEE Women in Engineering is celebrating its 25th anniversary.
The American Institute of Physics and Sigma Pi Sigma (the physics student honor society) will be holding their 100th Physics Congress. The annual event is open to attendees from high school on up, and will feature among its speakers Eric Cornell (who won a Nobel Prize for helping synthesize the first Bose-Einstein Condensate) and Jocelyn Bell Burnell (the British astronomer who discovered pulsars).
International Organization for Standardization (ISO) was founded 75 years ago in Geneva, Switzerland, helping to establish and reinforce quality standards for technology, products, and processes around the globe.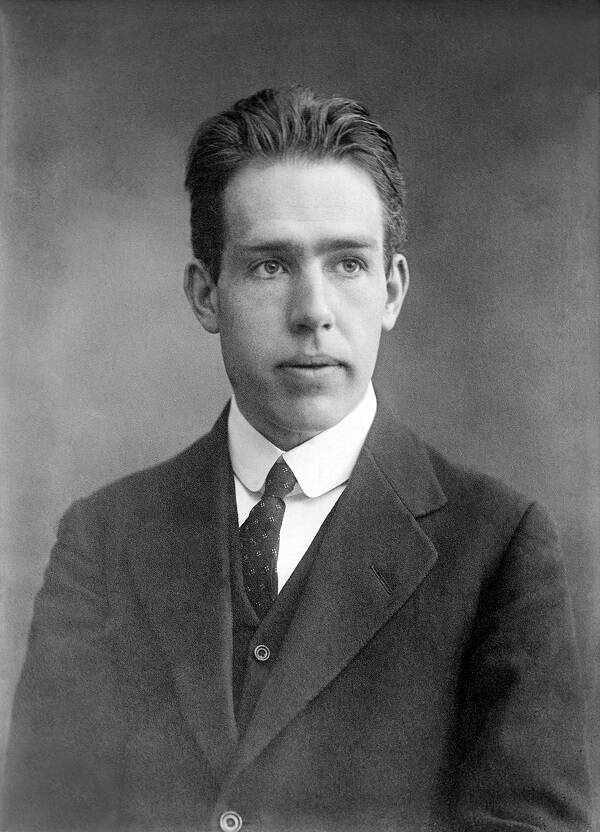 Celebrate the 100th anniversary of Niels Bohr, along with the Institute that bears his name.
Trends to Watch
As recent history has demonstrated, it is impossible to predict the future with absolute certainty, but technology industry experts are united in anticipating some key trends during 2022:
Emergence of 5G and 6G – Internet usage is exploding, with a forecasted 1.4 billion more users than in 2017, due to the continuing growth of remote work, IoT, and digital commerce.2 Even while 5G is still on the adoption curve, 6G is already coming. 
Applications of Artificial Intelligence – As AI programs and machine learning become ever-more sophisticated at analyzing vast amounts of data, they are being applied to help tackle some of humanity's biggest challenges, such as climate change, space exploration, and cancer treatements.3 New progress is also being made in areas such as Decision Intelligence (DI) and AI Engineering.4
Robotics on the Rise – Expect to see more robots in everyday life, especially in the healthcare, agriculture, automotive, warehousing, and supply chain management sectors. The use of robotics process automation (RPA) will grow, taking over boring, repetitive tasks and freeing human workers to do more fulfilling activities.5 But robots won't just be working the factory floor, they may even be in your home, cleaning the floor—or providing a range of other domestic, administrative, and entertainment functions.6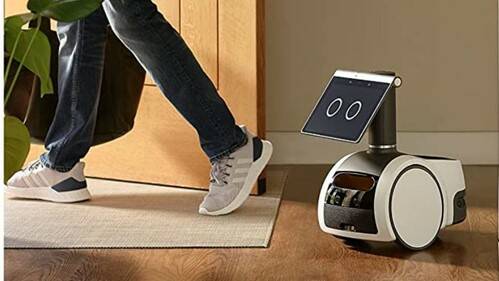 Amazon's Astro household robot integrates with the company's smart speakers. Available today. (Image © Amazon.com, Inc.)
News & Events
There are many notable events that will occur throughout the year. CES 2022 in January promises to unveil exciting new tech concepts and prototypes, as always. This year CES is offering a combination of digital and in-person attendance. Some of the earliest events on Radiant's calendar are the SPIE AR | VR | MR Conference and Photonics West exhibition (live). These overlapping events are organized annually by SPIE, the international society for optics and photonics.
At the AR | MR | VR Conference (January 23- 25), Eric Eisenberg, Radiant's Optics Development Manager, and Javier Ruiz, Staff Optical Software Engineer II, will host a poster session from 12:00-12:50 PM each day presenting the content of their paper and showcase graphical data. The paper describes a new, patent-pending optical system for image-based test and measurement of augmented and virtual reality displays that greatly reduces time and complexity for developing and reconfiguring device-specific measurement solutions. Learn More…
At Photonics West (January 25- 27), Radiant will be exhibiting some of our latest solutions for light and color measurement. See live demos of photonic measurement systems that use novel optical designs to efficiently measure light-emitting technologies and AR/VR/MR devices at booth 3021. This international event includes exhibits (Jan 25-27) and numerous educational events (Jan 22-27). Learn more…
The Skies Above
With everything happening here on Earth in 2022, don't forget to look up. The moon will be the site of a notable event this coming year—a total lunar eclipse ("blood moon") occurring May 15-16, which will be visible in multiple locations around the globe. Learn more…

Time lapse images of the total lunar eclipse in 2018.
Here's to an exciting year ahead!

CITATIONS
"What glass gives society," on International Year of Glass 2022 webpage, https://www.iyog2022.org/. (Retrieved 12/21/2021)
Uzzaman, A., "The Top 10 Technology and Business Trends of 2022," Inc., December 20, 2021.
Marr, B., "The 7 Biggest Artificial Intelligence (AI) trends in 2022," Forbes, September 24, 2021.
"Top 15 Emerging Technology Trends to Watch in 2022 and Beyond," ISHIR.com, November 8, 2021.
Ibid.
Velazco, C., "The next generation of home robots will be more capable -- and perhaps more social too." The Philadelphia Inquirer, November 14, 2021.
 
Join Mailing List
Stay up to date on our latest products, blog content, and events.
Join our Mailing List