Seeing into the Future: Innovations in Smartglasses and AR/MR Devices
Mon, February 08, 2021
Augmented and mixed reality (AR/MR) headsets and smartglasses have already been embraced for many industrial, educational, and healthcare applications, and more. The vast number of enterprise use cases is helping to drive AR market growth from $3.89 billion in 2020 to an expected $7.96 billion by 2026, a CAGR of 12.66%.1
Will 2021 be the year that smartglasses finally cross over into the mainstream consumer market? Will they start to take hold as a smartphone replacement device? Many leading companies in the AR/MR space such as Vuzix, Samsung, and Facebook seem to be betting on it. This year's all-virtual CES show provided a first look at some exciting new AR/MR wearables with a variety of features and functionality. The advent of 5G networks is also making a future of hands-free, everywhere connectivity via wearable devices seem achievable.
But How Do They Look?
One challenge for wider acceptance of smartglasses is that until recently it's been hard to make them light and stylish enough to appeal to consumers for everyday use. The amount of electronics, computing power, image generation, and camera hardware required for many AR/MR devices has made it difficult to avoid bulky-looking eyewear that is so much heavier than everyday-wear glasses. In fact, one AR device startup made this issue the cornerstone of their brand by naming the company Norm because their product would look and feel like normal sunglasses.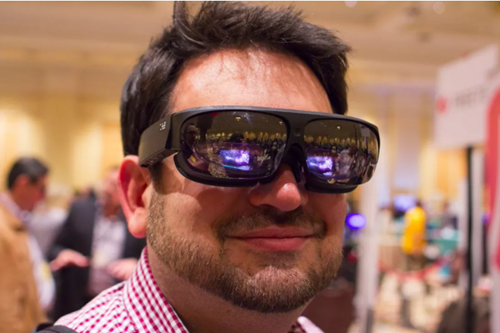 CNET reporter Scott Stein was not excited about wearing this pair of ca. 2016 ODG smartglasses2 (Photo Credit: Sean Hollister/CNET).
According to Steven Lake, the CEO of North (recently acquired by Google), "You must start with a great pair of glasses."3 Based on some highly anticipated 2021 product launches, many device makers have finally been able to miniaturize and restyle their products to achieve a consumer-friendly look and feel. 
Some of the consumer-oriented use cases for smartglasses include enhancing visitors' experiences in museums with AR guides; providing subtitles in movie theaters via eyewear; projecting navigation and local information for tourists; give athletes real-time speed, power, distance, and other performance metrics during training; or allowing drone operators to see the drone's view while in operation.4
At CES, AR device manufacturers such as Lenovo debuted a new headset aimed at the large enterprise AR/MR market space. It's integrated with the ThinkReality software platform to support enterprise productivity and collaboration. But it was the fashion-conscious, consumer-oriented devices at CES that seem to have captured the most attention.
Smartglasses for the Masses?
One of the hottest new consumer-focused AR products for 2021 is the Vuzix NGSG ("Next-Generation Smart Glasses"), which scooped up an Innovation Award at CES. It will combine smartphone and smartwatch capabilities with voice command and gesture controls for hands-free connectivity, all in a pair of glasses that boasts a see-through 3D display powered by one of the tiniest microLED display engines in existence.5
While prototypes haven't been released—and in fact, exact functionality hasn't even been confirmed—there is also much anticipation for Facebook's planned smartglasses. Created in partnership with Luxxotica's popular consumer brand Ray-Ban®, the word is that they won't use traditional AR technology that overlays projected images on the real-world environment. They are expected to arrive in stores by summer 2021.6  
Veering further from traditional augmented and virtual reality (AR/VR) functionality, other high-tech glasses products are on the market now. Amazon's Echo Frames, which integrate with its Echo smart speakers, allow wearers to speak with virtual assistant Alexa. These glasses don't have a display, but can be outfitted with prescription lenses for everyday use. Another type of connected eyewear is Snap Spectacles. Designed for capturing high-quality photos and videos and allowing the user to edit, filter, and share them, Spectacles are focused on the "niche" market of millions of Snapchat users and content creators. 
Image

In the category of non-AR smartglasses are the Amazon Echo Frames, left, and Snap Spectacles 3, right. (Images © Amazon, and © Snap, respectively)
While all these new wearable devices are smaller, lighter, and more stylish than their predecessors, some experts are still skeptical that consumer demand for smartglasses will take off quite yet. Highly anticipated product launches in coming years include rumored smartglasses from Apple, Samsung, and a slew of start-up companies. One or more of these new products, in concert with a growing number of applications tailored for the devices, could help smartglasses leapfrog into the mass market. Only time will tell. 
The Importance of Visual Quality
When launching a product into the consumer marketplace, quality is paramount. Today's tech-savvy customers have come to expect flawless device quality and performance. With smartglasses positioned directly in front of the wearer's eyes, even the slightest defect or image imperfection is noticeable. Manufacturers of AR/MR devices and smartglasses need fast, accurate measurement and inspection solutions if they are to meet both mass production demands and quality expectations.
Radiant is the only display metrology vendor who provides an integrated, turnkey solution for AR/VR device measurement. Our system combines a high-resolution ProMetric® Y-series Imaging Photometer or I-series Imaging Colorimeter, specialized optics in our award-winning AR/VR Lens, and application-specific TT-ARVR™ Software into one package for the most complete AR/VR device measurement and inspection solution available on the market. Our hardware provides the highest angular resolution, superior color accuracy, consistent and repeatable measurement capabilities, and fast cycle time for production-line testing. 

The AR/VR Lens, shown here with a ProMetric Imaging Photometer (left), measures MTF slant-edge contrast (right) among multiple tests for AR/VR/MR display devices.
TT-ARVR Software offers the most extensive set of tests and analysis tools available to meet the specific requirements of visual quality inspection of displays in AR/VR/MR devices. Manufacturers can evaluate display luminance, chromaticity, mura, image distortion, focus, contrast, aberration, and more. Test capabilities include:
 TT-ARVR Software Capabilities

ANSI Brightness
ANSI Color Uniformity
Checkerboard Contrast
Chromaticity
Compare POI
Distortion 9 Point
Distortion Dot Grid
Distortion Line Grid Analysis
Field View (Device FOV)

Focus Uniformity
Image Export
MTF Line Pair
MTF Slant Edge
Particle Defects
Pattern Mura
Pixel Defects
Points of Interest (POI)
Sequential Contrast
Uniformity Warping Analysis

Any tests from the test library can be added to a test sequence (these are stored, so multiple sequences can be created and recalled as needed), and test parameters and pass/fail settings are input for each test. Then the entire sequence is run end-to-end automatically. Extensive data analysis functions are also supported, including isometric plots, cross-section graphs, radar plots, bitmaps and CIE color plots.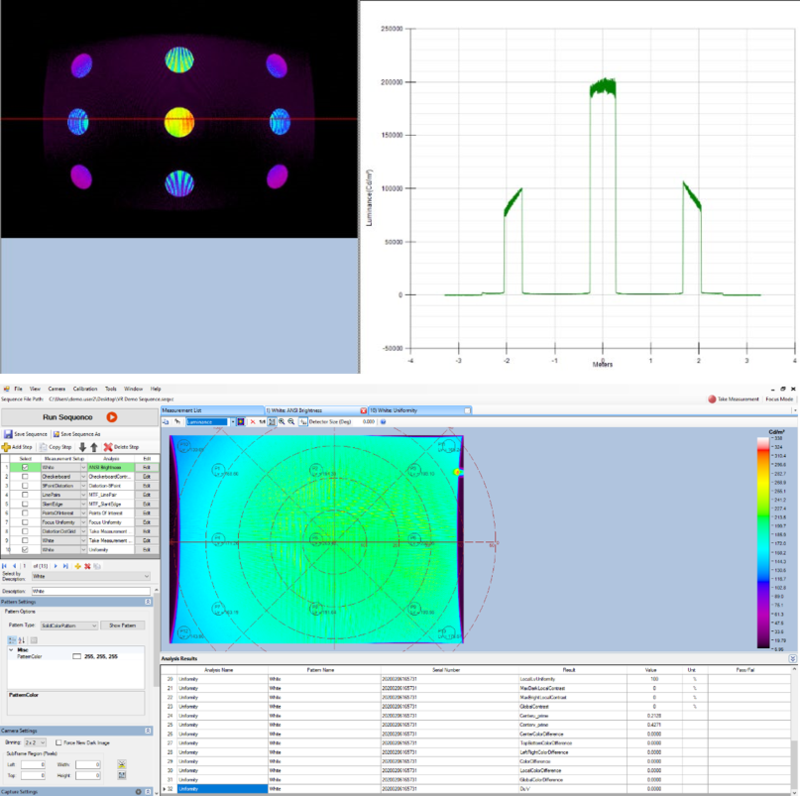 TT-ARVR Software performing stray light testing across a display measurement image (top) with results for luminance uniformity reported (bottom).
Using our high-resolution imaging system and proprietary methods, manufactures can measure , inspect, and correct visual performance issues in AR/MR displays. Radiant also offers solutions to calibrate uniformity issues that are common in emissive displays such as OLED and microLED—technologies that are increasingly used for AR/VR/MR devices. To learn more, watch a demo of Radiant's solution for testing displays in AR/MR and VR headsets: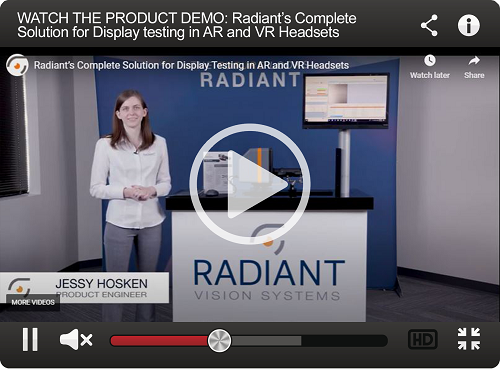 CITATIONS
Join Mailing List
Stay up to date on our latest products, blog content, and events.
Join our Mailing List