Serve Yourself: Kiosks Drive Digital Signage Growth
Mon, September 20, 2021
Many people have limited their time visiting public locations such as restaurants, movie theaters, train stations, or grocery stores in the last 18 months. But if you have passed through one of these locations, you've likely encountered a self-service kiosk. Grocery self-checkout stations, restaurant digital menu and payment units, and movie theater beverage dispensing machines are some of the newer iterations. Although, self-service kiosks were already a familiar fixture in daily life thanks to bank automatic teller machines (ATMs) and mass transit venues, which have used various digital interactive displays for decades.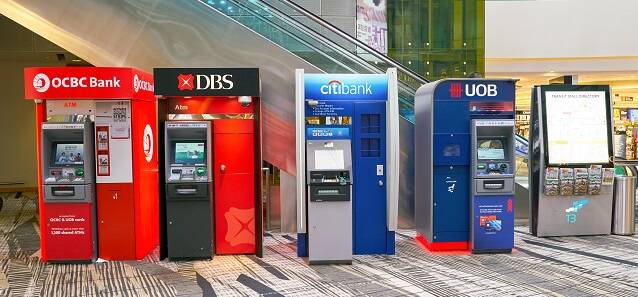 A collection of ATM kiosks at Singapore airport next to a wayfinding kiosk (far right) that provides a public transit map and information.
The global market for digital signage overall is estimated at USD $16.3 billion this year, with growth projected at a CAGR of 11.3% to reach total revenues of USD $27.8 B by 2026.1 A major segment of the digital signage market for decades, advertising displays are starting to incorporate interactive capabilities, although many are still used only to present ad content. Elsewhere, the self-service trend in digital signage is seeing rapid adoption, with a vast number of current and potential use cases from wayfinding to bill payment, ticket dispensing to medical appointment check-ins.
Within the global digital signage market, the self-service kiosk segment (including both indoor and outdoor kiosks) is projected to grow 11.1% over the next seven years, reaching USD$89.75 million in 2028.2 The industry saw unit shipments of roughly 2.28 million kiosks in 2017, a number that is only expected to increase.3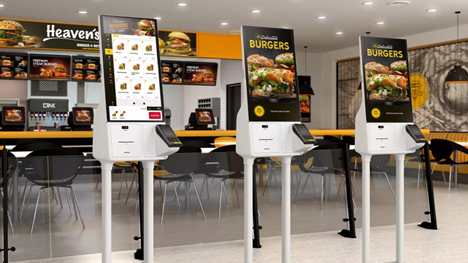 Samsung's new KM24A kiosk provides modular functionality to support a range of payment options, enabling fast-food customers to quickly order and pay before stepping to the counter to pick up their food. (Image: © Samsung Electronics)
A World of Self-Service Kiosk Use Cases
The growth of the kiosk market is due in part to the vast number of potential use cases. Self-serve kiosk functionality can be roughly grouped into three categories: Information, wayfinding, and internet, although there is often cross-over. The primary function of information kiosks is, as you might guess, to provide information. For example, a medical clinic kiosk might provide consumer health information on common symptoms and treatments. A museum kiosk could provide background information on various artworks and exhibits. Many kiosks combine information with additional functions such as event registration, ticket purchase, or visitor check-in and badge printing.
The primary function of wayfinding kiosks is to provide maps and navigational information. For example, public transit systems, hospitals, university campuses, and shopping malls are common venues for these kiosks. 
Internet kiosks provide public internet access, although with limited functionality. For example, an airline boarding area kiosk might provide access only to the airline's website, or a hotel lobby kiosk might enable users to browse a pre-set selection of websites with information about local restaurants, shopping, events, and transportation.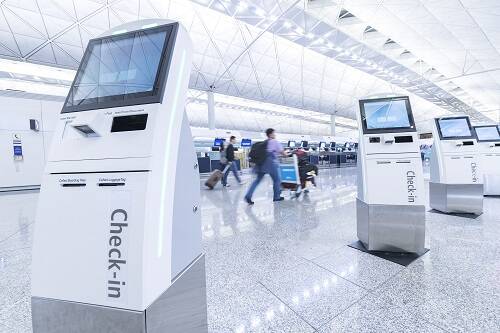 Self check-in kiosks have become commonplace in airports, allowing passengers to check in for their flight, print boarding passes, pay baggage fees and get luggage tags, choose seats, and answer security screening questions.
Manufacturers of kiosks and POS (Point of Sale) systems have been innovating improvements for today's signs such as screens with antimicrobial coating, shatterproof film, contactless ordering, and improved payment capabilities. With pandemic-driven customer concerns about safety, "retailers, QSRs [quick service restaurants], hospitality businesses, and others have integrated mobile connectivity into their signage solutions, allowing people to interact with the information and data"4 on their own smartphones via mobile connection. 
Advantages of Self-Service Kiosk Displays
Many of today's tech-savvy customers profess a strong preference for self-service options, whether visiting a company's webpage to troubleshoot product issues, ordering products on their phone, or paying their bill at a restaurant without having to wait for a server. The growing popularity of self-serve displays among consumers, retailers, municipalities, and venues is attributable multiple factors: 
Speed – Grocery stores are among the businesses that have found self-checkout kiosks help lines move faster. And because eight self-checkout stations can fit into the same space that would be occupied by just two full-service cashier check stands, stores can process sales more efficiently. Customers also appreciate spending less time waiting in line, increasing their satisfaction and likelihood of returning to the same store.
Efficiency – Providing self-service kiosks enables people to find answers to questions, place an order, pay bills, and perform multiple other functions independently where they previously would have required employee assistance. Kiosks are enabling businesses to optimize their employees, moving them to higher value activities or responding to more complex customer service concerns, or reducing the number of employees needed.
Reducing Errors – Businesses such as restaurants that have provided self-service kiosks for customers to place their own orders typically see a decrease in errors. Taking customer input directly removes the possibility of a server mishearing an order, forgetting an item, or the kitchen misreading the server's handwriting on an order ticket.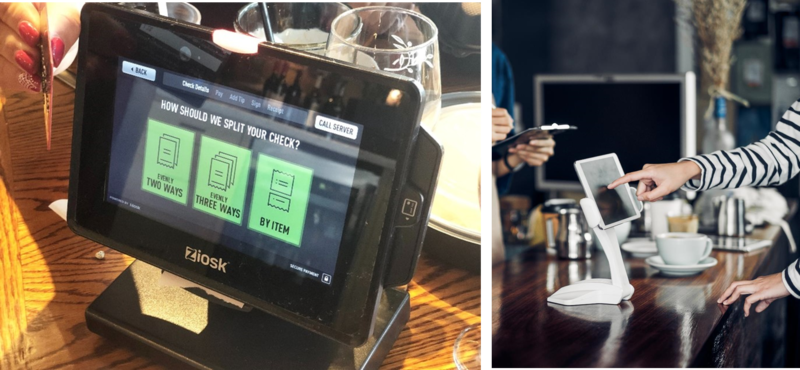 Point of sale kiosks enable customers to pay at the counter (right), and restaurants such as Olive Garden provide table-top kiosks for payment, promotions, games, and ordering extras with your meal (left).
Hygiene – COVID-19 has increased the appeal of being able to order, shop, and pay for items while minimizing face-to-face human contact. Kiosks are also being used to increase the efficiency of COVID health screenings. Visitors to medical facilities and nursing homes can stand in front of temperature reader and answer questions about symptoms and exposure before being issued a visitor pass.
Revenue – Restaurant and food vendors have discovered that using kiosks increases order sizes by 15-20% compared to using human servers.5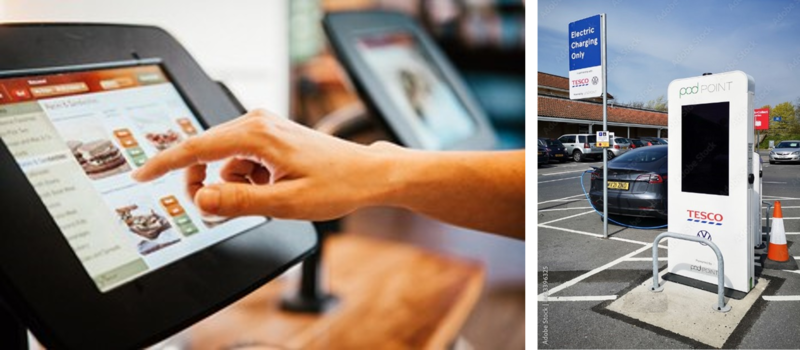 Self-ordering kiosks at Panera Bread (left) have increased order customization and accuracy while enabling the chain of fast-casual restaurants to reduce cashier staff. Tesco supermarkets are among many large retailers who are installing electric vehicle charging kiosks in their parking lots (right). (Left image © Panera Bread, right image © Tesco)
Kiosk Performance Demands
Unlike display devices intended for home use, kiosks can be expected to withstand a lot of wear and tear. Hundreds or even thousands of users per day may press on their screens and buttons. Kiosks located outdoors can be subjected to a wide range of temperature and weather conditions. They must be readable in full sunlight and resistant to moisture from rain and snow.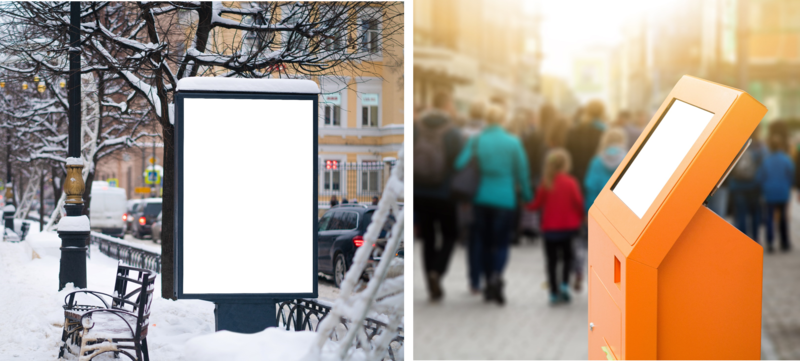 Kiosk displays are expected to operate reliably in frigid winter weather, in bright sun, and on the hottest summer days.
At the same time, consumer expectations of display quality have grown, as consumer electronics devices provide ever-increasing resolution, brightness, and clarity. To provide the best customer experience, the digital signage market is demanding high-resolution 4K and 8K displays, among other technology advancements.
Solutions To Ensure FPD Touchscreen Quality
The foundational technology that underlies almost all of todays self-service kiosks is, of course, the touchscreen display. Some kiosks rely on a combination of on-screen touch and mechanical buttons to receive customer input, and some are integrated with equipment such as ticket printers, credit card readers, phone-pay scanners, and even drink dispensers.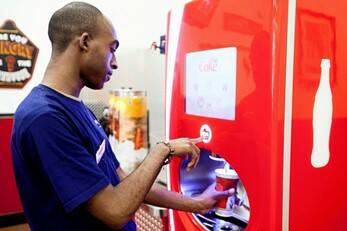 Coca-Cola's Freestyle fountain machines allow patrons at movie theaters and fast-food restaurants to select and dispense their own beverages The latest models offer hundreds of possible drink options, as customers can mix their own blends of soda, fruit juices, water, and flavor shots with their perfect amount of ice. (Image: David Walter Banks for The Wall Street Journal).
Like any consumer display product, touchscreen devices require rigorous quality inspection to ensure that their functionality, performance, and appearance meet brand standards and customer expectations. Since the early days of mass-market touchscreen devices, Radiant has helped manufacturers detect cosmetic defects on surfaces and displays to ensure quality in design and production. Using a ProMetric® Imaging Photometer or Colorimeter with TrueTest™ Software provides an automated visual inspection solution that matches the perception and acuity of human vision, providing manufacturers and consumer alike with exactly the level of high-quality device they expect.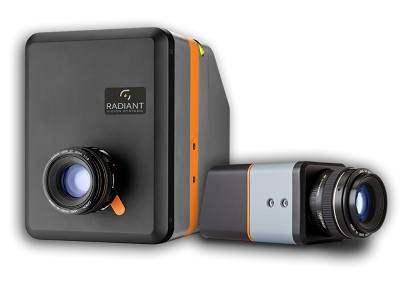 Radiant's ProMetric® I-Series Imaging Colorimeter (left) and ProMetric Y-Series Imaging Photometer (right).
Touchscreen displays are composed of multiple layers—the layers of the display technology such as LCD or OLED, and often additional layers and films to provide anti-glare and weather-resistant properties. Radiant's Advanced Vision solutions enable precise detection of particles and foreign materials on or within transparent substrates like clear plastic, film, or glass that are layered into a touchscreen display. Our automated visual inspection systems are specially calibrated to detect and distinguish particles and their locations, categorizing and setting unique pass/fail parameters for each type. 
Understanding whether a particle is on the top or bottom of a surface, or embedded within or between layers, allows manufacturers to evaluate devices in production. Inspection enables them to determine if a material can move on to the next phase of production, if cleaning is required, or if the material must be rejected as scrap.
Leveraging high-resolution image sensors, our ProMetric imaging systems achieve unmatched image clarity to detect the smallest, pixel-sized particles and defects—at production-line speed. Radiant's visual inspection solutions can even detect defects that may go unnoticed by human inspectors, including tiny, light-colored debris on glass or metal surfaces.

Radiant's TrueTest™ automated visual inspection software detects particles on a device surface that appear invisible to the human eye.
CITATIONS
Join Mailing List
Stay up to date on our latest products, blog content, and events.
Join our Mailing List