Testing Device Quality to Ensure Real-World Performance
Mon, November 22, 2021
The first cell phone was introduced to the market in 1973 by Motorola, called the DynaTAC. Weighing 4.4 lb. (2 kg.), it was almost like holding a brick next to your ear. Later models were progressively smaller and lighter, as electronic and digital components became miniaturized. The first smartphone emerged in 1992, the IBM Simon Personal Communicator, which featured a monochrome LCD touch screen with email and fax capabilities. 
In 2000, mobile phones were first connected directly to the internet via 3G networks, and the modern on-the-go digital age was born. Some of you reading this may not even remember a time when people didn't have a phone in their pocket, linked to the internet and telecommunications networks around the globe.

The Motorola DynaTAC cell phone held by inventor Martin Cooper (left) and IBM's Simon Personal Communicator smartphone (right). (Left image: CNN/Martin Cooper, Source. Right image: Rob Stothard/Getty, Source)
Now there are more than 7.1 billion mobile phones and 6.378 billion smartphones on the planet, which means they are used by 89.94% and 80.69% of the world's population, respectively.1 Currently 97% of Americans own a cell phone of some kind and 85% own a smartphone.2 
We use them nearly everywhere, under all types of conditions in virtually every environment: indoors, outdoors, in bright sunlight, or during the darkest night. Consumers have come to depend more and more on phones for a broad range of functions such as viewing videos and streaming media; managing home smart devices; using retail, finance, and fitness applications; doing work; taking pictures; and staying connected with family and friends.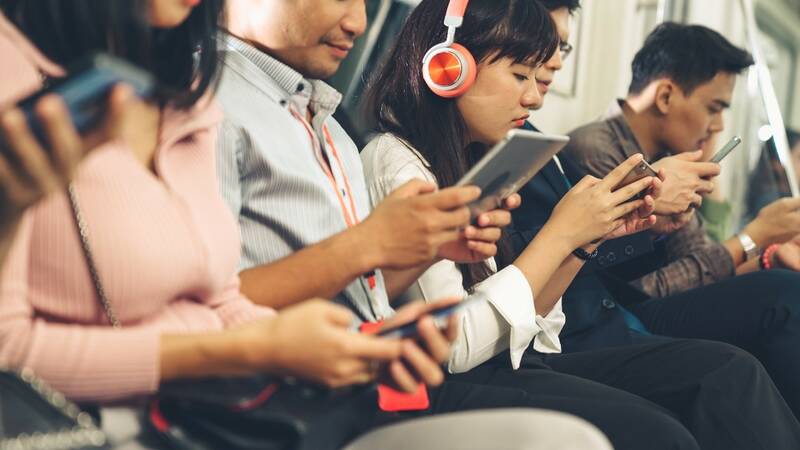 Users on their smart devices on the subway.
The Need for Smartphone Display Testing Under Real-World Conditions
Nearly all operations of a smartphone are controlled via touchscreen displays. As heavily as we rely on our devices, it's important that these screens have sufficient brightness, clarity, contrast, detail (resolution), uniformity, and zero visual defects. And they need to perform in all the various settings where we use them. One French company, DXOMARK, is helping to test and assess how devices perform under real-world conditions. 
Renowned among display makers, consumers, and media for its scientific device benchmarking protocols and quality index—the DXOMARK score—the company has revolutionized test methods to evaluate device performance. Their newest Display Bench incorporates Radiant's ProMetric® Imaging Colorimeter, FPD Conoscope Lens, and TrueTest™ Software, along with systems from our sister company, Konica Minolta Sensing Europe, to evaluate displays as they are actually used and experienced by consumers.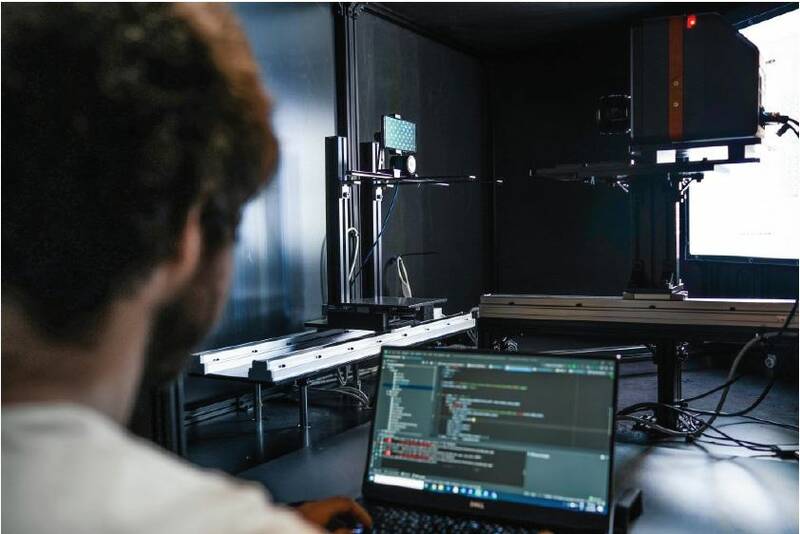 The Display Bench at DXOMARK's new display test lab, with a Radiant ProMetric® Imaging Colorimeter performing automated colorimetric measurements and visual inspections of a smartphone display. (Image © DXOMARK)
With this equipment, DXOMARK obtains scientific data that quantifies the photometric properties of each display, accurately and objectively characterizing how the displays perform under different lighting conditions and use cases. For example, Radiant's FPD Conoscope lens enables DXOMARK test engineers to quickly and accurately assess the view angle performance of displays. The lens system measures the angular distribution of color (chromaticity), brightness (luminance), and contrast, evaluating a display device's performance as it would appear to a user from multiple positions. It captures a full cone of view angle data in a single image to ±70 degrees, providing comprehensive measurement results in seconds.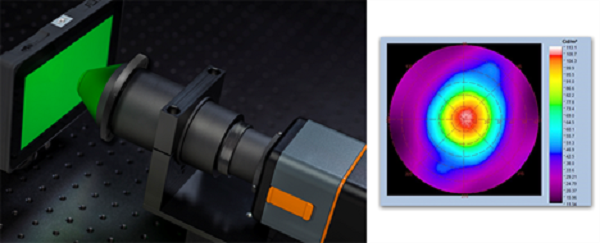 Radiant's FPD Conoscope Lens (left) captures a full angular view of flat panel displays in a single measurement up to ±70 degrees. Sample of an angular plot (right), with false color to represent measured luminance.
Using the objective data provided by the Radiant and KM photo-metrology tools, DXOMARK can ensure reliable evaluation of each device, and both manufacturers and customers can continue to have confidence in the merit of their device's DXOMARK score. To learn more, watch the video "DXOMARK Testimonial - Benchmarking Display Quality Under Real User Conditions with Radiant."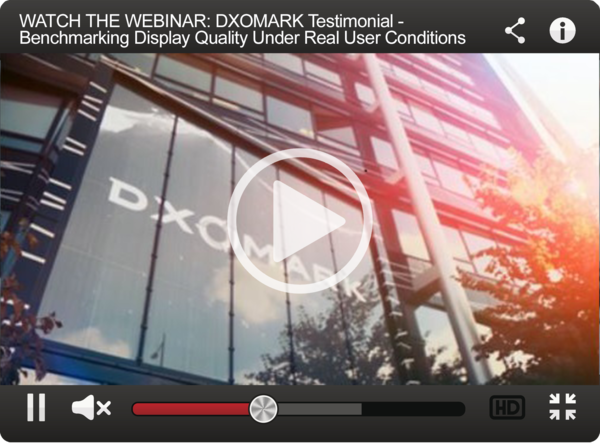 For additional detail about how DXOMARK is using Radiant's display metrology solutions in their device testing, read the Case Study "DXOMARK Benchmarks Displays Using Real-World Conditions and Scientific Data from ProMetric® Imaging Colorimeters."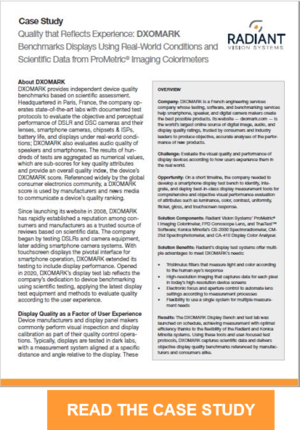 CITATIONS
"How Many Smartphones Are in the World?" Statista, as reported by Bankmycell.com. (Accessed 11/18/2021)
Mobile Fact Sheet, Pew Research Center, April 7, 2021. 
 
Join Mailing List
Stay up to date on our latest products, blog content, and events.
Join our Mailing List