Evaluating View Angle Performance Using Radiant's Conoscope Lens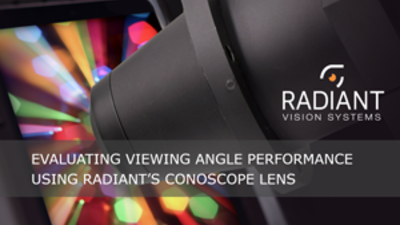 From wearables to embedded displays, developments in display technology have increased the need to evaluate the visual quality of light from every view angle. To ensure that brightness and color remain consistent across LCD and OLED displays, even when embedded into assemblies or viewed at variable angles, manufacturers are seeking automated systems to control view performance from design to production. The challenge calls for a view angle measurement solution that is fast, easy to implement, and practical for in-line integration.
In this 30-minute webinar, Radiant Product Manager Bo Magluyan demonstrates the capabilities of Radiant's new conoscope lens for measuring view angle performance of displays with greater speed, accuracy, and cost-efficiency as compared to competitive solutions.
Fast, accurate, low-cost view angle measurement solution
Address complex view angle challenges such as OLED color consistency and defects in embedded displays
Reduce the cost and complexity of equipment with a single, compact camera system
Use the same measurement system from R&D to in-line quality control, with ability to acquire additional measurements by switching camera lenses
A live audience Q&A follows a review of Radiant's conoscope lens and a demonstration of the setup and use of the conoscope lens system for measuring a flat panel display.
NOTE: This webinar discusses a previously-released product version. The FPD conoscope lens now offers view angle measurement to ±70°. Refer to the product Spec Sheet for all updated specifications.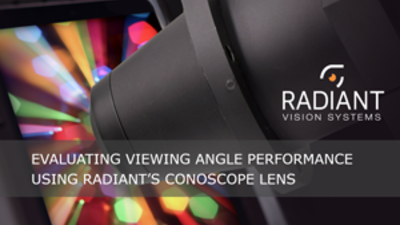 How can we help?
Please complete the following fields and we'll follow up with you promptly.