Radiant Vision Systems kicks off 2022 by celebrating three decades of innovation in imaging metrology. Since 1992, Radiant has contributed to advancements in display, lighting, consumer electronics, and optical technologies by equipping manufacturers with test and measurement solutions for design and quality control. Our legacy is built on a fundamental commitment to imaging performance and measurement accuracy. Radiant imaging colorimeters, photometers, and software products balance imaging efficiency with scientific photometric measurement principles, enabling manufacturers to perform automated inspection and obtain results based on human visual perception.
Our history includes the first application of imaging for photometric measurement, the invention of the Radiant Source Model™ (RSM) file format, and the Source Imaging Goniometer® (SIG) for light source modeling. We also pioneered display calibration methods using imaging metrology systems to provide the fastest means of correcting display uniformity from the pixel up. Calibration solutions include VisionCAL® for large LED video screens and patented demura methods for measuring and correcting tiny emissive subpixels such as OLED and microLED.
Off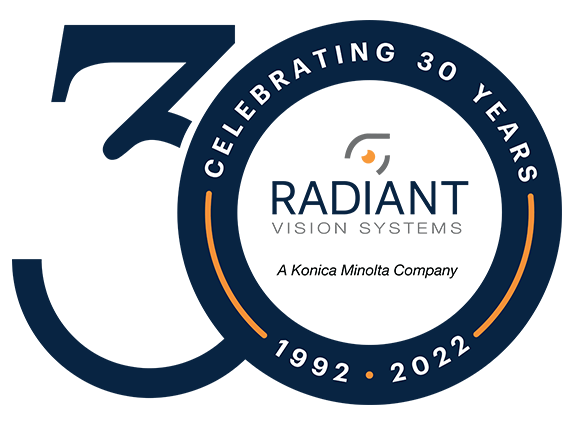 Our story
The Radiant Story
Pioneering Imaging Science for Light & Color Measurement
Radiant Imaging, Inc., was co-founded in 1992 by Ron Rykowski and Steve Wilson. Ron and Steve first met in the late 1970s working at Dyn-Optics, a California-based optical coatings lab and producer of optical instruments. The two engineers shared an interest in projection systems and set out to develop methods for addressing the poor optical efficiency and uniformity of projectors using xenon short-arc lamps. Working nights and balancing day jobs and families, the two-man team developed a raytracing software on the first IBM PC released in 1981—setting the foundation for Radiant.
Initially, Radiant's business model was to provide services for manufacturers of illumination systems. An early project aimed to address the far field uniformity of a flash bulb in disposable cameras. The issue was: existing photometric methods captured measurements using a traditional nine-point grid procedure, which missed defects between points and provided an incomplete evaluation of the light distribution. The team knew they needed a photometric system that could measure the entire illuminated area at once. 
Ron and Steve developed a new kind of photometric measurement equipment based on imaging. They applied a CCD camera and custom calibrations to capture photometric data in a spatial context, which could be used with their software—these were the company's first ProMetric® imaging systems. Imaging became the cornerstone of Radiant's success, enabling data acquisition across large fields of view at once and making Radiant's solutions much faster than competitive spot-based meters. 
In the mid-1990s, Rick Albrecht joined Ron and Steve at Radiant and contributed to the company's next set of developments. The team reasoned that by using a goniometric system to rotate an imager around a light source, they could capture three-dimensional output. This data could be used for both light source characterization and lighting design applications. To support light source modeling, Radiant developed its own output file format—Radiant Source Model™ (RSM)—which contained the radiant or luminous intensity of a source at each position and angle (raytracing data). 
Meanwhile Radiant's imaging systems were also proving useful on their own—providing portable solutions that could be taken to customer labs and used for calibrating large LED video screens in arenas and outdoor installations. Requests from customers to buy these systems outright were increasing, so around 1998, Radiant's business model began its shift from services to product manufacturing and sales. By the early 2000s, Radiant was keenly focused on imaging systems development to maximize resolution, speed, and accuracy. 
Display quality gained new importance as smartphones entered the market in 2007 and mass production demanded rapid photometric measurement solutions for in-line quality control. Radiant products were incorporated to perform real-time inspection on these high-throughput lines, and the company quickly became the leading solution in production display testing. 
Having established a legacy of metrology expertise, Radiant (now Radiant Vision Systems) was acquired by Konica Minolta (KM) in 2015, joining its business unit focused on measurement instruments. Radiant's global reach was immediately broadened as KM subsidiaries began to sell and support Radiant products in North America, China, South Korea, Japan, Asia-Pacific, and Europe. 
Today, thousands of Radiant solutions test millions of devices worldwide each year. Radiant's flagship ProMetric line of imaging photometers and colorimeters—now with resolutions up to 61 megapixels and speeds as fast as 0.5 second per measurement—continue to be the inspection solutions of choice for leading device makers. Radiant can be found wherever lighting and displays are critical to device performance and where quality is paramount.
Off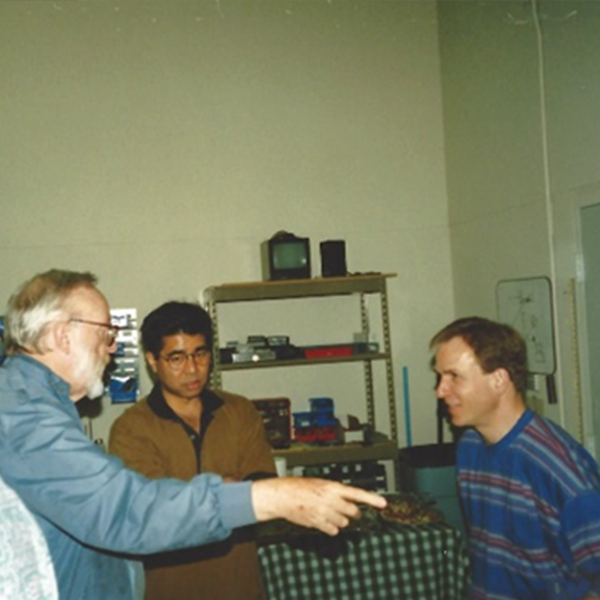 Radiant Co-Founder and former CEO,
Ronald F. Rykowski (pictured right) circa mid-1990s.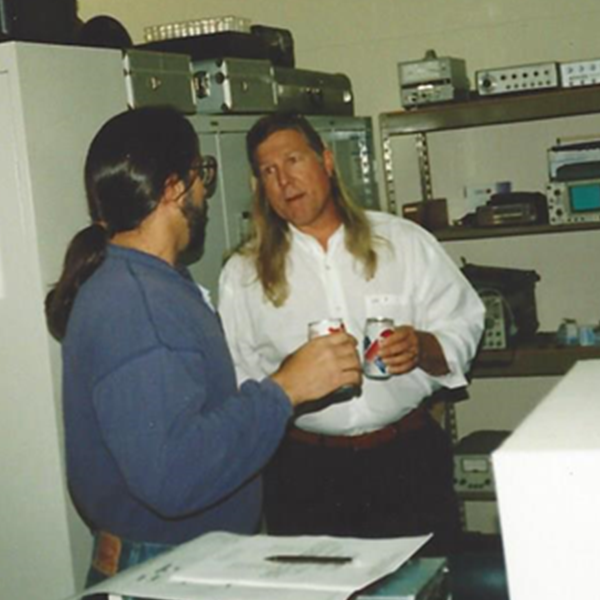 Radiant Co-Founder Steve Wilson (pictured right) circa mid-1990s.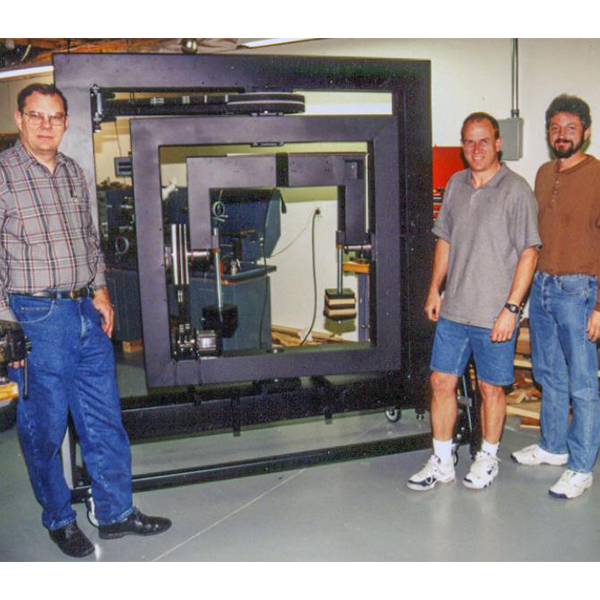 Rick Albrecht, Ron Rykowski, and Joel Deister stand next to the second-generation Source Imaging Goniometer (SIG-200) developed in 1999.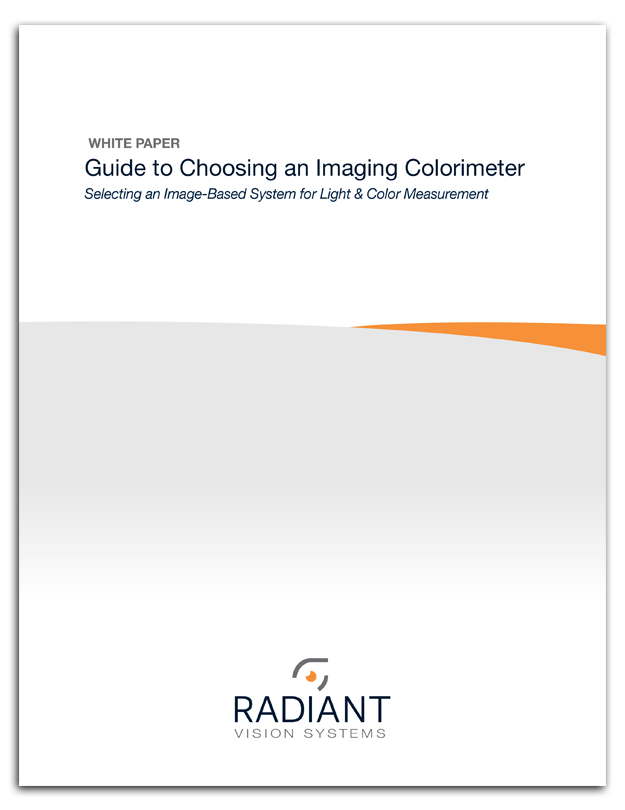 Timeline
Explore Milestones in Our Corporate History
Take a tour of Radiant's history and the innovations that we have contributed to the field of imaging metrology over the past 30 years.
Timeline
Photo album
Browse the Radiant Family Photo Album
Radiant's success is built on more than corporate milestones. The foundation of any great company is the people who work day by day to make it possible—and Radiant is no exception. Internationally, the Radiant team of employees have made this company as innovative, knowledgeable, and enjoyable to work for as it is. We invite you to take a look through this album of some of our favorite photos of the Radiant family over the past 30 years.