Seeing Ahead: Testing Optical Quality of Next-Generation HUDs
Mon, December 03, 2018
Projecting speed, navigation, and situational alerts onto the car windshield—directly in the operator's field of view—offers safety and design advantages that have made head-up displays (HUDs) the vehicle segment with the highest expected growth rate in the automotive market.1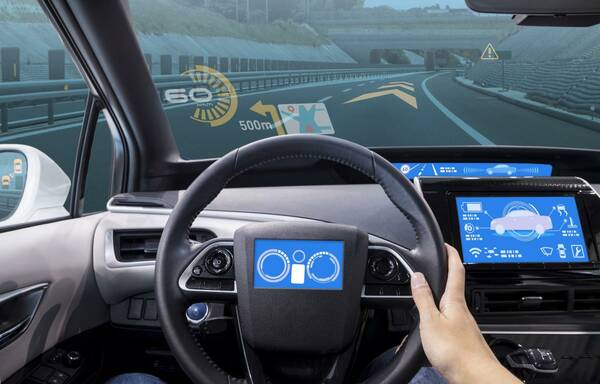 Already introduced in several new vehicles, HUD technology is evolving rapidly. With the rise of virtual and augmented reality (VR, AR) in consumer electronics, user expectations regarding projection and holographic displays have set a high bar for HUD design and quality. The opportunity for automakers to gain a competitive advantage by offering fixed-depth, two-dimensional HUDs may be brief. Anticipation is already building for next-generation three-dimensional and AR HUDs, even before widespread commercial rollout of the first integrated conventional (fixed-distance, 2D) HUD systems.
HUD Quality Concerns
The primary objective of automotive HUD systems is to improve operating safety, which requires HUD projections to exhibit a high degree of precision and visual quality. Creating an effective HUD system is a balancing act: a HUD projection must contrast enough from the ambient environment to be clearly visible, but be transparent enough or mapped intuitively enough that it won't interfere with the driver's ability to view objects outside the vehicle, beyond the HUD projection, when needed. The driver needs to be able to remain focused on the road while viewing HUD information. Achieving this balance is the reason that careful optical testing is so critical in HUD design.
The way information is displayed to the driver via the windshield is already undergoing major changes. As more information moves from the vehicle dashboard or console to the windshield, how should HUDs adapt?
Comparing Traditional and Next-Generation HUDs
Conventional fixed-distance 2D HUDs (left image, below) project information on one focal plane. However, only so much information can be presented like this before obstructing the outside view or overwhelming the driver. By contrast, a dynamic augmented-reality HUD (below right) incorporates a logical placement of images projected on an infinite plane. The virtual images are responsive to the actual depths of real objects, making focus shifts seamless for the operator.

Conventional HUD on the left; a dynamic augmented-reality HUD on the right.
Traditional fixed-distance HUDs are relatively easy to produce. Projections appear on the same optical axis and there is relatively little to no sophistication in terms of image responsiveness; that is, there is little need for sensor technology to detect objects outside the vehicle since the display does not map virtual image locations to external objects.
Because these projections appear at a fixed depth, the focal distance from a virtual image to an object on the road may vary considerably. This requires the driver to shift visual focus from the HUD to the road and back, limiting response time to scenarios outside the vehicle.
Image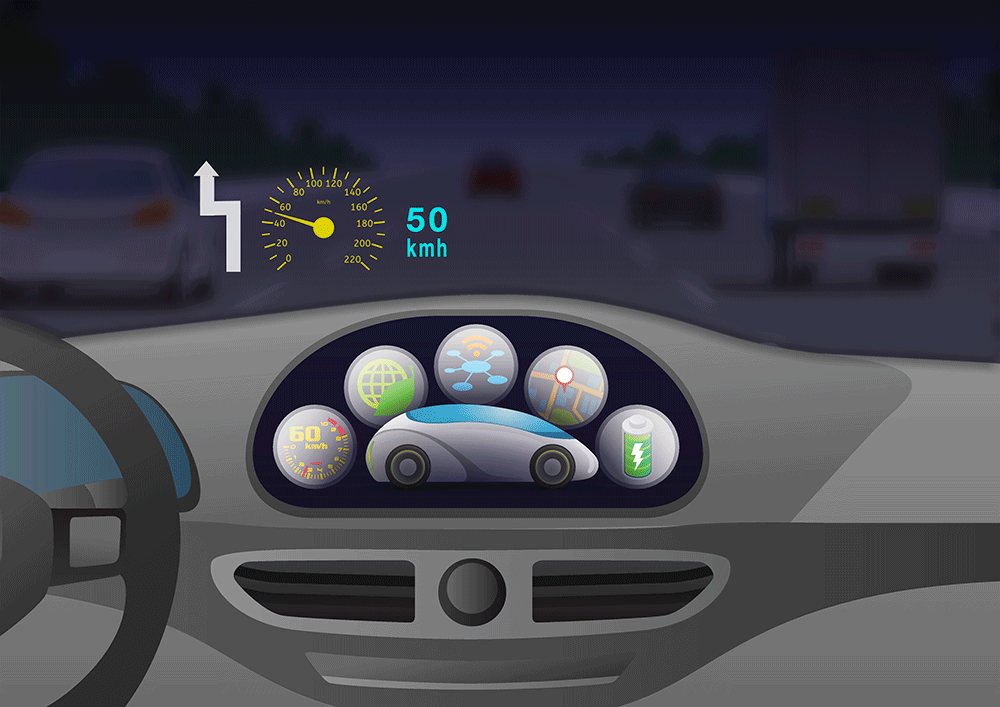 In a traditional HUD, images are projected at a fixed distance, requiring the driver to shift visual focus from HUD images to objects at variable distances outside the vehicle.
To overcome these limitations of traditional HUDs, next-generation HUD systems are being developed. Sometimes referred to as "HUD 2.0" and other terms, AR-HUDs use data obtained from several sensors on the exterior of the vehicle to correctly map projected images to the positions and focal distances of real objects in the environment. 
Incorporating augmented reality technology, new AR-HUDs may use 2D images that are mapped responsively to external objects in 3D space. Similarly, three-dimensional AR-HUDs project 3D images onto a similarly three-dimensional world. This enables the dimensionality of the image to accurately match the dimensionality of the external scene—accommodating the driver's visual perspective and focal distance and creating a more seamless experience.

AR-HUD concept (left) from Continental AG that uses 2D images mapped to 3D space.2 A 3D AR-HUD concept (right) from Toyota projects a 3D image onto a fully three-dimensional world.3
Ensuring HUD Quality
With the advent of next-generation HUD systems, display test equipment used to ensure virtual image quality is likewise facing new demands. How does the process of HUD measurement change with the incorporation of 3D and AR-HUD systems, which project new types of virtual images, across larger fields of view, and at a range of depths? 
If you're a manufacturer concerned with finding a measurement system that can address the evolution of HUD technology, check out our recent webinar hosted by Radiant's Automotive Business Leader Matt Scholz. You'll learn about an all-in-one HUD measurement system capable of addressing 2D, 3D, and AR-HUD optical quality testing using a common hardware/software platform, leveraging Radiant Prometric® imaging systems. The webinar covers:
Outlook for conventional, 3D, and augmented reality (AR) HUD systems
An overview of HUD virtual image types, including laser-based, TFT-display-based, and DPL-projector-based projections
Measurement challenges posed by next-generation HUD technology
Test system specifications that simplify optical metrology for all HUD image types
Introduction of Radiant's photometric HUD measurement system, and advantages of full field-of view (contextual) measurement
Demonstrations of image quality tests from Radiant's head-up display test software, TrueTest™ (TT-HUD™).
SOURCES:
Mordor Intelligence, Automotive Head-up Display Market - Analysis of Growth, Trends, and Forecast (2018 - 2023), published May 2018. LINK
Image Source: www.continental-head-up-display.com 
Image source: www.autoevolution.com 
 
Join Mailing List
Stay up to date on our latest products, blog content, and events.
Join our Mailing List