Spotlight on Automotive Interior Lighting
Mon, June 01, 2020
The 2016 Chevrolet Camaro was the first vehicle on the market to feature "dynamic ambient lighting." Also known as "Interior Spectrum Lighting," the Camaro's system offered 24 different lighting effects throughout the interior of the car, including in the door panels, dashboard, and even the cup holders. The lights could be customized to emit different colors depending on the scenario, for example linked to different driving modes (e.g., Park vs. Drive).1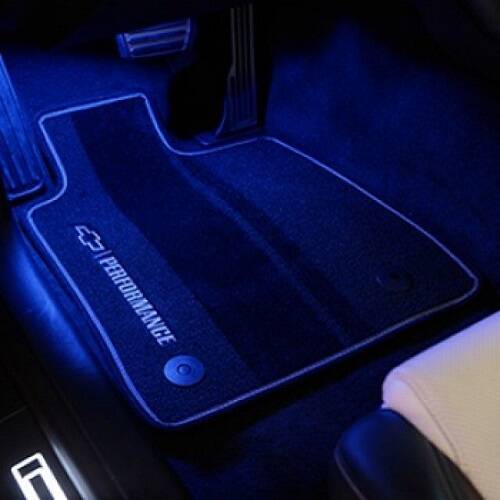 The 2019 version of the Chevrolet Camaro's footwell lighting. (Image: Chevrolet)
Later at CES 2017, Toyota showed off its futuristic Concept-I vehicle featuring an artificial intelligence (AI) assistant, named Yui. The car used LED lights across the body and throughout the interior—combined with auditory and haptic feedback—to communicate with the driver and personalize the vehicle's operation. For example, different colors could illuminate the footwell to indicate whether the car was in manual or self-driving mode.2
Since then, automotive interior lighting has become an arena for continued innovation and creativity, as car makers compete to enhance the functionality, personalization, and perceived luxury of car interiors with advanced display and lighting concepts. With many vehicles competing closely on fuel efficiency, speed, and safety, performance has become only one of many of the considerations in a purchasing decision, with interior lighting emerging as a new opportunity for brand differentiation.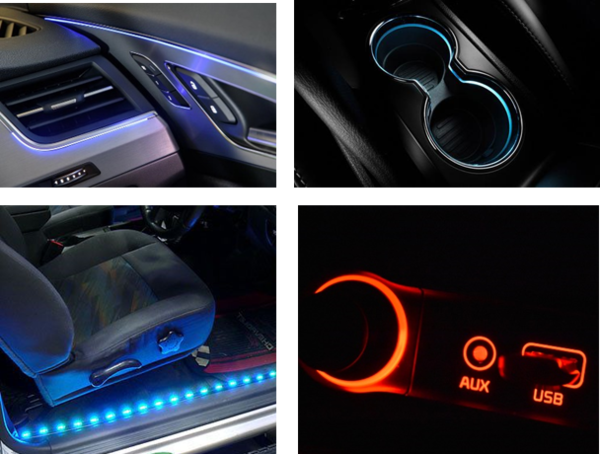 A few examples of interior lighting features such as light strips, light pipes, and halos.
With advancements in self-driving technologies, interior lighting will play an increasingly important role in establishing ambiance, influencing passenger mood, and providing entertainment. In fact, studies show that "ambient lighting can influence the mood, eye fatigue, circadian rhythms and concentration of drivers…and so, ultimately, safety."3
A landmark study conducted in 2009 by BMW and the Lighting Engineering Group at Ilmenau University looked at how interior vehicle lighting can influence driver emotions and fatigue. The study found that "ambient lighting, although being in a peripheral position in the driver's field of view, has several significant positive influences on space perception, interior attractiveness, perceived safety, functionality, and perceived interior quality."4
The researchers found that:
Blue lighting appears "brighter" to drivers than orange lighting, but was considered more "uncomfortable." 
Orange ambient lighting gave the perception of luxuriousness and better quality. 
The brighter the interior lighting, the more distracting it was for drivers.
Ambient interior light could enhance night-driving safety. 
Interior lighting could increase appreciation of the vehicle, enhancing the perception of spaciousness and quality of materials.
Trends in the Automotive Lighting Market
Due to both the functional and aesthetic value of interior vehicle lighting, the market is booming, projected to grow at a CAGR of 6% through 2024 to reach revenues of more than $4 billion globally.5 In part, this growth is due to the multiple locations and functions of lighting within a car—from the roof console to the footwells.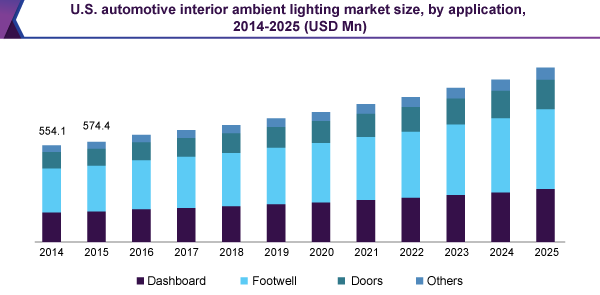 Segmentation of the automobile lighting market by location within the car interior. (Source: GrandView Research)
Light pipes and fiber optics have given designers more options for how to incorporate light into a car's interior, such as on buttons and dials, consoles, and more. One new trend is the use of OLED panels, which are thin and light, making them easier to embed inside the structure of the car and in tight spaces compared to larger LED lights and halogen bulbs.6
Automotive Lighting Measurement & Quality Assurance
Because of the potential impact on brand perception and buying decision—not to mention safety and vehicle function—every light source in a vehicle must be measured to ensure its effectiveness for its application. Ambient lighting and LED-backlit components rely on consistent brightness and color—as well as cross-component harmonization—to convey a vehicle's quality in both function and aesthetic.
Photometric imaging systems are efficient solutions for measuring light sources in all areas of the vehicle. These systems capture a complete light source or light source distribution in a single image, gathering millions of data points at once to evaluate brightness, color, color temperature, illuminance, luminous intensity, and dimensional qualities of the source output.
A photometric imaging solution that combines a Radiant Vision Systems ProMetric® Imaging Photometer or Colorimeter with TrueTest™ Software enables rapid light source characterization and quality control, regardless of the size, shape, or distribution of a source.
To learn more about automotive light testing—including interior ambient light, backlit symbols, light strips and LED arrays, as well as headlamps and exterior lighting—watch our recent webinar, "Measurement Solutions for Vehicle Interior and Exterior Lighting."
This webinar is the fourth in our series on various automotive light and display measurement topics. Previous webinars in the series are also available to watch on demand:
Effective Evaluation of Non-Rectangular Freeform and Curved Displays

 

Measuring the Visual Quality of Head-Up Displays from Conventional to AR HUD

 

Truly Automated Light and Color Measurement for Tell-Tales and Indicators

 
CITATIONS
Join Mailing List
Stay up to date on our latest products, blog content, and events.
Join our Mailing List