More Displays than Wheels
Mon, June 10, 2019
Displays are proliferating in the newest automobile models—a trend that's only going to continue as more and more vehicles incorporate visual technology to present information to drivers and passengers. In fact, the vehicle display market is expected to grow 19% per year (CAGR) though 2026,1 with a 65% net increase in the number of displays per vehicle between 2016 and 2021 alone.2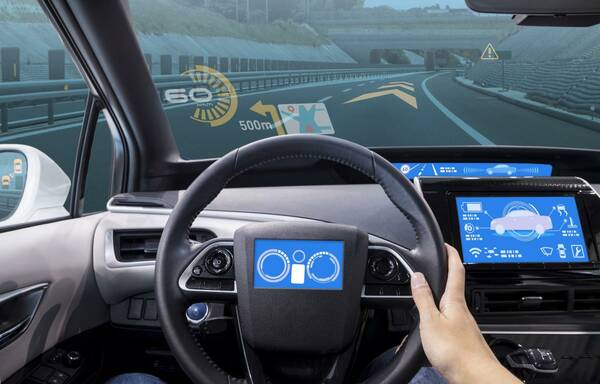 A mock-up of various display locations available in a passenger equipped with the latest ADAS, including on-steering wheel display, projected head-up display (HUD) on the car's windshield, and side mirrors integrated with camera monitoring systems (CMS).
Displays are starting to be deployed in multiple locations through the vehicle, such as
Dashboard/cockpit instrument panels
Head-up displays and projections on the windshield
Steering wheel displays
Center stack "infotainment" displays that may combine:

Navigation information
Cabin temperature controls
Audio/radio radio/audio system controls 
Various other vehicle functions such as back-up camera images when the vehicle is in reverse gear

Rear-view mirror and side-view mirrors integrated with camera monitoring systems. NOTE: Rear-view cameras are now required on all new vehicles produced in the U.S., and many after-market systems can be purchased and installed into older cars.
Entertainment screens for rear-seat passengers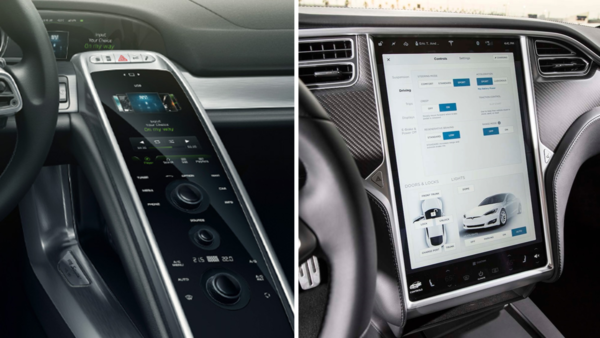 Center stack of the Porsche 916 Spider (left) and the Tesla P100D center stack (right). Image credits: Porsche image from Preh.com, Tesla image credit Carol Ng.
Display Quality Demands
Consumers used to smart phones and high-resolution display screens expect no less from their vehicle displays. Texas Instruments2 outlines the requirements for in-vehicle displays as: 
High brightness. It's critical that drivers can easily read displays in all ambient light conditions, from a bright sunny day to complete darkness. 
Wide viewing angles. Center stack displays should be visible to both drivers and passengers, including those in the rear seat(s).
Tolerating a wide range of temperature conditions. Temperatures of the vehicle's ambient environment typically range from -40°C to more than 125°C.3
High image quality. The migration of superior display technology from consumer electronics to the automotive market creates a need for displays with high resolution, high contrast, and high color-gamut characteristics.
Color depth. Higher-resolution displays may need to upgrade from 18-bit red green blue (RGB) to 24- bit RGB to achieve a wider color gamut.
Long display lifetimes and sustained production support. Displays must support design and production cycles of at least five years, extendable up to 10 years due to vehicle warranties. Ultimately, displays should last for the lifetime of the vehicle. 
Additional features may include: 
Quick response times and refresh rates. Avoiding lags is critical for warning indicators and navigation functions like real-time maps, traffic updates, and backup cameras.
Anti-glare and reduced reflection. Displays must provide critical vehicle information to drivers without reduced visibility due to ambient light conditions. At the same time, anti-glare coatings should not impede visibility (the need to eliminate "sparkle" interference). 
Low power consumption. Low power consumption enables better fuel consumption and allows components to be placed in "hot spots" in the vehicle (localized regions on the printed circuit board (PCB) that can run hotter due to uneven power dissipation across the board inside the cabin, either because they are placed in areas exposed to direct sunlight or are near other heat producing systems).

Optional rear-seat entertainment console in the Lexus 2019 GX (left) and a top-rated rear-view camera system (right). Image credits: Lexus.com and Saferoad.org, respectively.
With displays showing up in so many locations, they are quickly outnumbering the four wheels (or five, if a spare is included) of a standard passenger vehicle!
Ensuring Vehicle Display Quality
To meet these exacting display demands, while also helping auto manufacturers to comply with stringent regulations for performance and safety, Radiant has been working with companies in the automotive industry for more than 20 years. We offer solutions for test, measurement, evaluation, and quality control of headlamps and exterior lighting, illuminated characters, interior and small light sources, display panels, and HUDs, including technologies such as LCD, LED, and OLED. We've worked with major automotive brands to develop a method for quantifying "sparkle" for automated qualification of anti-glare displays, and we offer analysis of black mura gradient to satisfy DFF standards.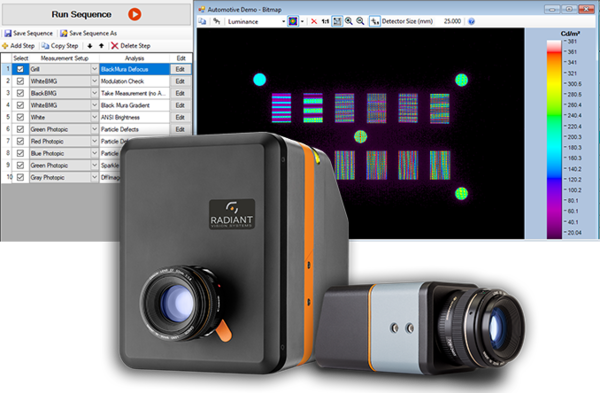 Example of a test running in TT-AutomotiveDisplay™ software, which can be used with a Radiant ProMetric imaging photometer or colorimeter.
Recently, Radiant released its latest module of our TrueTest™ automated visual inspection software platform: TT-Automotive Display™. This tailored suite of software tools incorporates a full range of tests to evaluate the quality of displays integrated within a vehicle, including embedded displays such as rectangular and free form, addressing issues such as image sticking. To learn more about TT-AutomotiveDisplay, download the Product Specification Sheet or visit the webpage.
CITATIONS
1. Automotive Display Systems Market…Global Forecast to 2026. Published by MarketResearch.biz, October 2017. LINK
2. Krishnamurthy, A., Ma, D., Mehta, C, and Weiss, I., Powering automotive displays to create interactive driving experiences. Published by Texas Instruments, January 2018. LINK
3. Per the Automotive Electronics Council
 
Join Mailing List
Stay up to date on our latest products, blog content, and events.
Join our Mailing List