Grading on a Curve: Measuring Automotive Curved Displays
Mon, November 18, 2019
Displays are proliferating rapidly in today's automobiles as car makers take advantage of the power and flexibility of display technology to serve myriad functions. In-vehicle displays can include:
Dashboard/cockpit instrument panels
Head-up displays and projections on the windshield
Steering wheel displays
Center stack "infotainment" displays that may combine:

Navigation
Cabin temperature controls
Audio/radio system controls
Various other vehicle functions such as back-up camera images when the vehicle is in reverse gear

Rearview- and side-view-mirror indicatorss 
Mirrorless cars integrated with camera monitoring systems. 
Entertainment screens for rear-seat passengers
With all these potential display functions, designers are having to get more creative about finding real estate within an automobile for their display integrations. Many interior vehicle surfaces are curved and contoured, making it hard to elegantly incorporate flat panel displays into the space for every potential function.
However, new technologies are enabling curved and free form display shapes, which are now making it possible to match the dimensionality of vehicle interiors with more creative and "organic" display integrations. For example, new locations such as the A-pillar or door frame are being explored, along with expending use of dashboard, cockpit, and seat-back displays.

Flexible display concepts that match the dimensionality of the A-pillar (left) and door frame (right) to enable seamless, space-saving integration that enhances visibility and operability. (Source: Flexenable)
As exciting as these new design concepts may be, curved displays must nevertheless conform to the same stringent industry standards for performance and visibility in the vehicle as traditional  flat panel displays. Measuring curved displays introduces new challenges in metrology—that Radiant has already begun to meet.  
We recently conducted a study in our lab to test the effectiveness of various measurement methods on a 1500R LED-lit curved display. Using our imaging colorimeters and analysis software, we evaluated methods and system specifications to optimize the accuracy of small defect detection (pixels and lines) in automotive curved displays.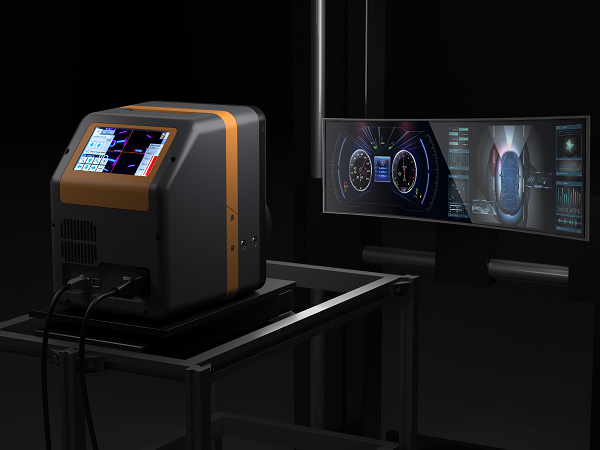 Radiant ProMetric®Imaging Colorimeter with TrueTest™ software used to measure a curved display.
The results of this study were presented at a session at the Vehicle Displays Detroit conference, and are now summarized in our white paper "Methods for Measuring Small Defects in Automotive Curved Displays." In it we discuss:
The impact of curved displays on automotive design and human visual comfort
Radiant parameters for lab-based testing of line and pixel defect analysis in curved displays
Results of testing based on the application of various system resolutions (to 16 megapixels) and depths of field (to F/13)
Results of testing based on the use of different test methods, including single-channel analysis, multi-channel analysis, and multi-image analysis
Recommended curved display test methods for labs and production environments
To learn more, read the white paper:
Join Mailing List
Stay up to date on our latest products, blog content, and events.
Join our Mailing List