VIP™ (Vision Inspection Pack) License for TrueTest™ Software
Adds machine vision-based registration functionality for advanced photometric analysis of backlit icons, text, and shapes.
Evaluating backlit components—such as illuminated controls, instrument panels, and LED light strips—requires a unique measurement approach. The quality of an illuminated component is determined as much by its photometric qualities (brightness, color) as it is by the overall integrity of its illuminated regions (correct shape, free from defects). Accurate measurement requires precise registration of icons and shapes, ensuring that only the illuminated region is used to quantify photometric values and that defects can be detected. While photometric measurement systems excel at light and color analysis, they have traditionally lacked machine vision functionality that enables consistent registration of unique shapes, as well as overall inspection of shape or text quality.
Request a quote
Request a demo
Get more information
Part of the Radiant Vision Systems TrueTest™ Software family, the VIP™ (Vision Inspection Pack) software license supplements the standard photometric analysis capabilities of TrueTest Software adding registration functionality for unique illuminated regions (backlit icons and shapes) to enable defect detection and accurate photometric measurement.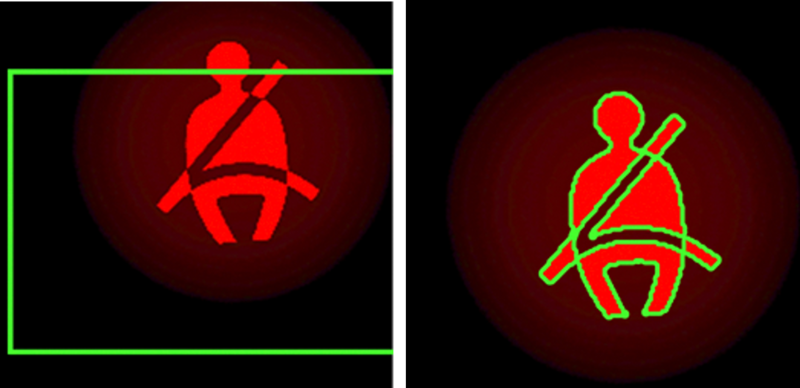 Traditional (static, rectangular) measurement region (left) versus VIP (responsive, precise) measurement region (right). VIP enables automatic registration of icons and shapes for accurate photometric measurement and defect detection.
A comprehensive backlit component inspection solution from Radiant combines TrueTest Software with the additional VIP license and a ProMetric® Imaging Colorimeter or Photometer to perform rapid, automated registration and measurement of backlit icons, text, and shapes. VIP registers illuminated regions in images captured by a ProMetric imager to measure multiple regions simultaneously, capturing and processing data much faster and more accurately than a human inspector or a spot measurement device. VIP also provides quantifiable photometric data correlated to human visual perception that is not measured by traditional machine vision systems.
Supported Standards
VIP measurement solutions are applied to help manufacturers meet component quality and performance requirements based on standards for industries from automotive to aerospace. Applicable standards include:
MIL-DTL-7788 (formerly SAE AS7788) – "Panels, Information, Integrally Illuminated" standard for backlit instrument panels (such as flight deck controls in an aircraft)
 
FMVSS 111 – "Rear Visibility" standard, as it pertains to indicators in vehicle rearview mirrors (such as blind zone indicators in sideview mirrors)
 
Backlit Component Inspection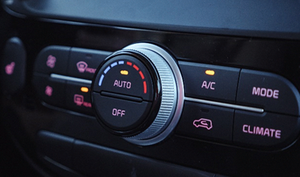 Analog controls and indicators continue to play an important role in device operation, so it remains vital ensure the visibility and legibility of illuminated icons, text, and shapes. VIP adds advanced registration and defect detection functionality to TrueTest Software to combine the benefits of photometric and machine vision systems, offering efficiency over solutions that employ multiple technologies. With VIP, a Radiant TrueTest solution is able to address the complete set of visual quality requirements necessary for backlit component inspection.
Photometric and Colorimetric Measurement
Leveraging the standard photometric analysis functions of TrueTest Software, the VIP license provides comprehensive photometric and colorimetric data for light source metrology. VIP increases the accuracy of photometric measurements in TrueTest for illuminated icons and shapes by adding registration for unique measurement areas.
Photometric data reported and evaluated using VIP in TrueTest Software includes:
Luminance (Lv, cd/m2)
CIE Chromaticity Coordinates (xy, u'v')
L*a*b* Color Scale

Correlated Color Temperature (CCT)
Dominant Wavelength (nm)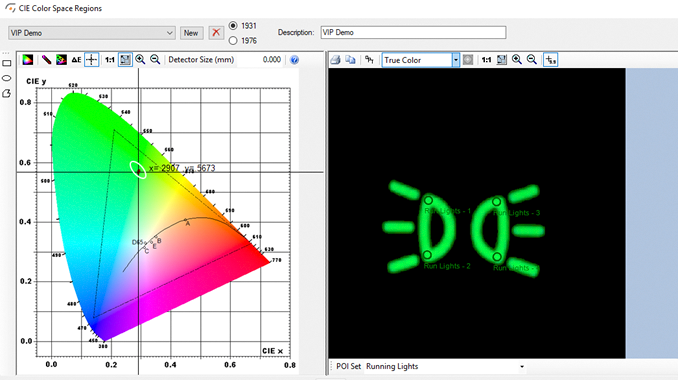 Users can set pass/fail tolerances for photometric and colorimetric values measured within VIP registrations regions, including specific POI. In this example, the four POI on the Side Lights indicator (right) are shown plotted on the CIE color space (left) based on their chromaticity (xy) coordinates. A user-defined ellipse on the CIE color space sets the chromaticity tolerances for pass/fail based on measured POI color coordinates.
Dynamic Registration and POI Setting
VIP registers the exact area of an icon or shape for accurate photometric analysis and defect detection. Registration regions are trained in software and can be applied globally (across multiple icons) to ensure the accuracy of relative symbol locations, sizes, orientations, and aspect ratios. Registration regions can also be applied locally (icon by icon) to dynamically define the measurement areas for icons that may move or rotate.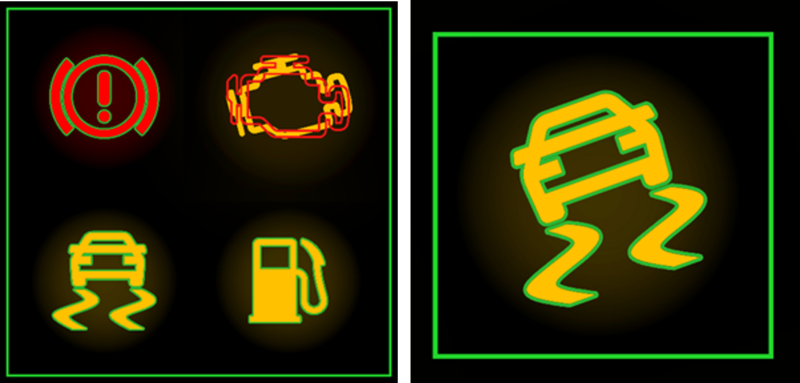 VIP automatically registers icons and shapes based on trained registration regions. Global registration (left) ensures icons are accurate relative to one another. Local registration (right) ensures icons can be accurately measured and inspected regardless of location or orientation.
In addition to measuring the photometric qualities of an entire icon, VIP allows custom points of interest (POI) to be applied within a registration region to evaluate photometric qualities of each icon based on POI values alone. VIP automatically locates and registers icons or shapes in new orientations (as components move or shift) while maintaining the same relative POI placement within each registration region. This ensures all icons in a series of components are consistently measured based on the same POI locations, without requiring users to maintain exact fixturing tolerances or reapply registration regions or POI locations for each component measured.
VIP allows users to set pass/fail criteria based on measurement results for each registration region (the entire icon or shape), or pass/fail only on the measurement results for the POI applied within each region.
Registration functionality enabled in TrueTest Software by the VIP license includes:
VIP: Points of Interest
VIP: Image Variation
Advanced registration functions
Detection of inclusions/exclusions
Pass/fail on luminance, color, and overall quality
 

VIP saves POI locations for each registration region, ensuring the location of POI within each icon or shape remain consistent (relative to the registration region) even if components move or rotate.
Symbol Quality and Defect Detection
Icons on backlit components are often produced by laser etching shapes and text into various substrate layers, and then combining these layers with plastic overlays and filters. If the etching process is done inaccurately, icons may exhibit defects such as inclusions or exclusions of the substrate, which manifest as dark areas, missing areas, or inaccurate contours of the backlit icon. VIP registration functions enable inspection of the integrity of each icon or shape according to a trained registration area, enabling users to pass/fail based on the presence of defects like inclusions or exclusions.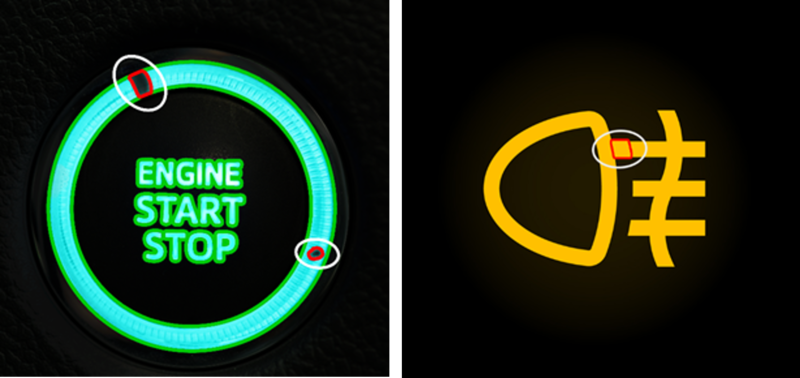 VIP performs inspection based on registration regions to ensure the integrity and overall quality of icons and shapes.
Other defects in backlit icons and shapes may include dead LEDs behind the overlay or filter substrate, or particles within substrate layers. VIP detects these defects and can be set to fail components based on any obstructed area of the illuminated icon or shape.
 
Complete Measurement Solution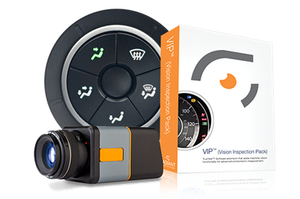 VIP is applied using a ProMetric Imaging Colorimeter or Photometer, providing multiple options to achieve the field of view, pixel resolution, dynamic range, and cost requirements for your application.
Part of the TrueTest platform, all analyses and functions of VIP can be added to a test sequence (which are stored, so multiple sequences can be created and recalled as needed), and test parameters and pass/fail settings can be input for each test. The entire sequence can be run end-to-end for fully automated inspection. Individual measurements and test results are displayed and can be recorded in a report.
Supported by Radiant's global support staff and distributor network, VIP is field-proven and has been used to test components in industries from automotive and aerospace to medical devices and electronics.
 
VIP License Key Features and Highlights:
Adds machine vision inspection capabilities to Radiant TrueTest™ Software for advanced photometric measurement, including registration and defect detection.
Simultaneously inspects the integrity of icons and shapes while measuring photometric values
Accurately registers measurement regions and POI positions even if components move or rotate, simplifying component placement and system fixturing
Inspects multiple unique regions in a single measurement image
Provides rapid inspection of unique icons and shapes on backlit components in R&D or during quality control for a series of components in production
 
Awards and Recognition
VIP Software has been honored with these awards for innovation:
Current Version:
Ver. 1.2
Supported Products:
System Requirements:
Software Options
Windows® 10, 64 bit
16-32 GB RAM
Additional system requirements vary by camera.
 
Specifications subject to change without notice.
Typical Applications
VIP enables inspection beyond standard TrueTest software capability to evaluate illuminated icons, text, and shapes according to human visual perception.
Automated visual inspection of backlit icons, text, and unique shapes; for example: illuminated indicators, buttons and controls, LED-backlit components (functional, accent), instrument clusters, and panels
Used to ensure quality of backlit controls and indicators in automotive assemblies, avionics, medical devices, appliances, and electronics
Photometric and colorimetric measurement within a region
Location and registration of regions for precise measurement and defect detection
Examples
| | | | |
| --- | --- | --- | --- |
| Device Controls and Keypads | Instrument Panels, Avionics, and Signs | Vehicle Mirror Indicators | LED Light Strips and Shapes |
How can we help?
Please complete the following fields and we'll follow up with you promptly.